Thesis Exhibition: March 29- April 1, 2017
Opening Reception : March 31, 6-8pm
---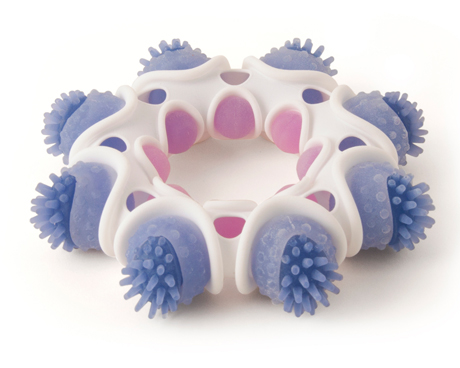 Touch of Tentacle 2, 2016, 3d printed nylon, casted silicone, 8x8x2 inch
Touch of Tentacle 1, 2016, 3d printed nylon, casted silicone, 8x8x4 inch
---
Artist Statement
My work explores the interplay of the natural and artificial, the random and geometric, of modern technology and traditional crafts. The choice of materials, the evidence of construction, and the combination of colors convey the power of growth on this planet where we live.
My inspiration comes from patterns of growth and bioluminescent colors I observe in nature, specifically deep-sea creatures such as urchins and jellyfish. Each piece is made up of two parts: 3-D computer-modeled white nylon constructions and colored silicone tentacles. Each silicon piece can be removed from the nylon centerpiece. It creates the interaction between the work and audience.
Color variation is one of the important elements in my work. Repeating, assembling, and changing, the simple element of color becomes complex, fun, and gives rise to the unexpected.