Thesis Exhibition: February 10 – 13, 2016
Opening Reception: Friday, February 12, 6 – 8pm
Hours: Wednesday – Saturday, 11am – 6pm
---

Lighting, Layers and Reflections, December 2015
mixed media (acrylic, woodcut print, and oil on canvas), triptych (33.5 in x 60.75 in per canvas)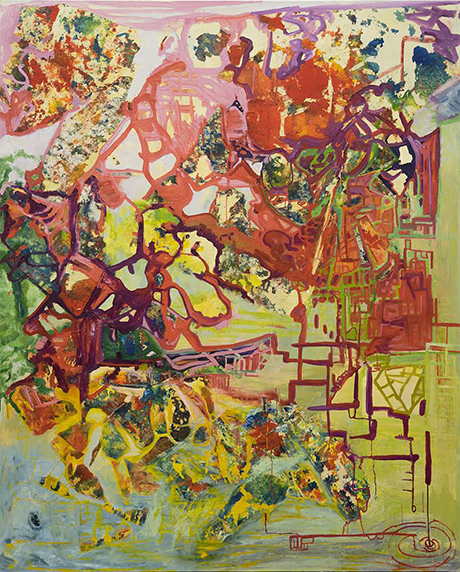 Romantic Garden, December 2015 
Mixed media (collage, oil on canvas), 68 in x 84 in. 
---
My paintings are constructed with layered grids of color that create a network of complex compositions referencing natural forms and systems of growth. The imagery in my painting has a number of sources: memory, the internet, observation from outdoor sketch, and museum visits.
While painting, I use multiple layers of oil pigment to create varying textural surfaces. The color choices are led by the pushing and pulling relationship that develops while the work progresses. My artistic expression is based on the experience of nature. The process is fostered by my own emotional and spiritual interpretation of the landscape. It can be driven by particular imagery, yet also by a subconscious drive to develop an image.
Therefore, in many ways my further direction lies not only in the reality color unity but also in the discovering of the potential of color for psychological expression. The complex energy for the pushing and pulling relationships between the objects or color relationships, it holds for me a very important spiritual nature in my works. My endeavors are to take the physical reality of what I see and turn it into an abstract expression, and expression of the inner self.
Images courtesy the artist.