Tyler School of Art and Architecture was among several of the nation's leading universities to participate in a student design event that highlighted the brilliance and innovation of future healthcare architects.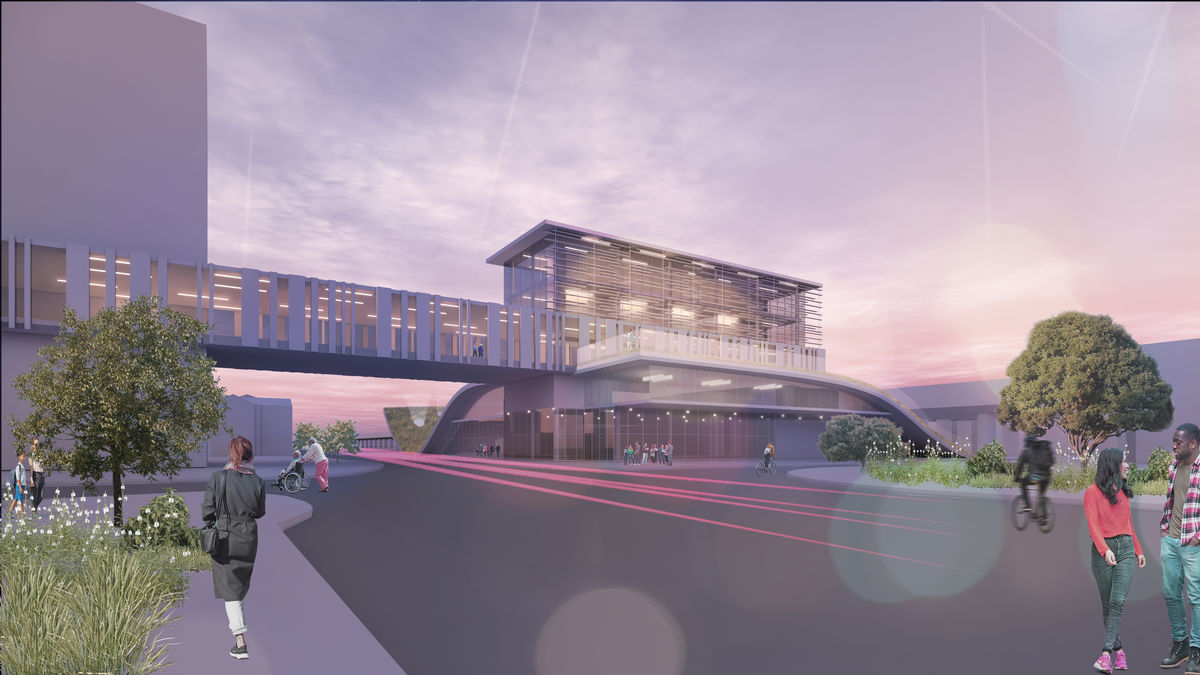 Rendering of the design presented by Tyler students as part of the American Institute of Architects (AIA) Academy of Architecture for Health (AAH) Student Design Charrette. The design includes a planted green roof and garden that is accessible to pedestrians to climb from the ground level, providing an escape from flood waters. The main tower is a place of refuge for medical staff, featuring a bridge that connects to the existing adjacent medical campus, ensuring the entire staff of the health facility has access to this place of respite.
On November 1, 2019, students in Tyler School of Art and Architecture's graduate Architecture Program participated in the 31st annual AIA AAH Student Design Charrette at the Healthcare Design Expo & Conference (HCD) in New Orleans.
In addition to Tyler, the charrette (where teams of students completed solutions to an architectural problem within an allotted time) consisted of three other leading universities known for their commitment to the architecture of healthcare and related facilities, Clemson, Kansas and Cornell. However, Tyler brought a unique perspective to the fundamental approach to the charrette.
Ulysses Sean Vance, associate professor of architecture, teaches his students to first consider the environments they design for, as well as become empathetic to those who engage with them. "We don't design for users," he said. "We design for people."
Vance's practice (his design studio, UVXYZI, is co-owned with his wife, artist and designer Ziui Chen Vance) and his pedagogy emphasize reducing "structural anxieties" (such as a leaky roof on a sunny day that may make an individual feel unsafe or stressed) as well as finding solutions to optimize a "healthful built environment." He underscores "healthful," not "healthy," as the latter is used for inanimate objects, not humans. "Healthful" architecture puts people first and provides them with a space that helps them cope and supports their wellbeing—whether that be medical, nutritional, educational or social, for example.
This philosophy drove Tyler's students in the charrette challenge—"Adaptable Resilient Design: Providing Healthcare with Community Refuge"—which asked each school to design an outpatient clinic next to the university hospital in New Orleans and include a specialty space for a community in crisis, like first responders or displaced families. Tyler was selected to address hospital staff and created a place of respite during both acute emergencies and daily routines. Their solution was evaluated by a panel of local and national healthcare design professionals, providing them with practical and thoughtful feedback. 
"This was my first design charrette and I liked the open environment where the four teams could exchange knowledge and inspire each other," said Oussama Khalfi (MArch '20). "I learned a lot about healthcare design in such a short amount of time through interacting with healthcare design specialists and architects. Furthermore, seeing the lasting impact of Hurricane Katrina made me realize how important and serious the work I'm doing is."
Hands-on experiences, like the charrette, are critical to developing the next generation of architects focused on "healthful" facilities. A partnership with Temple University's College of Public Health allows Tyler architecture students to evaluate its university hospital's spaces and observe patients who recover in and interact with these spaces every day. 
Tyler's Architecture Program with a concentration on health and design is poised on the cutting-edge of the field. "I want our program to be one of action," Vance said. "I want to implement theory, not just discuss it. The qualitative metrics that we discover will not only advance the field but it will improve the quality of life for so many populations, from schools to hospitals to other shared public spaces where people seek comfort and safety."
Rendering courtesy of Drew Hohenwarter