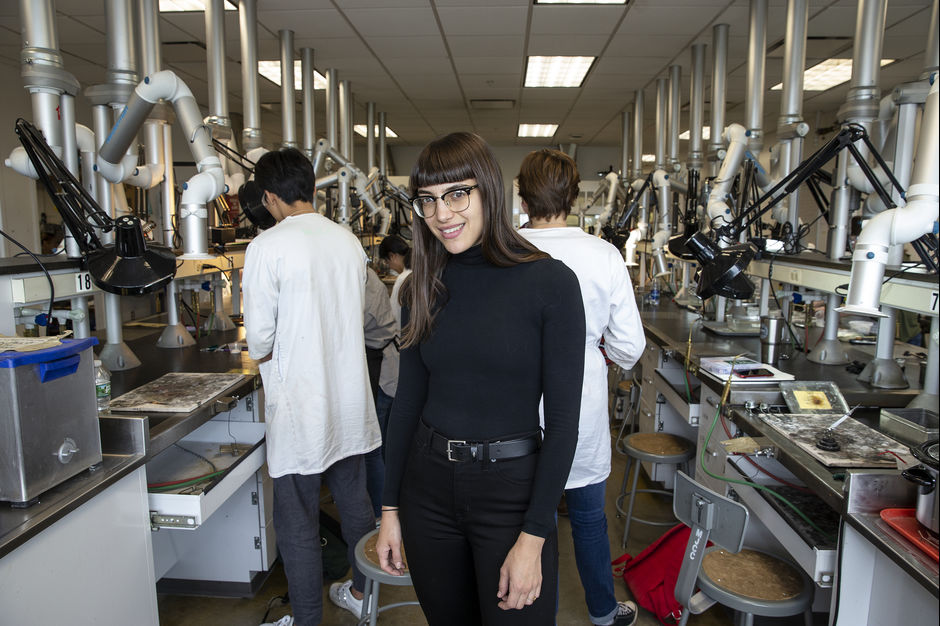 Associate Professor of Instruction
Metals/Jewelry/CAD-CAM
Mallory Weston
Mallory Weston is an artist whose work involves a marriage between traditional jewelry and metalworking and textile techniques to create large-scale wearable pieces. Her work was most recently featured in the solo exhibitions KNOCK OFF at Platina Galerie in Stockholm and Of Ophidia at Sienna Patti Contemporary in Massachusetts. 
Weston is an engaged participant in the global art jewelry community, regularly participating in group exhibitions both nationally and internationally and collaborating with other makers and artistic platforms. 
In addition to her career as an educator, she maintains an active studio practice as a member of the JV Collective, a group of seven female art jewelers that's anchored in Philadelphia but national in scope. Weston has participated as an artist in residence at the Françoise van den Bosch Foundation, the Museum of Arts and Design and Haystack Mountain School of Crafts. Her work can be found in the permanent collections of the CODA (Cultuur Onder Dak Apeldoorn) Museum and Design Museum den Bosch in the Netherlands.
 
MFA, Rhode Island School of Design, 2013
BFA, The University of the Arts, 2009
Selected Awards and Residencies
Studio Rian de Jong Artist in Residence (2019)
Françoise van den Bosch Foundation
An artist residency granted to one art jeweler annually to live and work in Amsterdam for the period of three months from May–July, 2019.
Open Studio Residency (2017) 
Haystack Mountain School of Crafts
A two-week pre-season artist residency program for approximately 50 artists from different disciplines to come together and work on the Haystack campus.
MAD Artist Studios (2016) 
Museum of Arts and Design 
A residency program where artists work in the museum studios during open hours with the goal of educating the public about craft practices.
Selected Work
Weston, M. (2019). Nonstick Nostalgia. Museum of Arts and Design, New York, NY. 
     March 21–July 21, 2019.
Weston, M. (2018–2019). Uneasy Beauty: Discomfort in Contemporary Adornment. Fuller 
     Craft Museum, Brockton, MA. October 6, 2018–April 21, 2019.
Weston, M. (2017). Knock Off. Platina Gallery, Stockholm, SE. August 24–September 23, 
     2017.
Weston, M. (2017). Smiley Gag [Gold-Plated Brass, Silver, Leather]. Design Museum Den 
     Bosch, 's-Hertogenbosch, NL.
Weston, M. (2014). Black Eel [Oxidized Copper, Cotton, Thread]. CODA Museum, 
     Apeldoorn, NL.