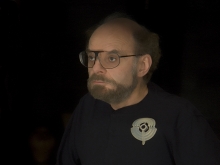 Stanley Lechtzin
Stanley Lechtzin is Professor of Crafts and Head of Program. He founded the Jewelry and Metals program at Tyler in 1962.
He is also a founding member of the Society of North American Goldsmiths. In 2009, he was awarded the Lifetime Achievement Award from the Society of North American Goldsmiths. He was elected to the College of Fellows of the American Crafts Council in 1992 and was the recipient of Temple University's Great Teacher Award in 1989.
His work can be found in numerous permanent collections including The Jewish Museum in New York, the Museum of Art and Design in New York, the Cooper-Hewitt Museum, The Smithsonian Institution's National Museum of Design in New York; the Detroit Institute of Arts; Goldsmiths' Hall in London; the Metropolitan Museum of Art's "Donna Schneier Collection" in New York; The National Museum of American Art, The Renwick Gallery- Smithsonian Institution in Washington DC;  The Pforzheim Museum of Jewelry in  Pforzheim, Germany and The Philadelphia Museum of Art.
His recent exhibitions include Open Mind, History and the New Material, International Contemporary Metal Craft at the Sungkok Art Museum in Seoul, Korea in 2011; Seed to Silver an International Exhibition in conjunction with abhuShan design dialogues in Jewelry" - An International Summit presented at the World Crafts Council and the Indian Handcrafts Ministry of Textiles in New Delhi, India  in 2011; GlassWear - Glass in Contemporary Jewelry at the Mobile Museum of Art in Mobile, Alabama in 2010; and Elegant Armor: The Art of Jewelry,  at the Museum of Art and Design, in New York  in 2009.
Education
MFA, Cranbook Academy of Art , 1962
BFA, Wayne State University,  1960