Print Think 2018 Italy:
The Eternal Return: History, Culture, and Contemporary Italian Printmaking
May 14-21, 2018
Register now! Participation is limited to 25 people!
To secure your attendance, a $300 non-refundable Deposit is due by Monday January 29, 2018.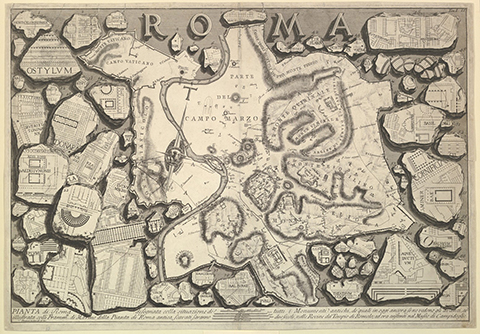 Plan of Rome, Giovanni Battista Piranesi, Etching, ca. 1756
Explore Rome's rich printmaking history and contemporary developments through exclusive access to museum collections, print archives, and behind the scenes tours lead by content experts. Join us in Rome on May 14, 2018 for a conference kick off evening reception then dive into hands-on print demonstrations in the Temple Rome Printmaking studios, conference presentations and tours through May 21.
Planned excursions include the Vatican Archive of Prints and Drawings and the Pinacoteca, the Istituto Nazionale per la Grafica, which houses Piranesi's prints and plates, and the Calcogra a Nazionale for demonstrations of historical restoration and research.
Contemporary prints will be explored at Stamperia del Tevere with director Alessandro Fornacci, as well as at other artists studios and historic print shops. Additional print technique demonstrations will take place at Temple University Rome's print studio, and panel discussions and lectures will be hosted in TU Rome's brand new conference center. Conference registration includes a welcome dinner and a farewell aperitivo at the conclusion of conference!
Also enjoy free time to explore the eternal city on your own!
Collaborating institutions & featured presenters include:
Istituto Nazionale per la Grafica, Director Antonella Fusco and Dr. Giovanna Scaloni
Special presentation of Piranesi plates and prints
Tour the Vatican Print and Drawing Collection with Frank Dabell, Professor Temple University Rome
"Understanding the Roman scene: On site at the Vatican Archives"
A tour with Alessandro Fornacci, artist and Director of Stamperia del Tevere
New Roman prints: Exploring the contemporary printmaking experience in Rome
Dr. Arianna Mercanti, Professor Art Academy of Frosinone
Between the Museum and the Laboratory: Experimental Roman print research
Additional speakers to be added soon, stay tuned for updates.
Printmaking Demonstrations and Artist Presentations:
Jason Scuilla, "DIY electro etch",  Printmaking Professor University of Kansas State
Richard Hricko, "Photogravure, photopolymer, & laser-cut relief plate making", Printmaking Professor Tyler School of Art and Architecture
Professor Marina Bindella, "Il Segno Inciso"
Inma Herrera, Print and Performance Artist, Rome 
Schedule
Conference programming: May 14-May 21, 2018
Speakers are subject to change stay tuned for updates!
Download the schedule as of December 21, 2017 here
Conference Fees Schedule and Registration
Register now! Participation is limited to 25 people!
PAYMENT SCHEDULE:
Conference registration includes access to all of the conference programs, several group meals, and admission to the Vatican Archive of Prints and Drawings.
Deposit and Registration:
To secure your attendance, a $300 non-refundable Deposit is due by Monday January 29, 2018.
Registration Fee Balances:
Early Bird 
In addition to the non-refundable Deposit, a registration fee balance of $425.00 must be paid by February 12, 2018 in order to qualify for the discounted Early Bird rate.
Regular Registration 
After February 12, 2018, a registration fee balance of $450.00, which is in addition to the non-refundable Deposit, must be paid by April 9, 2018.
NOTE: THERE WILL BE NO ON SITE REGISTRATION OR LATE PAYMENT.
Payments for the balance of the registration fee must be received by April 9, 2018.
The conference organizers do not recommend that participants book flights or make accommodation reservations until the Deposit and Registration are accepted and participants have received a confirmation from Print Think and Temple University Rome.
Conference Director: Devin Kovach, Assistant Professor of
printmaking.
Bios of Presenters
Frank Dabell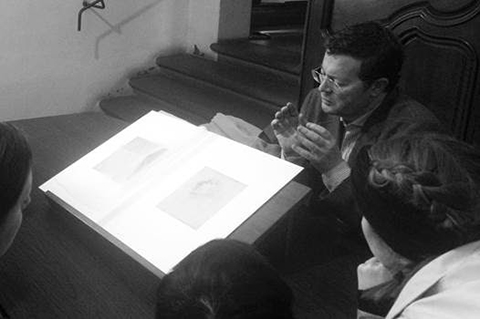 Frank Dabell, a British art historian, specializes in Renaissance art and was a Fellow of the Metropolitan Museum of Art, New York. He has published extensively since the mid-1980s and is completing his book on Piero della Francesca. He has taught at Temple Rome since 2003.
During the morning's historical survey lecture, Prof. Dabell will lay the groundwork for understanding the historical context of printmaking production in Rome during the Renaissance, including examination of the artists, printers, and patrons who drove early print production, the technology of Renaissance and Baroque prints, and practices of distribution and collection. Prof. Dabell will also address the duality of reproduction and the influence of the marketplace, factors that have had lasting resonance on the state of the question of graphic reproduction.
In the afternoon Prof. Dabell will lead a private, exclusive access tour of the Vatican archives collection of prints and drawings, to show the original prints discussed during the morning's lecture.  The visit will conclude with a trip to the Pinacoteca to view how print production influenced the spread of Renaissance pictorial ideas.
Istituto Centrale per la Grafica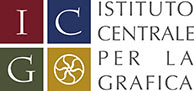 "Progetto Piranesi" Presented by Giovanna Scaloni
The Istituto Centrale per la Grafica (ICG) is one of the most important centers for the preservation, protection, and promotion of the graphic arts in the world.  ICG houses an extraordinarily rich collection of original prints, drawings, and photographs, and is an active center of restoration and print research.  Amongst the Institutes many treasures, are a breath-taking collection of 964 of Giovanni Battista Piranesi's original copper printing matrices.
Giovanna Scaloni, is technical assistant at the Calcoteca of the Istituto Nazionale per la Grafica (the matrix collection).  In the context of Print Think, she will present a special selection of Piranesi's original copper plates and discuss her extensive research for the initiative "Progetto Piranesi", a major recent study consisting of diagnostic analysis and historical investigation to shed light on the artists' innovative technical approach and lasting influence on the medium.
Dr. Arianna Mercanti
Arianna Mercanti, a Roman art historian, specializes in the history of graphic arts, typography, and editorial design.  She has published extensively on these topics including in the book Printmaking between the Museum and the Laboratory: Archival Documents of the Sixties and Seventies (Palombi Editori, Rome 2007).  Additionally, she has curated exhibitions by Guido Strazza, Marina Bindella, Lucio Passerini, Francesco Parisi as well as other artists focusing specifically on the graphic arts and printmaking.  She currently works at the Alighiero Boetti Archives as a research collaborator on the artist's catalog, and since 2007 has taught at the Art Academy of Frosinone.
Richard Hricko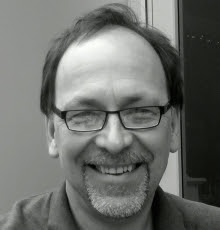 Richard Hricko is a Professor and current Program Head of Printmaking at the Tyler School of Art and Architecture where he has taught since 1985.  He has exhibited extensively both nationally and internationally. His work is represented in many public and private collections, including the Philadelphia Museum of Art, Woodmere Art Museum, Delaware Art Museum, and International Southern Graphics Council.
Marina Bindella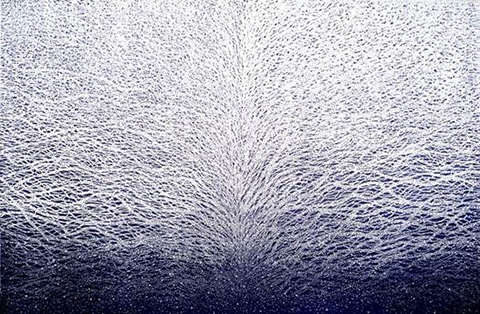 Marina Bindella is a Rome based artist and printmaker specializing in woodcut relief.  She has exhibited her work extensively both in Italy and internationally, including solo exhibitions at MLAC dell'Universita La Sapienza di Roma and Gallerie Monika Hoffman (Germany).  She has received numerous awards for her prints, and completed multiple artist book publications.  In addition to her artistic practice, she teaches printmaking at the Accademia di Belle Arti di Roma.
Jason Sciulla

Jason Scuilla is Associate Professor and Head of the Printmaking Department at Kansas State University.  His prints have been featured in museum collections as well as solo and group exhibitions throughout Europe and the US.  Scuilla's detailed prints are hand drawn and etched with an innovative nontoxic etching process that utilizes electrical current. His mastery of this process has been recognized internationally in the scientific and print communities. He has lectured and demonstrated his techniques at universities, conferences, art centers, and print shops around the world.
Inma Herrera


Inma Herrera, a Spanish artist and printmaker, holds an MA in Art Creation and Research from Complutense University of Madrid, ES, and an MFA in Printmaking from Kuvataideakatemia, University of the Arts, Finland.  She has received numerous awards for her work including sponsorship from the city of Helsinki for her exhibition "The Only Hope of Survival".  She has exhibited extensively throughout Europe, and is currently completing a fellowship at the Real Academy of Spain in Rome.
She says of her work, "I am currently focused on using techniques whose expertise requires time. To do so, I resort to printmaking and explore its processes, limits, and tools. I make use of them to refer to concepts such as image fragility, time, labor, illumination, transcendence, and physicality.  My projects give attention to the techniques used in print media as the subject matter of the artwork, not to explain the techniques themselves, but to question the relevance and pertinence of them nowadays. I also analyze how the medium is expanding into the form of installation and how its limits start to blur when printmaking is combined with video, sculpture, and site-specific pieces."
Alessandro Fornaci


Alessandro Fornaci, a native Roman artist and printmaker, comes from a long line of professional printers.  As the inheritor of such deep printing roots, Mr. Fornaci has extended and indeed expanded the printmaking traditions of Rome through the founding of Stamperia del Tevere, a center for experimental research and a hub for contemporary printmaking activity in the heart of Rome's Trastevere neighborhood.  Recently, Stamperia del Tevere expanded its operations to include a community print shop in the Corviale public housing block, southwest of the city center, a major development in boosting the accessibility of print media to wider public.  Mr. Fornaci has exhibited his work throughout Italy and Europe and has participated in numerous conferences, lectures, and workshops to promote printmaking and the graphic arts in Rome.
Devin Kovach, Printmaking, Temple University Rome, Conference Director
Hester Stinnett, Printmaking, Tyler School of Art and Architecture, Conference Coordinator
For more information contact:
printmaking.rome@temple.edu
Download a list of Hotels and Residences that are close to Temple University Rome here.

Left to right: Temple Rome, new Temple Room conference center and Temple Rome Etching studio
---
Previous Conference Information Below
---
Print Think 2017: Graphic Mimicry
October 21-22, 2017
Co-Sponsored by Tyler Printmaking and Art History Department's Print Think 2017 is being co-organized by Prof. Amze Emmons and Dr. Ashley West. Print Think 2017 features artist talks, lectures, exhibitions, conversations, and demonstrations, with noted international scholars and artists, as well as exciting new voices in the field, including: Christiane Baumgartner, Anders Bergstrom, Shira Brisman, Susan Dackerman, Phyllis McGibbon, Madeleine Viljoen, Imin Yeh, and more.
This year's conference, titled Graphic Mimicry: Intermediality in Print and the Art of Imitation, will examine the intervisual dialogue between prints and other media from both a historical and contemporary perspective of the medium. 
At the heart of this year's conference is the fundamental question of how printmaking from its earliest years defined itself in relationship to existing and historically more prominent technologies and media, such as drawing, painting, metalwork, sculpture, and tapestry design. Many innovations in printmaking over the past five centuries often have been motivated by a desire to imitate or critique the distinctive visual effects or processes of other artistic techniques and materials.
How did this ability of print to adeptly mimic nearly every other art form and to assert itself within the discourses of other mediums become one of its greatest strengths and a critical tool for contemporary printmaking? We will look at the places where print insinuates itself in unexpected places and consider the ways print mimics, counterfeits, copies its way into all manner of contemporary practice. What is the long standing relationship between print and our mimetic faculties? 
What is at stake in this performative, often playful, and critically aware blurring of subject and object, of impression and representation? Should we understand these practices of graphic mimicry as attempts to assert a paragone of the arts, the primacy of print as meta-medium, a form of sympathetic magic, or a mischievous infiltration?
The corresponding Graphic Mimicry exhibition will include works by,
Alex Echevarria, Lewis Colburn, Amy Cousins, Marianne Dages, Lindsay Deifik, Leah Mackin, Phillis McGibbon, Lauren Pakradooni, Mark Price, Zorawar Sidhu, Carlos Sotos Roman. And featuring a selection of publications co-curated by ulises.us, and featuring COPYING the new collaborative publication by printeresting.org. Additional works by Anders Bergstrom, Yoonmi Nam, and Imin Yeh are also currently on Display in Temple Contemporary.
Conference Schedule
Saturday, October 21
9:15-9:30        Welcome Room B004, Tyler auditorium, Lower Level
9:30-10:30      Susan Dackerman
10:30-10:45    Coffee Break – visit the Mimicry Exhibition in the Stella Elkins Gallery
10:45-12:15    Group Talks "Echoes and Blindspots: Print History as Matrix", Phyllis     McGibbon, Madeleine Viljoen, and Shira Brisman.
12:15-1:15       Lunch
1:15-2:30        Demo Derby
2:45-3:45        Artist Group Talks: Imin Yeh, and Anders Bergstrom.
3:45-4:00       Coffee Break – visit the Mimicry Exhibition in the Stella Elkins Gallery
4:00-5:00      "Seeing at a Second Glance" Christiane Baumgartner, Artist
5:30-7:00       The Print Center, Martin Puryear: Prints 1962-2016, 
                         Reception and exhibition tour with Pam Paulson and Elizabeth Spungen.
Sunday, October 22   
On Sunday, October 22 there were Emerging Scholar and Graduate Student presentations including: The Print in Translation: Intersections with Popular and Material Culture (Shira Brisman, moderator) with Quintana Heathman, University of Pennsylvania, Julia Lillie, Bard Graduate Center, Grayson Van Beuren, Virginia Tech and Allison Rudnick, Graduate Center, City University of New York. Panel 2 – The Artist's View (Phyllis McGibbon, moderator) included: Evgenia Kim, MFA, University of the Arts, Kate Wilson, MFA, Tyler School of Art and Architecture, Maggie Flanigan, MFA, Tyler School of Art and Architecture, Elizabeth Rose, MFA, Tyler School of Art and Architecture and Toan Vuong, MFA, Tyler School of Art and Architecture. Panel 3 - Print as Process: Surface Topography and the Artist's Hand, (Madeleine Viljoen, moderator), Ruth Ezra, Harvard University, Maureen Warren, Curator of European and American Art before 1850, Krannert Art Museum, University of Illinois at Urbana Champaign, Sarah Mirseyedi, Harvard University, and Kathryn Kremnitzer, Columbia University.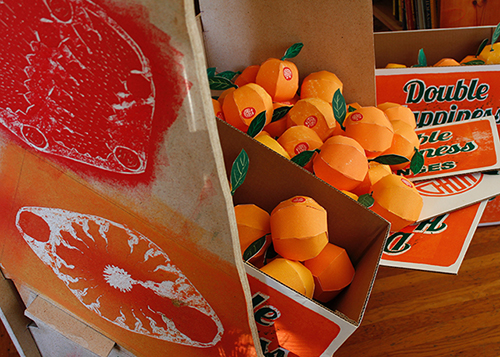 Imin Yeh. Double Happiness Oranges, 2013. Woodblock print, carved, toxin free Medium Density Fiberboard. Image courtesy of the artist.
 
---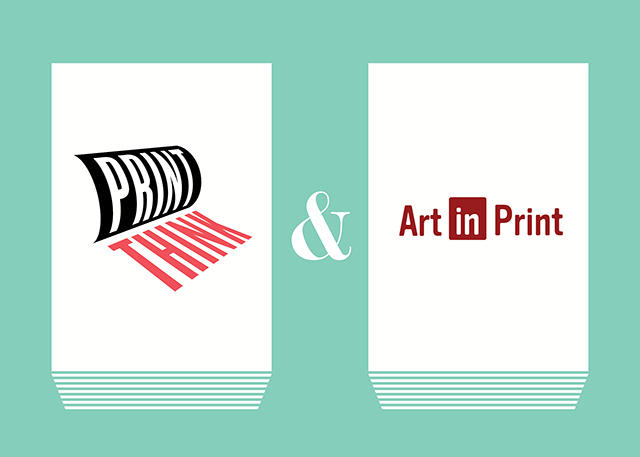 Print Think 2016: Collaboration with Art in Print
May 14, 2016
 
*If you would like to pay by check, please mail your payment to the below address, along with this FORM.
Continuing Education
Tyler School of Art and Architecture, Temple University
2001 North 13th Street
Philadelphia, PA 19122
For questions regarding conference registration contact Tyler Continuing Education: 215-777-9010
For general conference questions email: PRINTTHNK@temple.edu
The next Print Think conference hosted by the Tyler School of Art and Architecture of Temple University Printmaking Program will be a collaboration with Art in Print the international bimonthly art magazine and website devoted to the history and culture of art and the printed image. Its founding motto, from Leo Steinberg, is "without prints you don't understand the culture of the world."  We couldn't agree more!
Our keynote speaker will be Susan Tallman (Editor of Art in Print) who will lead us in our investigation of print in relation to "the local and the cosmopolitan."
 
Conference Overview
The wave of change brought about by the shifting definition of art
 world cosmopolitanism has traveled around the world, and losing very 
little momentum it appears to have washed up on the shore of the 
local. Artists in working in communities far from or in the shadow of 
the larger art markets have found their own sophisticated modes of
 distribution and audience engagement. Smaller places like, Detroit,
Philadelphia, Baltimore, Kansas City, Montreal, Manila, now have 
thriving cultural scenes, with artists pausing to see what is possible 
locally, rather than immediately heading to New York or LA. And
 artist's in places like Brooklyn are no longer looking solely to the 
galleries of Manhattan to find community and purpose.

We believe artist's engaged with Print are at the center of this new
 cosmopolitan local. Perhaps this is because of the natural way print
 studios form natural community hubs. Or perhaps the collaborative 
nature of print creates an intuitive organizing principal. Or maybe 
it's the way web 2.0 is allowing dislocated communities to participate 
in a larger discourse. Let's parse this questions together. This 
year's Print Think conference will work in collaboration with Art in 
Print magazine to ponder this nature of the new local.
 
Guest Speakers
Keynote Speaker: 
Susan Tallman, Editor-In-Chief, Art in Print. Additionally Ms. Tallman is an Adjunct Associate Professor of Art History, Theory, and Criticism, at the School of the Art Institute of Chicago. She received a BA, from Wesleyan University; MA, Art History and Archeology, 1985, Columbia University. Her highly regarded book, The Contemporary Print from Pre-Pop to Postmodern is a critical survey of printed art over the last four decades examining the art of 170 artists from 11 countries. Starting from the foundation of the first pioneering workshop in 1957, it explores the differing traditions of postwar Europe and America: the experiments of Johns and Rauschenberg; the Pop explosion; the Multiple; Op art; Minimalism and Serialism; Conceptual artists exploiting the language of photography; the revival of Expressionism and figuration in the 1980s; and the energies with which the print continues. Her critical work has also appeared in Parkett Collaborations and Editions Since 1984; Silent & Violent: Selected Artists' Editions; Stroomgeest; Art in America; Arts Magazine; Parkett; Metropolis M; Art on Paper and the Print Collector's Newsletter.
Kate McQuillen is a Chicago-based artist working in printmaking and installation. She has exhibited at the Utah Museum of Contemporary Art, the Terrain Biennial, O'Born Contemporary, and The Comfort Station, Chicago. She has been the recipient of grants from the Illinois Arts Council and the City of Chicago Department of Cultural Affairs and Special Events, among others, for her large-scale installations. Writings about her work have been included in such news outlets as Printeresting, The Chicago Reader, New City, the Chicago Tribune, Time Out Chicago and Hyperallergic, and in publications by the Poetry Foundation, Columbia College Chicago and Rutgers University.
Jeffrey Dell lives and works in San Marcos, Texas. He is an Associate Professor of Printmaking in the School of Art and Design at Texas State University-San Marcos. He shows regularly in Houston at the Art Palace Gallery with many national and international group exhibitions.
Ryan Standfest is a Detroit artist. He is the editor and publisher of ROTLAND PRESS, presenting publications of humor and despair, and founded the performance group Cabaret BLACK EYE, a hybrid of vaudeville and Absurdist theatrical tendencies. He is also a curator, assembling exhibitions that focus on different forms of humor in the visual arts.
Hardworking Goodlooking (HWGL) is a publishing and graphic design hauz interested in decolonization of aesthetic voices, vernacular artistry and giving value to the invisible. Primarily, they publish cultural reearch and theory, printed in very, very small cottage-industry presses in the Philippines. But they also work with small and large studio clients in order to fund or genreate social practice projects of The Office of Culture and Design (The OCD) a social practice research adn project platform under which HWGL operates. HWGL works out of Parañaque City. 
 
Demo Derby and Print Shop Fair participants:
Second State, Philly; BYO Print, Philly; The Soapbox Community Print Shop, Philly; Paper THINKtank, Philly; People's Paper Co-op, Philly; A.I.R.- Pittsubrgh; The Print Center of New Jersey, NJ; Printmakers Anonymous, Brooklyn; Studio 23, Richmond; Pickwick Press; Portland; and more!
Tentative schedule:
9:00:      Welcome and first presentation: Susan Tallman, Editor-In-Chief, Art in Print
10:30:    Break
10:45:    Panel - On Being Local: Strategies for being invested in a local community with goals of participating in a global art world conversation. Jeff Dell, San Marcos Texas; Hardworking Goodlooking (HWGL), Philippines/NYC; Ryan Standfest/Rotland Press, Detroit
12:00:    Lunch break
1:45:      Demo-derby & Print shop fair including, community print studios- Second State, Philly; BYO Print, Philly; Soapbox Press, Philly; Paper THINKtank, Philly; People's Paper Co-op, Philly; A.I.R.- Pittsubrgh; The Print Center of New Jersey, NJ; Printmakers Anonymous, Brooklyn; Studio 23, Richmond; Pickwick Independent Press; Portland; and more.
3:30       Artist Talk Kate McQuillen
5:00:      Reception and gallery talks at The Print Center, gallery talk with John Caperton on the exhibitions of Jeffery Dell and Leah Mackin.
Exhibitions
In considering the topic "The Local and the Cosmopolitan," we devised a system that expands our own personal relationships to reach new communities of artists and makers. We defined our "local" community as one determined by human relationships rather than by geographic restrictions, and we sought to grow our direct relationships by utilizing a ripple effect (we connect to artists in our community and they in turn connect us to new sets of artists, and so on). By reaching out to our own networks via email, we aim to explore the nature of cosmopolitanism in our digital culture. Reverberations is the result.
To embody both contemporary methods of communication and the traditional role of printmaking in distributing information, artists emailed a black and white digital file that Tyler students would convert into single color screen prints. The resulting prints put artists from different and overlapping locals into dialog with one another through the unifying language of print.
Reverberations will take place in the Stella Elkins Gallery and features prints by artists Karl Addison, Sujung Baek, Matthew Batty, Anne Baumgartner, Helen Cantrell, Daniel Chiaccio, JooYoung Choi, Liyen Chong, Dora Cuenca, Janet Diaz, Chadric Devin, Colleen Donohoe, Ben Duncan, Addoley Dzegede, William Evertson, Enrique Figueredo, Lauren Moya Ford,  Helen Frederick, Henry Gepfer, Takashi Hara, Jingman Hu, Lan Huang, Katie Kaplan, Brian Kelly, Kristina Key, Heather Leier, Chengjun Li, Shuyan Liu, Michael Lorefice, Abigail Lucien, Noah Matteucci, Katie Miller, Adam Montoya, Stephanie Motyka, Candida Pagan, Calvin Phelps, Kevin Pomerleau, Andrew Saftel, Laura Smith, Emilie St.Hilaire,Yitian Sun, Yuqin Sun, Davidson Thomas, Christina Taylor, Maria Teicher, Scott Trimble, Christopher Wallace, George Woollard, Autumn Wright, and Jihoon Yang.
Reverberations was organized in conjunction with the Print Think 2016 conference by Printmaking graduate students Maya Malachowski Bajak, Amy Cousins, Nicole Dikon, Tantjana Pavicevic, and Qiaoyi Shi with guidance from Francine K. Affourtit and Hester Stinnett.
 
---


John Cage with Kathan Brown in the Crown Point studio, 1982. Photo: Colin McRae.
Print Think 2015: Mutable Matrix
May 16, 2015
 
Tyler Printmaking is pleased to present this year's Print Think conference, titled Mutable Matrix, on Saturday, May 16. Whether they call what they are producing variable editions, mono-prints, drawings, or something else entirely, contemporary printmakers have increasingly found something plastic within the frozen gestures of their plate, stone, block, or screen. This vision of the matrix as mutable has offered artists a new means of exploring the tension between the gestural and graphic. Traditionally, the gold standard of print production has been the edition—a series of identical prints in which the matrix is the means and the map by which artists finesse a number of uncanny duplicates. The mutable matrix allows for a new sense of play, a new found exploration of chance and intuition within the very process of printing the page, while new ways of working often escape the page altogether.
Please join us in this exploration, conversation, and celebration of the ways printmakers have broken rules, hacked procedures, gone off the rails, and/or invented new ways of working in which the sanctity of the copy has been superseded by a curiosity about the possible.
The conference features: Kathan Brown, Founding Director of Crown Point discussing her work with John Cage, Amy Ingrid Schlegel, Director of Galleries at Tufts University discussing the work of Nancy Spero, artists Rob Swaniston, and Ken Wood and a tour of the Richard Tuttle exhibition at the Fabric Workshop.. We will end our day at The Print Center with gallery talks by artist Ken Wood on his work and John Caperton, the Jensen Bryan Curator on the Michael Mazur exhibition.  A reception will follow.
Tentative schedule:
9:00:       Welcome and first presentation: Kathan Brown, Founding Director of Crown Point Press, will discuss her work with John Cage
10:30:     Break
10:45:     Print Pedagogy: Is there room for chance operations and improvisation? Relief & Etching Printmaking studios
12:00:     Lunch break
1:00:       Amy Ingrid Schlegel, lecture on artist Nancy Spero's work
2:00:       Break
2:15:       Rob Swainson, artist presentation
3:15:       Travel to Fabric Workshop for Richard Tuttle exhibition | The Fabric Workshop and Museum | 1214 Arch Street
4:00:       Tour of Richard Tuttle exhibition at Fabric Workshop
6:00:       Reception and gallery talks at The Print Center, gallery talk with artist Ken Wood and John Caperton on the exhibition, Michael Mazur: The Inferno of Dante, which brings together a number of works from artist Michael Mazur's (1935-2009) series of etchings illustrating poet Robert Pinsky's translation of Dante's epic poem, The Inferno of Dante.
1614 Latimer Street, Philadelphia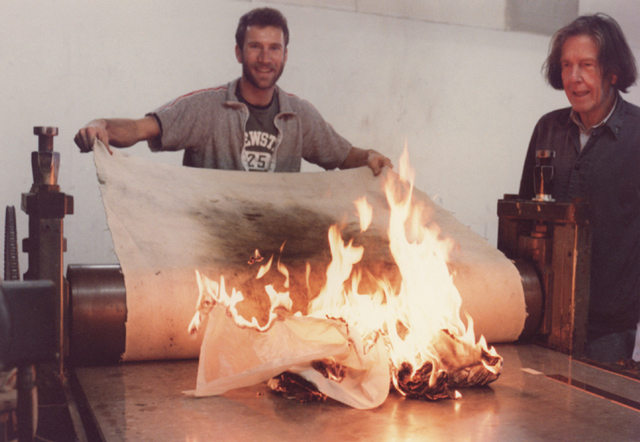 John Cage with Lawrence Hamilin printing Eninka at Crown Point Press, 1986.
Our guest speakers include:
Kathan Brown who is the founding director of Crown Point Press, an etching workshop and publisher of artists' original prints located in San Francisco, will speak on her work with John Cage. Over fifteen years Kathan worked on Cage's most important print works. Crown Point Press marked its 50th anniversary in 2012 with a major exhibition and catalog titled Yes, No, Maybe: Artists Working at Crown Point Press at the National Gallery of Art, Washington, D.C.
Crown Point Press celebrated its 25th birthday with an exhibition at New York's Museum of Modern Art, and its 35th with a retrospective jointly organized by the Fine Arts Museums of San Francisco and the National Gallery. Both of these organizations own archives of its work.
She is the author of six books including, most recently, a memoir, Know That You Are Lucky.  She has also written for The Guardian newspaper (UK) and is a contributor to The Cambridge Companion to John Cage, Cambridge University. She studied at the Central School of Art, London, and holds a B. A. from Antioch College, an M.F.A. from the California College of the Arts, and has been awarded Honorary Doctor of Fine Arts degrees by the San Francisco Art Institute and the California College of the Arts. In 2011 she received an Honors Award from Art Table, Inc., New York, "recognizing women whose work has transformed the visual arts landscape in the United States."
Amy Ingrid Schlegel is the Director of Galleries and Collections at Tufts University and a lecturer in the Department of Art and Art History, where she has been based since 2004.  She serves as Director and Chief Curator of the four visual art exhibition spaces comprising the Tufts University Art Gallery, located in the Shirley and Alex Aidekman Arts Center, and oversees the development and management of the University's Permanent Art Collection, a public art program called Museum Without Walls, and is co-director of an art/science residency pilot program, called @DesireLab (Art and Design for Science Innovation and Research) based at the Tufts SilkLab.  Schlegel holds a Ph.D. in art history from Columbia University, where she wrote a dissertation completed in 1996 entitled "Codex Spero: Feminist Art and Activist Practices in New York since the late 1960s." She also holds a M.A. in art history from the University of Chicago, where she focused on early 20th-century Northern European art, and a B.A. from the University of Vermont.
At Tufts, Schlegel has curated some 40 exhibitions, notably Ilya and Emilia Kabakov: The Center of Cosmic Energy (2007); Empire and Its Discontents, with Rhonda Saad (2008), which included the work of Mark Shetabi; Sacred Monsters: Everyday Animism in Contemporary Japanese Art and Anime (2009); Christian Tomaszewski: Hunting for Pheasants (2009); Questions Without Answers: A Photographic Prism of World Events, 1985-2010, Photographs by VII" (2010); Maria Magdalena Campos-Pons: My Mother Told Me (2013); and "Seeing Glacial Time: Climate Change in the Arctic" (2014).
Rob Swainston is currently Artist in Residence at Bard College. Born and raised in rural Pennsylvania, he studied art and political science at Hampshire College, and subsequently lived and worked in Central Europe, pursuing postgraduate studies in political science at Budapest's Central European University. He received his MFA in visual arts from Columbia University in 2006, attended the Skowhegan School of Painting and Sculpture in 2007, the Marie Walsh Sharpe Studio Program in 2009-10, and is alumnus of the Philadelphia art collective Vox Populi. Rob is a cofounder and master printer of Prints of Darkness, a collaborative printmaking studio in Brooklyn, NY. He has had solo shows with Marginal Utility, Philadelphia (2013); Neuwerk Kunsthalle, Konstanz, Germany (2012); Esther Massry Gallery at the College of Saint Rose, Albany, NY (2011); David Krut Projects, NYC (2010); Bravin Lee Programs, NYC (2010); and Vox Populi, Philadelphia (2008 and 2009). Rob has been in group shows at International Print Center New York (2014,2012,2011), Socrates Sculpture Park, Queens, NY (2013,11); Arlington Arts Center, Arlington (2012); Provincetown Art Association and Museum, Provincetown, MA (2012); Mellon, Brooklyn, NY (2011); NADA Hudson (Canada Gallery), Hudson, NY (2011) and Mason Gross Galleries, New Brunswick, NJ (2010); Rob recently finished a fellowship with the Provincetown Fine Arts Work Center (winter 2011-12) and a fellowship at the Robert Blackburn Printshop (summer 2012), and will be participating in the Bronx Museum AIM program in 2015.
Ken Wood has a professional degree in Architecture from Rice University in Houston, TX and an MFA in Printmaking from Tyler School of Art and Architecture, Philadelphia/Rome. He has exhibited his paintings, drawings and prints in Massachusetts, Rhode Island, Texas, Pennsylvania, Virginia, Missouri, Mississippi, Illinois, and in Italy, and shows his work at the Philip Slein Gallery and Good Citizen Gallery, both in St. Louis.  He has taught drawing and design at the Rhode Island School of Design, Wesleyan University, Temple University in Rome, Virginia Tech, and Washington University, and is currently Assistant Professor and Area Coordinator of Printmaking at St. Louis Community College - Meramec.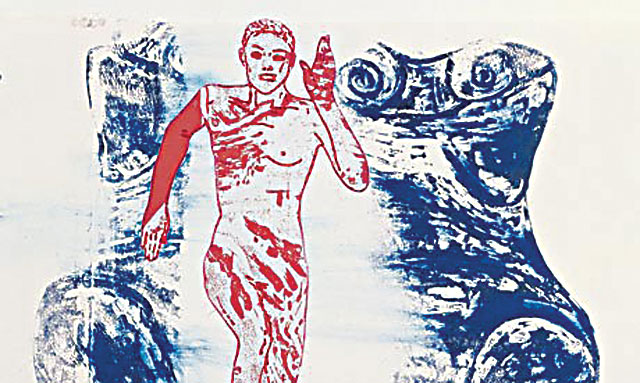 A detail of The Re-Birth of Venus, handprinting on paper, 1984 Photograph: David Reynolds/Anthony Reynolds Gallery David Reynolds/Anthony Reynolds Gallery/Public Domain
Richard Tuttle: A Print Retrospective
The New Temporary Contemporary, 1222 Arch Street
A special viewing for conference participants of The Fabric Workshop and Museum (FWM) exhbition Richard Tuttle: A Print Retrospective. This exhibition organized in close collaboration with the artist was recently on view at Bowdoin College Museum of Art, Brunswick, Maine. Expanding upon the original exhibition, FWM's installation will include new prints from the Pace Gallery, Gemini G.E.L., and other organizations from London, England, and around the world, along with the international premiere of new work by the artist. Richard Tuttle: A Print Retrospective offers a new insight into Tuttle's artistic practice, and is the first-ever comprehensive examination of the prints of Richard Tuttle.
In exploiting the unique possibilities of multiple printmaking processes, Tuttle reveals his deep interest in the relationship between medium, tools, actions, and collaboration. Through a selection of more than 100 works from the 1970s to today, many of which have never been exhibited by a museum, the exhibition demonstrates how Tuttle reinvents printmaking with his experimental approach, raising intriguing questions about technique, materiality, and the nature of art itself.
— Excerpt from Bowdoin College Museum of Art, Richard Tuttle: A Print Retrospective, 2014: 13 Jan 2015 www.bowdoin.edu
About the Artist
Richard Tuttle (born 1941, New Jersey) one of the most significant artists working today, earned his BA from Trinity College in Hartford, Connecticut (1963). Following his studies, he worked in New Mexico as an assistant to painter Agnes Martin. Tuttle's first solo exhibition was in 1965 at the Betty Parsons Gallery in New York, and since that time his work has been shown in hundreds of one-person and group exhibitions. Early important exhibitions included a 1972 Projects series installation at the Museum of Modern Art, New York (1972), and a 1975 show at the Whitney Museum of American Art, New York. Tuttle's work was the subject of an exhibition at the Institute of Contemporary Art, Philadelphia (2002), and was included in the Venice Biennale in 1997 and 2001. Tuttle was the Artist in Residence at the Getty Research Institute from September 2012–June 2013. He has created an extraordinarily varied body of work that eludes historical or stylistic categorization. Tuttle's work exists in the space between painting, sculpture, poetry, assemblage, and drawing. His work is held in major private and public collections around the world and recent retrospectives have been held at the San Francisco Museum of Modern Art; the Whitney Museum of American Art, New York; the Museum of Contemporary Art, Chicago and the Los Angeles Museum of Contemporary Art. The artist lives and works in Mount Desert, Maine; Abiquiu, New Mexico and New York City.
Also on View:
Richard Tuttle: I Don't Know . The Weave of Textile Language
FWM 1214 Arch Street: First, Second, and Eighth Floor Galleries
 
A survey of textile work—each piece is accompanied by a short piece of writing by the artist—by American artist Richard Tuttle (b. 1941), a participant of FWM's Artist-in-Residence Program. Richard Tuttle: I Don't Know . The Weave of Textile Language, recently on view in London at the Whitechapel Gallery, showcases five decades of the artist's work in textiles. FWM will serve as the United States premiere of the United Kingdom's largest-ever survey of Tuttle's work.
In 1978, and again nearly twenty years later in 1997, Richard Tuttle collaborated with FWM to create new projects using fabric. During his first residency, Tuttle embraced the silkscreen printing process and the idea of fabric to make a series of clothing—Shirts in 1978 and Pants in 1979. These projects were the costumes for a performance in 1979, in which members of the Pennsylvania Ballet danced. Tuttle's 1979 collaboration with FWM is reproduced in the exhibition's publication.
Tuttle's work uses a range of media: from drawing to sculpture and painting, to poetry, prints and books. He became prominent in the early 1960s in New York, as part of a generation of artists questioning convention. 'A maker of discrete objects', his radical and minimal gestures raised great controversy. Today, he is widely acknowledged as influencing a younger generation.
As a collector of textiles from all periods around the world, Tuttle approaches the mystery he finds in them by the humble attitude expressed in the exhibition title, 'I Don't Know .' Because textiles run the risk of not being seen he feels we need to sharpen our senses.
— Excerpt from Whitechapel Gallery, London. Richard Tuttle interpretation panels (2014): 13 Jan 2015 
On view in the Tyler Galleries:
The Stella Elkins Tyler Galleries:
 INsight Lines, a group exhibition of current Printmaking graduate students and recent alumni, featuring: Grimaldi Baez, Maya Malachowski Bajak, Amy Cousins, Lindsay Deifik, Leslie Friedman, Chris Hartshorne, Devin Kovach, Taylor Lynch, Megan Nolde, José A. Ortiz Pagán, Yangbin Park and Mark C. Martinez.
Tyler Printmaking Gallery:
Mutable Matrix, a group exhibition of contemporary printmakers who have found something plastic within the frozen gestures of their plate, stone, block, or screen. This vision of the matrix as mutable has offered artists a new means of exploring the tension between the gestural and graphic. Featuring,  Diana Behl, Amze Emmons, Richard Hricko, Alexis Nutini and Hester Stinnett
Temple Contemporary:
Paula Scher/Keith Hartwig Mapping Philadelphia, as the 2014/15 Tyler Distinguished Alumna, renowned designer and painter Paula Scher (BA 1970) will be exhibiting a monumental map of Philadelphia alongside the work of recent Tyler graduate Keith Hartwig (Bachelor of Architecture, 2011).  Since the fall of 2014, Hartwig has worked alongside Scher to coordinate the completion of this participatory map involving the artistic efforts of over 100 Tyler students.   Covering the walls and floor of Temple Contemporary, this group effort will result in an immersive experience that is indicative of Scher's iconic design sensibility.  
Paula Scher is the first female principle of the internationally recognized design firm Pentagram.  She has created some of the most recognizable and influential graphic statements of the last thirty years.  This work involves a range of clients including The Public Theater, Citibank, The High Line, and The Philadelphia Museum of Art.
Keith Hartwig has worked for a range of architecture firms in Philadelphia and New York including Boxwood Architects, Veyko, and Bradley Pitts Studio.  His artistic goal is, "to create playful work that engages people on a multitude of scales and promotes exploration."
This exhibition has been made possible by Tyler School of Art and Architecture's Office of the Dean and Blick Art Materials.
---

Print Think 2014
May 24, 2014
 
Tyler School of Art and Architecture Printmaking is pleased to announce Print Think, a one-day conference on May 24, 2014 aimed at fostering conversation about the present and future of the print. 
Printmaking has long appropriated technological innovation from the commercial printing industry to explore new possibilities of the matrix and multiple for the artist. For the first Tyler Print Think, we are focusing on the expanding role of 21st century rapid prototyping technology. Laser cutters, vinyl plotters, CNC Routers, and 3D printers are proven game changers for industrial designers and innovators of all sorts, but what can these exciting new tools produce in the hands of a printmaker? 
Print Think will feature a panel discussion and presentations by noted artists, hands-on technical demonstrations at Tyler's printmaking and digital fabrication labs, and lively conversations. 
Our guest artists include:
John F. Simon Jr., a new media artist who has been working on the front edge of technology for almost twenty years. Unlike many digital arts working today, Simon writes his own code to create his ever-changing abstract imagery. Produced in limited editions, his work is displayed on LCD screens housed in elaborate cabinets, made from laser cut formica and CNC fabricated structures, that are also derived from his video imagery. Simon's work has been collected and exhibited widely, including at the 2000 Whitney Biennial, and most recently at the Phillips Collection in Washington, D.C., and Gering & Lopez Gallery in NYC.
Glen Baldridge, a Brooklyn-based, multi-disciplinary artist whose work draws widely from popular visual culture to create a troubling and at times humorous dialogue between mortality and consumer culture. Baldridge's work often incorporates unexpected approaches to traditional processes. For example, he has printed lottery scratch-off material over his imagery to create a participatory element, and has combined woodblock and intaglio with laser-cutting and a hydraulic press to create a compelling trompe l'oeil surface. Baldridge has exhibited in NYC and Brooklyn, NY, San Francisco, CA, and Portland, OR. In addition to his own work, Baldridge is co-director of Forth Estate Editions, an innovative print publishing concern often noted for it's collaborative nature and innovative use of technology.
Annis Fitzhugh, Director of Dundee Contemporary Contemporary Arts Studio where she has worked with CNC technology.  Her artist talk, "Numerical Manoeuvres: The printer's hand in a post-digital world" was presented at the Impact 8 conference. She will expand upon that talk at Print Think.
For the past 14 years she has been Director of Dundee Contemporary Arts Print Studio. (Scotland, UK) DCA uniquely, for a gallery of this standing, houses a world-class facility for the production of printed works. This open-access studio offers all the traditional print processes, digital production facilities and, more recently, comprehensive CNC production equipment (laser-cutter, router, engraver and vinyl-cutter) . Newer, safer processes are also promoted. During this time DCA has presented some of the most vibrant and challenging work by both emerging and established, internationally respected artists. Alongside a full-time teaching career she has also exhibited at national and international level. After graduating with a B.A (Hons) degree in Fine Art and Art History at Falmouth School of Art, Annis specialised in printmaking at the Slade, and then at Central School of Art, London.
Robert Jackson, has presented his research into eye-tracking as a drawing method at the Impact 8 conference, http://eyecandraw.wordpress.com/ Eye-tracking devices have been commercially available for some time and primarily used to examine the human eyes for specific medical conditions and to measure the motion of the eye in consumer situations.He completed his BA Hons in Fine Art Printmaking at the National College of Art and Design, Dublin, Ireland in 2005 and his Masters Degree in Fine Art at Duncan of Jordanstone College of Art and Design in 2006. Since 2007 he has worked as a Print Studio Technical Instructor at Dundee Contemporary Arts. He has been intensively involved in the editions program at DCA. Robert was awarded a Creative Scotland grant in 2012 to explore eye-tracking as a drawing method within DCA Print Studio. 
Matt Neff: "Second Sight", exhibition at the Print Center, 1614 Latimer Street
Second Sight will feature Neff's unfettered and unconventional approach to media which is integrally linked to his intellectual, emotional and philosophical concerns around the responsibilities and choices each individual faces in being part of larger society. The title is a term used by prominent African American activist W. E. B. Dubois, and, characteristically for Neff, reverberates across multiple levels of thought including ideas of spiritual potency, Wu-Tang Clan (hip hop group) lyrics as prophecy, double consciousness and the idea of the veil as a visual metaphor. The show includes significant new works, alongside a selection of pieces created over the past ten years.
The exhibition at The Print Center features both 2-D and 3-D works highlighting Neff's innovative and experimental approaches to process and medium, and will include letterpress, silkscreen, flocking, etching and photographic prints on paper and mirrors, and sculptural works created with graphite, wax, sugar and mirrors in deep blacks, translucent whites and reflective surfaces he uses to render an iconic struggle with death, and life. Works on paper will include text-as-image pieces as well as those with stripped down, iconic imagery. While the forms and objects are closely tied to printmaking in conception and execution, they forego the use of image and revel in the sensual and visceral properties of each individual surface
Tentative schedule:
9:00:  Welcome and first artist presentation: Annis Fitzhugh
10:30:  Break
10:45:  Tyler laser cut demonstration with Steve Campbell, Tyler Digital Fabrication Studio Manager
12:00:  Lunch break
1:00:  Artist presentation: John F. Simon, Jr.
2:15:  Break
2:30:  CNC demonstration and artist presentation, Robert Jackson, Print Studio Technical Instructor at Dundee Contemporary Arts
4:00:  Artist presentation: Glen Baldridge
5:30:  Wrap up and travel to reception
6:00:  Reception and gallery talk at the Print Center, gallery talk with artist Matt Neff on his "Second Sight" exhibition
          1614 Latimer Street, Philadelphia