Architecture students at the Tyler School of Art and Architecture are studying COVID-19 to develop public health design solutions for new problems created by a global crisis as well as long-standing infrastructural and social disparities.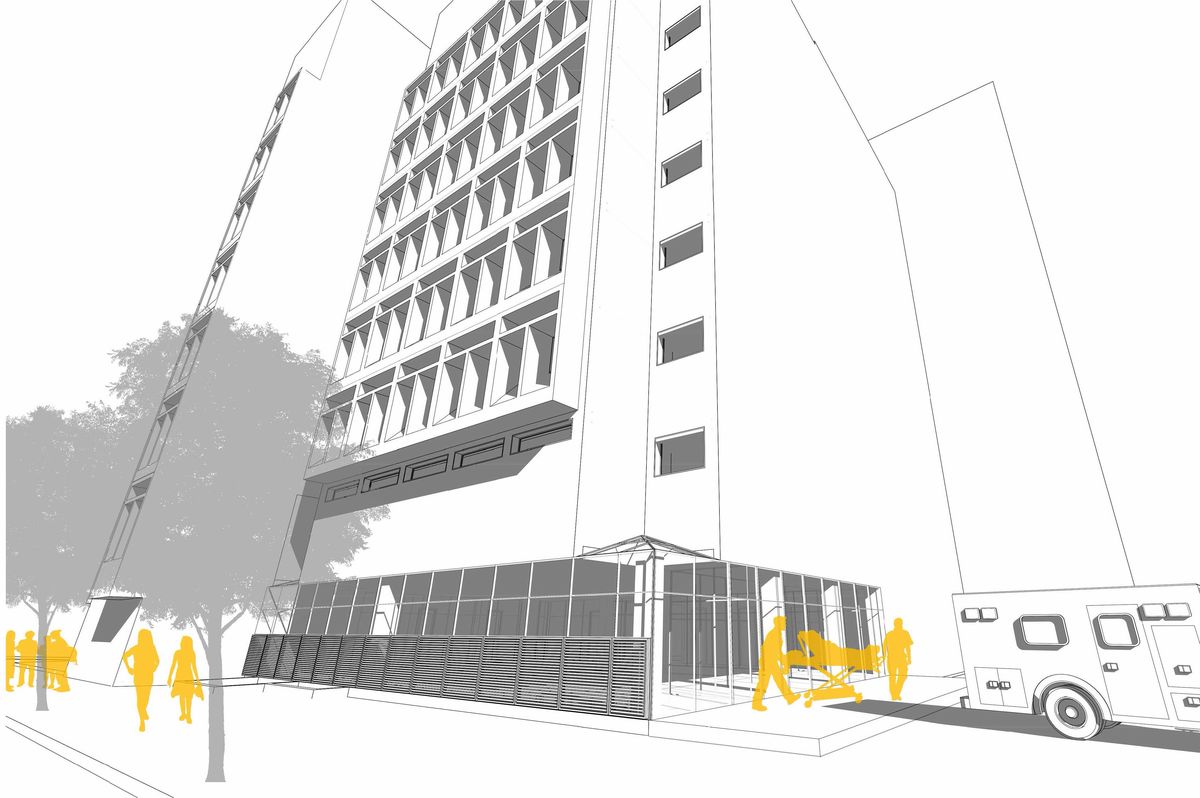 Image of backdoor entrance for emergency medical surge center courtesy of Tyler Architecture student Dominic Martino. 
The Tyler School of Art and Architecture's Health and Design concentration has spent 2020 using its studio classes as incubators, designing responses to major public health events, like the ongoing COVID-19 pandemic, that can also be adopted broadly.
In class, Tyler Architecture students have focused on hypothetical design changes that address conflicts and difficulties associated with ensuring safe drop-off zones and entry for the Child and Adolescent Anxiety Disorders Clinic at Temple University in Weiss Hall at 1701 N. 13th Street in Philadelphia. The conflicts addressed related to the building's entry, including the overlap of different modes of transportation, pedestrian mobility as well as maintaining separation from students entering the building to reduce the number of transmission vectors during involuntary contact between people arriving at the facility.
What started as an observational study of the entire building's usability conflicts changed with COVID-19 in February. The class quickly zeroed in on Weiss Hall's entrance, proposing designs that comply with social distancing protocols.
Design parameters evolved with the pandemic, and soon students were addressing both public health inequalities in underserved communities and the emerging challenges specific to racial disparities in health outcomes. Weiss Hall became the canvas to design new spaces, including a free public clinic and clinics for Temple to act as an agent towards reducing the social stigmas of health facilities by being more engaged in delivering public health on campus.
"I have been able to grasp the importance of being attentive to the space we design, as well as the effective distribution of programs in an effort to create a safe and comfortable environment for patients." – Tyler student Sharon Okune (MArch '21)
Ulysses Sean Vance, associate professor of architecture, calls this kind of strategic approach to healthcare design "Percent for Health." It replicates the national "Percent for Art" model of programs that funds public art where private or specialized funding is unavailable. In Vance's iteration, cities would have access to emergency medical surge facilities or intervention spaces to help them respond quickly to health crises that may arise.
"Professor Vance's course has furthered my understanding of how building design can contribute to the wellbeing of patients," said Cassondra Farmer (MArch '21). "It has allowed me to explore integrated design strategies that can be implemented to create a welcoming and trustworthy environment for patients."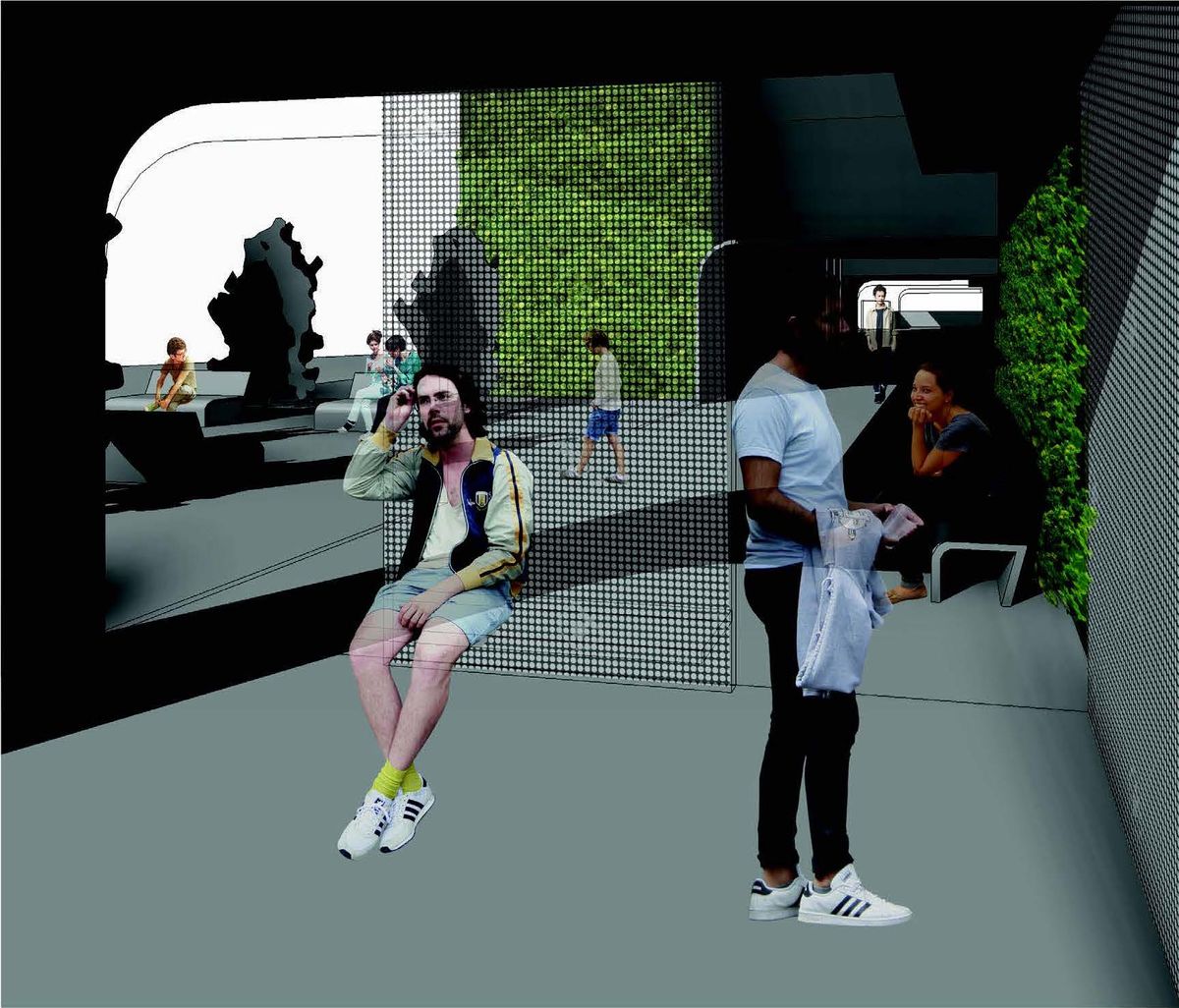 Image of Weiss Hall design by Tyler Architecture student Elif Terzi.
Vance's health design pedagogy includes a people-first mentality. This includes an emphasis on reducing "structural anxieties" (such as a leaky roof that may make an individual feel unsafe or stressed) that are not conducive for recovery, as well as opportunities to optimize a "healthful" built environment—that is, infrastructure that helps people cope and supports their wellbeing, whether that be medical, nutritional, educational or social.
In addition to the studio work on Weiss Hall, Temple's decision to turn the Liacouras Center into a temporary medical facility, is informing future studio work at Tyler. "I am interested in studying adaptive reuse for institutional and educational space to service acute medical crisis needs, especially in service of low-income communities," Vance said, who has begun to develop a needs-based map of closed schools versus hospital locations to determine the deficiencies and potential marketplace of derelict buildings in Philadelphia.
Health and Design is a central part of Tyler's broad and expanded offering of architecture degrees and professional certificates, positioning the school on the cutting-edge of the field. "I want our program to be one of action," Vance said. "The qualitative metrics that we discover will improve the quality of life for so many populations, from schools to hospitals to other shared public spaces where people seek comfort and safety."
You can learn more about "healthful" design and the synergy between health equity, access, and informal settlements at the virtual DesignPhiladelphia panel "Informal Health Access," moderated by Ulysses Sean Vance, on October 12 from 2–3:30 p.m.
To explore Tyler's programs in architecture and environmental design, visit Tyler's broad list of academic programs.