Community Development Workshop
The capstone Community Development Workshop engages undergraduate students in a service-learning experience working directly with community-based organizations in Philadelphia.
 
2015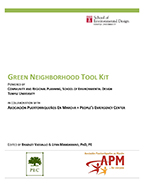 Green Neighborhood Tool Kit The spring 2015 Community Development Workshop students developed a Green Neighborhood Tool Kit for two communty partners: Asociacion Puertorriqunoes en Marcha and The People's Emergency Center.  The Green Neighborhood Tool Kit identified environmental, social and economic iniatives the two communities partners could undertake to make their communities more sustainable and to enhance the quality of life of residents.  The New Kensignton Community Development Corporation's Sustainable 19125 program was the model for the student project.

The workshop students also organized two community events to raise awareness of the Tool Kit and sustainability.  With PEC connectors and community volunteers the students painted reclaimed bricks to create a decorative border for a new planting bed at the information kiosk at 40th Street and Lancaster Avenue.  With APM connectors and community volunteers. the students painted reclaimed shipping pallets and planted them with sedum - green roof type plants, to create Valla Verde, a green fence, beautifying a vacant lot at 6th and Diamond Streets.
 
Planning Studio
The capstone Planning Studio course engages graduate students in a professional practice experience working directly with a client, often a community-based organization in Philadelphia.  The students' work has received awards for the past 5 years.
 
2015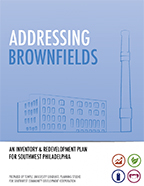 Addressing Brownfields: An Inventory & Redevelopment Plan for Southwest Philadelphia was prepared by the 2015 Temple University Graduate Planning Studio for the Southwest Community Development Corporation (Southwest CDC) as a reference tool to be used by the community as they engage in future redevelopment discussions. A long unmet need of the Southwest CDC, this brownfields inventory is a key resource in identifying and prioritizing brownfields and other underutilized sites for reuse and redevelopment. Inventories like this can be challenging and time-consuming for communities to assemble; however, once created, they have the potential to provide great insight for future community planning and development efforts. Southwest Philadelphia has a history of industrial land use, which has left behind a legacy of environmental contamination as well as detrimental social and economic impacts.
Southeast Section of the Pennsylvania Chapter of the American Planning Association: 2015 Student Scholarship Award for a Group Paper
Text Credits: JDoshna
 
2014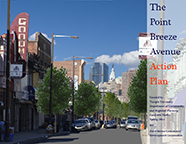 The Point Breeze Avenue Action Plan (the "Action Plan") will serve as a guide to catalyze sustainable and equitable economic development in Point Breeze through the re-establishment of Point Breeze Avenue ("the Breeze") as its primary commercial corridor within a five year timeframe. The Action Plan builds upon previous planning efforts, most notably two plans developed by Interface Studio in 2005 and 2009, with updated recommendations based on current conditions and planning best practices. The Action Plan is unique in its offering, providing specific tools and strategies to implement each recommendation. The Action Plan is intended to empower the community, the Point Breeze Community Development Corporation (Point Breeze CDC), and other partnering organizations to readily put the plan in motion.
The recommendations suggested in the Action Plan are intended to address residents and business owners who have received many promises of change, but have not yet experienced that progress. The Action Plan will unite the neighborhood through a series of programs and initiatives that will make Point Breeze a stronger, healthier, and more sustainable community. Specific focus was given to addressing the issues of economic revitalization, neighborhood partnerships, food access, streetscapes and transportation, vacant lots and, where appropriate, possible funding sources are provided. It is our hope that these recommendations will meet the needs of current and new residents while also providing the tools necessary in order to revitalize the commercial corridor along the Breeze.
Southeast Section of the Pennsylvania Chapter of the American Planning Association: Best Student Paper
Text Credits: JDoshna
 
2013

Aging with our Communities.  The Spring 2013 Graduate Planning Studio was the culmination of the Department of Community and Regional Planning's year-long focus on planning for aging communities. The demographic reality of the retiring 'Baby Boom' generation will place significant challenges on planners across the United States. The client, Montgomery County Office of Aging and Adult Services, like many area agencies on aging, lacked any significant capacity to engage in the comprehensive planning required to meet this challenge.
Also unique to this year's studio was the combination of both the Graduate and Undergraduate sections, enabling the students to create a very significant planning document that addressed demographics, housing, transportation, services, and safety & security.
Pennsylvania Chapter of the American Planning Association: Best Student Project
Text Credits: JDoshna