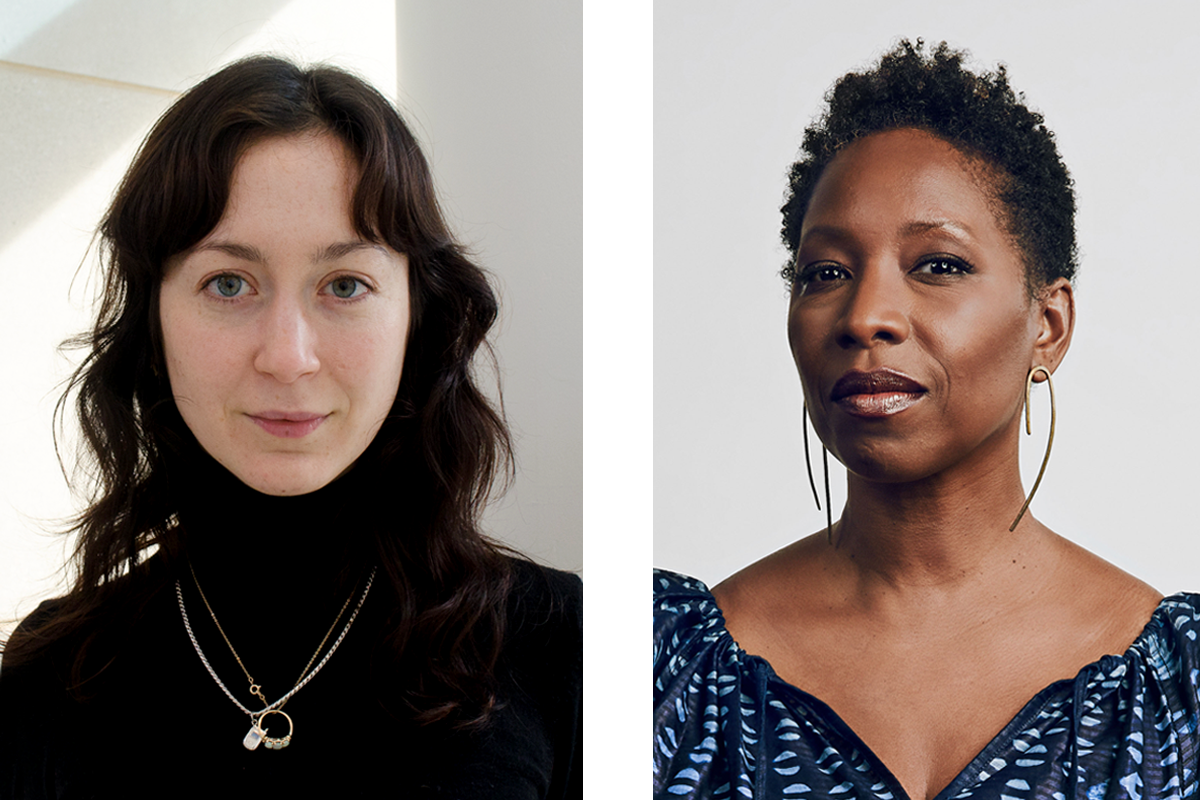 This year, two Tyler School of Art and Architecture students have been awarded Fulbright Scholarships for the 2022-2023 academic year. Abbey Muza (MFA '22), and Malene Barnett (MFA '22), will use their grants to travel to Paris, France, and Kingston, Jamaica, respectively, to further study their crafts and produce intensive research-based artwork. Last year, Tyler faculty members Gabriel Kaprielian and Mariola Alvarez were awarded Fulbright grants for the 2021-2022 academic year to study in Singapore and Brazil.  
The prestigious and highly competitive Fulbright U.S. Student program, which dates to 1946, awards artistic and scholarly excellence and offers individuals a unique opportunity to advance their respective fields through intensive research, once-in-a-lifetime cultural experiences and creative and intellectual exchange in more than 140 countries.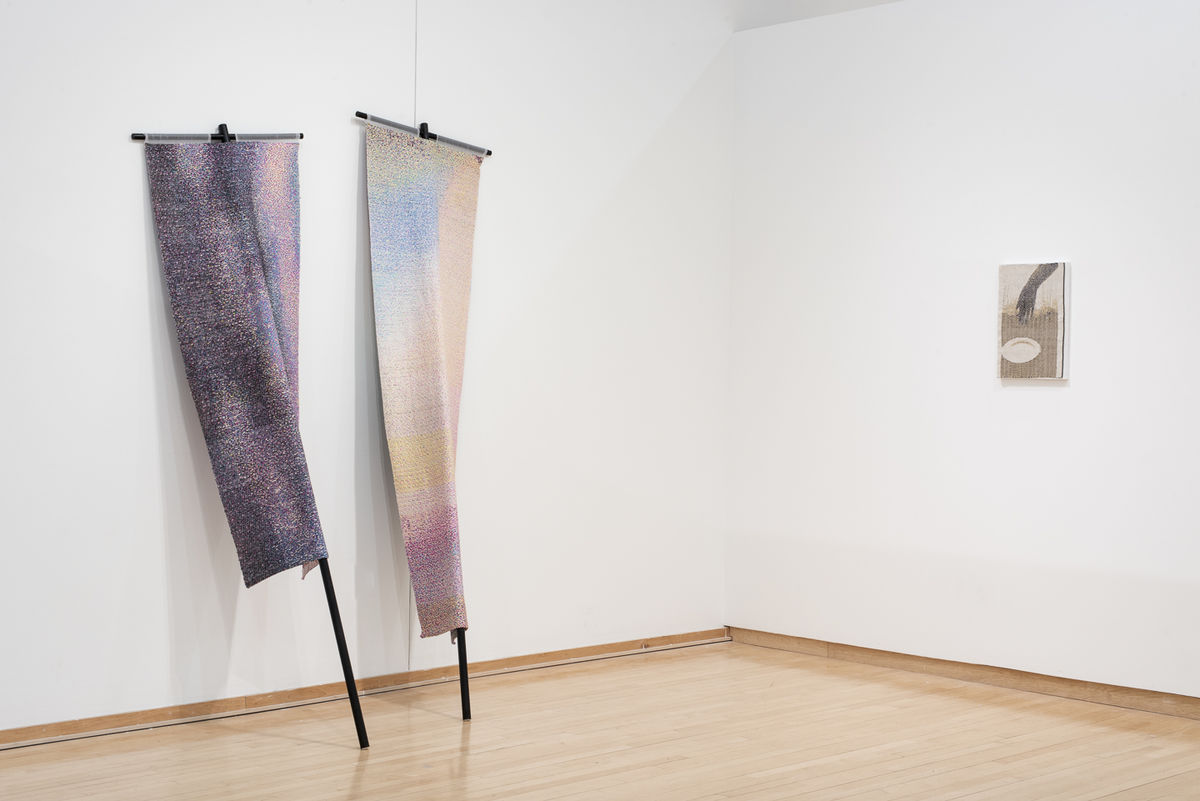 Abbey Muza, "A blush, a flush, a fever, a command." 2022, installation view, silk, wool, cotton, dye, o-rings, 25 x 43 in. Photo credit: Neighboring States.
Fibers and Materials Studies graduate student Abbey Muza will use their Fulbright grant to study at the Fondation des États-Unis in France, creating tapestries inspired by the works of revolutionary queer artists and writers who lived and worked in Paris in the 1920s and 1930s.  
Of this particular area of study, Muza says, "Tapestry has been a French artform for millennia. It had sort of fallen out of trend since the Middle Ages, but then modern artists brought it back into style. I'll be working with a Jacquard loom, and I've planned to apply for a Fulbright since I started my MFA, so this is something I've been working toward for some time." 
Since earning their BFA from the School of the Art Institute of Chicago where they studied painting, Muza describes the desire and transition to working with weaving. "There are limitations, and it's a very mathematic process. I really like that an image in weaving is imbued into the material. It precedes paper — weaving was the way people first told stories, shared symbols." 
Muza will work in their own studio and will be affiliated with the Department of Design textile et matière at the École Nationale Supérieure des Arts Décoratifs. They will begin by conducting archival research about French queer artists and writers, such as Claude Cahun, Hélène Aylon, and Jean Lurçat, as well as tapestry art produced during the 1920s and 1930s.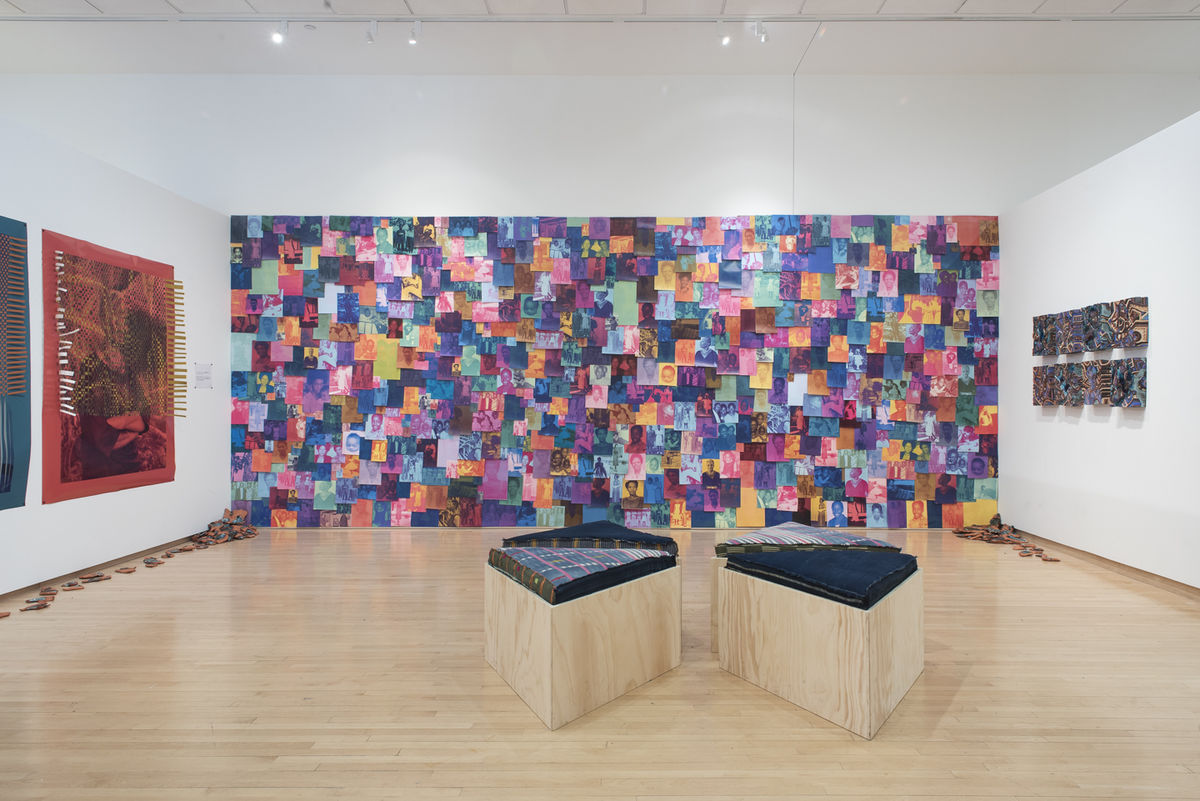 Malene Barnett, Legacy Wall, installation view, color laser printouts 10 x 20 feet, Photo credit: Neighboring States. 
Ceramics graduate student Malene Barnett will be the visiting artist at Edna Manley College in Kingston, Jamaica. Barnett, whose background is in textile design, has spent the last two decades creating handmade rugs for residential, commercial, and hospitality environments, though through her work in Jamaica, Barnett hopes to unearth new knowledge surrounding African and Jamaican pottery and create an "inclusive craft history dialogue," she says. 
Barnett used her time at Tyler to investigate her own family history and forge connections between the African American and Caribbean experiences. Her work examines the makers in her family through the uses of clay, paper, and glass mediums, and Barnett was thrilled to utilize all the different outlets that Tyler offered.  
As an artist, the opportunity to travel through the Fulbright award will grant Barnett the information she needs to piece together this fragmented history she has been studying — historical, regional, and familial gaps are dots to be connected through an immersive ceramics experience. While studying Jamaican ceramics traditions, Barnett will be "creating a body of work to honor the Black diaspora" with a focus on yabba pots, as well as conducting interviews with potters, artists, students, and faculty.  
Barnett hopes that her time in Jamaica and the work she will bring back will inspire other people to apply for grants to the Caribbean region, an area that is often overlooked.  
Header image: L-R, Abbey Muza and Malene Barnett, courtesy of the artists