A pair of Tyler professors have earned prestigious Fulbright Scholarships to advance their study of the intersection of climate change, urban waterfronts and rising sea levels, and abstract art-making by the Japanese diaspora in Brazil.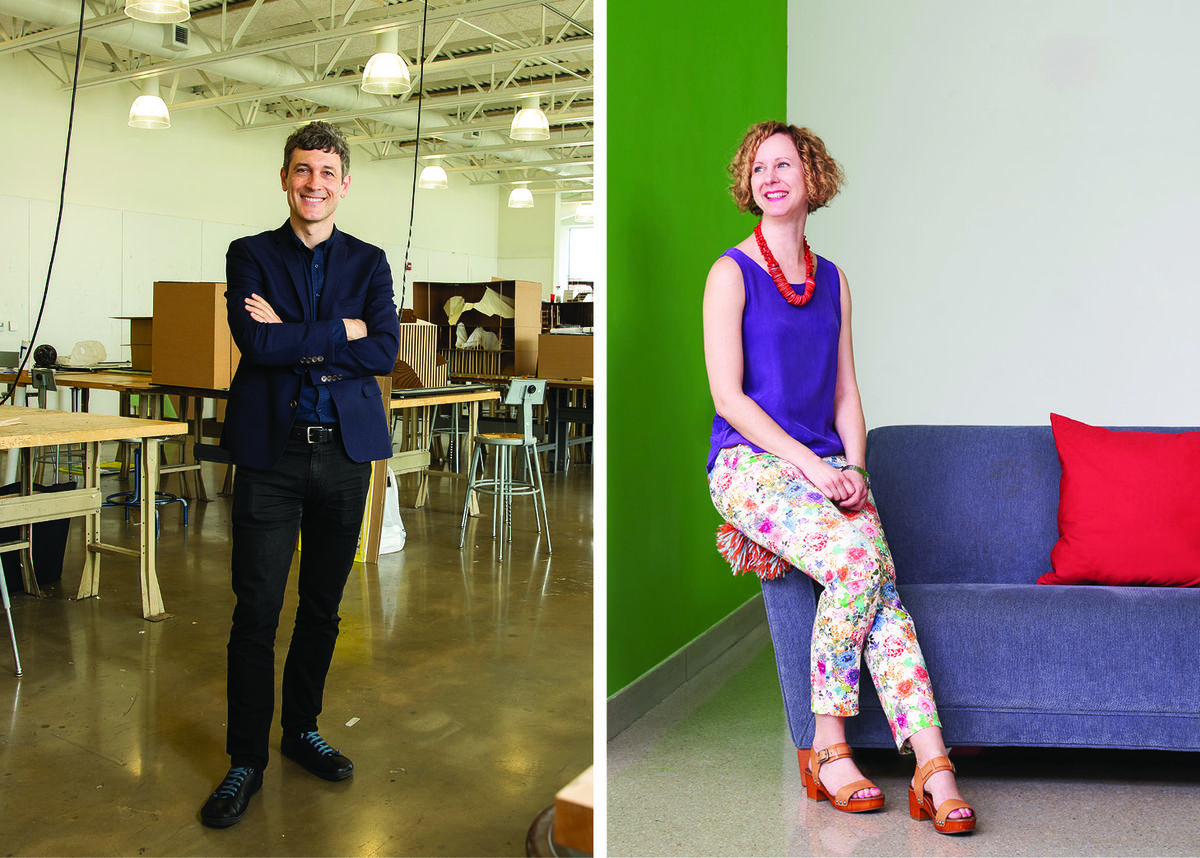 Left to right: Gabriel Kaprielian in one of Tyler's Architecture studios (Image: Temple University Photography / Joseph V. Labolito) and Mariola Alvarez in one of Tyler's lounge spaces (Image: Stephanie Price).
Two faculty members of the Tyler School of Art and Architecture—in the Architecture and Art History programs—are continuing Temple University's strong tradition of producing Fulbright Scholars. In fact, in 2021, Temple is among the ranks of Ivy League schools as a top 25 producer of Fulbright Scholarship recipients.
The Fulbright Program, which dates back to 1946, awards artistic and scholarly excellence and offers individuals a unique opportunity to advance their respective fields through intensive research, once-in-a-lifetime cultural experiences and creative and intellectual exchange in more than 140 countries. Below, you can learn more about the award-winning projects of Tyler professors Gabriel Kaprielian and Mariola Alvarez.

Gabriel Kaprielian's Fulbright work will build off his previous research related to climate change adaptation, including AdaptingWaterfronts.org, an online interactive toolkit for waterfront resilience—a project that seeks to develop platforms for creative communication and interdisciplinary collaboration to tackle the pressing challenges related to climate change.
Gabriel Kaprielian
As a Fulbright Scholar, Gabriel Kaprielian, assistant professor of architecture, will reframe the challenges of sea-level rise as an opportunity for innovation and collaboration to create a shared vision of resilient and sustainable urban waterfronts in Singapore.
"Thanks to the Fulbright, I will be working closely with climate change scientists at my host institution, the Earth Observatory of Singapore at Nanyang Technological University, to develop platforms for creative communication and interdisciplinary collaboration to tackle the pressing challenges related to climate change," said Kaprielian. 
Kaprielian's project, "Postcards from the Anthropocene: A Sea-Level Rise Toolkit for Urban Waterfront Resilience in Singapore," proposes to develop a sea-level rise toolkit that can visualize sea-level rise, apply a methodology of site analysis to inform potential resilience strategies and develop an interactive digital platform that builds place-based knowledge, communicates sea-level rise risk and enables collaboration between diverse stakeholders in Singapore, the United States and globally. 
Why Singapore? "The threat of sea-level rise is a global issue with nearly 20 percent of the world's population living in a coastal area," said Kaprielian. "Singapore is a particularly fascinating case study: an island city-state where roughly a third of the island resides under five meters above mean sea level. How the country responds to the effects of climate change along their urban waterfront will be of interest to other coastal cities worldwide, including Philadelphia."
This direct relationship to Philadelphia makes for a valuable example for students, too. In the past, Kaprielian has taught a studio class where students created designs for a Climate Change Institute situated at Pier 55 on the Delaware River waterfront to adapt to changing site conditions, while cohabitating with the reintroduction of a tidal wetland ecology and employing sustainable architecture principles to mitigate further global warming. 
"What I learn from climate change scientists, government officials and key stakeholders on a global stage during this Fulbright will further amplify Tyler and Temple's voice in this important dialogue," said Kaprielian. The goal is to place our students at the forefront of innovation to be the next thought leaders and game changers in the profession of architecture."
Kaprielian will be researching in Singapore from August–December, 2021.

Embarkment by Tomie Ohtake at José Menino Beach, Santos, 2008. Made possible by the city of Santos, sponsored by Cosipa/Usiminas, Gafisa and Yune Incorporadora, with the collaboration of Jorge Utsunomiya and Vera Fujisaki.
Mariola Alvarez
As a Fulbright Scholar, Mariola Alvarez, assistant professor of modern and contemporary Latin American art in the Tyler School of Art and Architecture's Art History Program, will expand her examination of the art of the Japanese diaspora in Brazil.
"Though I have dedicated my academic career to the history of Brazilian art, I have not had the opportunity for sustained research in Brazil," said Alvarez. "The Fulbright grant will allow me to conduct research in museums, archives and libraries in Brazil, establish relationships and encounter stories and materials that enrich my scholarship as well as my classes, with a focus on transnational and comparative art histories." 
Alvarez's project, "Becoming Modern, Becoming Brazilian: Japanese Brazilian Abstract Art, 1945–1970," focuses on a historical and visual study of the artwork of Brazil's Japanese community—the largest population outside of Japan—with a focus on three immigrant and abstract artists: Tomie Ohtake, Manabu Mabe and Flavio-Shiró, and their significant contributions to the history of modern and contemporary art. 
"The field of art history has often elided the work of these artists because they cannot be examined simply through a national narrative," Alvarez said. "My Fulbright-funded research instead will apply diaspora studies to understand their art by tracing the international connections in the work, thereby expanding what is currently defined as 'Latin American' art and the interconnectivity of postwar global cultural production." 
Alvarez will be hosted by one of her mentors, Ana Gonçalves Magalhães, associate professor and deputy director at the Museum of Contemporary Art at the University of São Paulo. Alvarez will guest lecture on her research and the history of abstraction in Magalhães's graduate seminar. When she returns to the United States, Alvarez intends to create new course topics at Tyler based on her findings, as well as advise graduate students on leveraging resources, forging relationships and conducting research internationally.
"As a Fulbright Scholar, I hope to continue developing and collaborating with a transnational network of academics, artists and students working on global abstraction and the intersection of diaspora studies and art history," Alvarez said.
 
Alvarez will be researching in São Paulo, Rio de Janeiro, and Brasília, Brazil from May–August, 2022.