The highly competitive fellowship from the American Academy in Rome will support Lugo's monumental, community-based project that will blend art and activism in two historic cities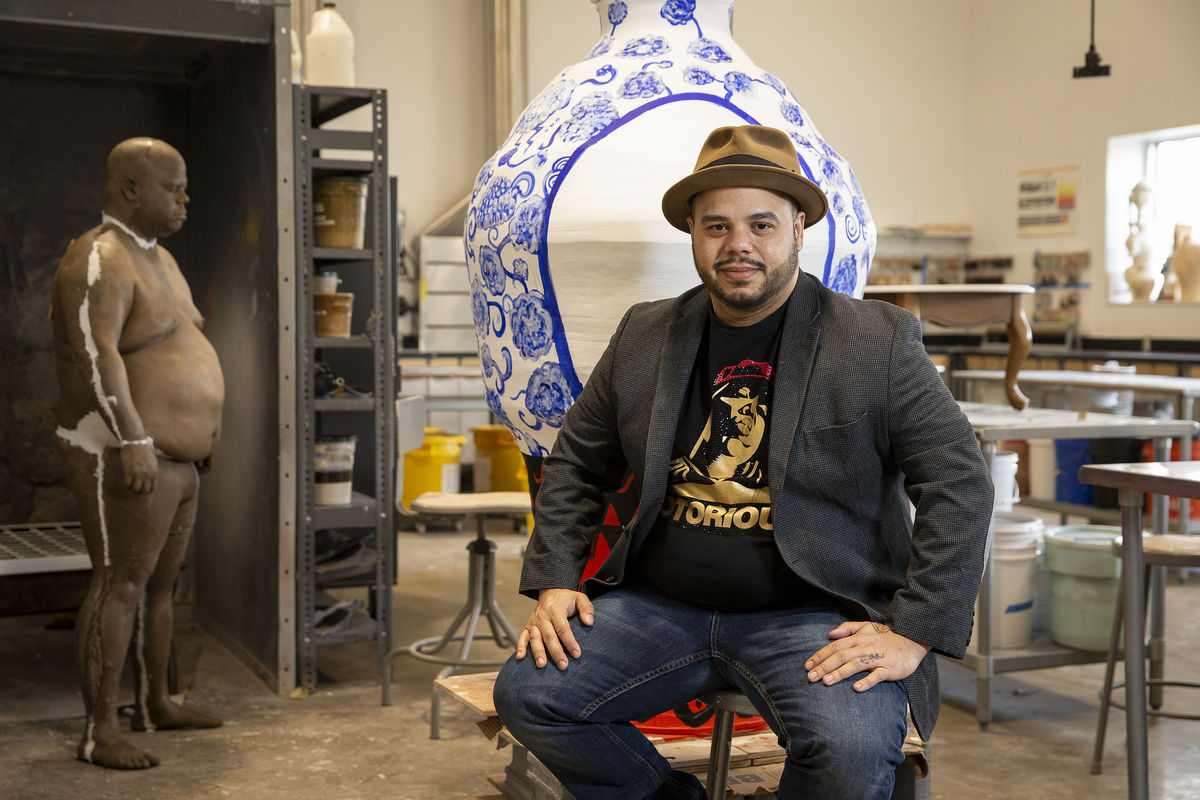 Roberto Lugo and his work in the Ceramics Program's glaze lab at the Tyler School of Art and Architecture.
Roberto Lugo, assistant professor and head of the Ceramics Program at the Tyler School of Art and Architecture, has been awarded a 2019-20 Rome Prize to advance his intensely personal and politically-charged artistic practice—what he calls "ghetto pottery"—that explores race, poverty, inequality, history and obesity. 
This is the second consecutive year that a Tyler faculty member has received this internationally prestigious and highly competitive honor. Karyn Olivier, associate professor and head of Tyler's Sculpture Program, won a Rome Prize in 2018.
"I'm thrilled and honored to be recognized by the American Academy in Rome," Lugo said,  "The Rome Prize means being taken seriously as an artist. This award means people are really looking at what I have to say as being important versus just how I made the object. I feel heard." 
The Rome Prize is awarded annually by the American Academy in Rome to support advanced independent work in the arts and humanities. Recipients receive a stipend, workspace and room and board for a period of up to two years in Rome, Italy.
Lugo's vessels appropriate forms and ornament from royal porcelain manufacturers and recontextualize their iconography by paying homage to underrepresented people of color. During his residency in Rome from February to July 2020, Lugo will continue to explore these themes in his project called, "Valor in Vandalism: a Revolutionary Triptych." For this project, Lugo is reflecting on his roots as a graffiti artist by looking at graffiti from the perspective of defacement—in particular, defacing the histories that excluded him as a person of color (Lugo is of Puerto Rican heritage). In "Valor in Vandalism," Lugo will remake all 177 pieces in Napoleon's dinner set. The project will culminate with the set being used at two dinners—one in Rome and another in Kensington, Philadelphia (his hometown)—bringing together diverse communities, like a drug rehabilitation center, a church and art collectors. "It's an opportunity to get people in the same room who might never be and create conversations," Lugo said.
As a member of Tyler's faculty since 2017, Lugo is looking forward to how this experience can be incorporated into the classroom when he returns. 
"The Rome Prize is a way to look past your field and see how your work applies in a broader context," he said. "And working with the top artists and scholars and learning how they think of research will help me guide Tyler's students to pursue their bliss while knowing that what they personally think is important is also relevant."  
Roberto Lugo's work can be found in the collections of the Philadelphia Museum of Art and the Los Angeles County Museum of Art, among many others. His solo exhibition at the Walters Museum of Art (on view through July 15, 2019) earned a spot in Hyperallergic's "Top 20 exhibitions of 2018." 
Posted by Zachary Vickers
Photo by Temple University Photography/Joseph V. Labolito