A new initiative offers graduating students from the Tyler School of Art a stunning class gift from a distinguished alum—for the Class of 2019, it's an original work of art created by influential artist and activist Edgar Heap of Birds, MFA '79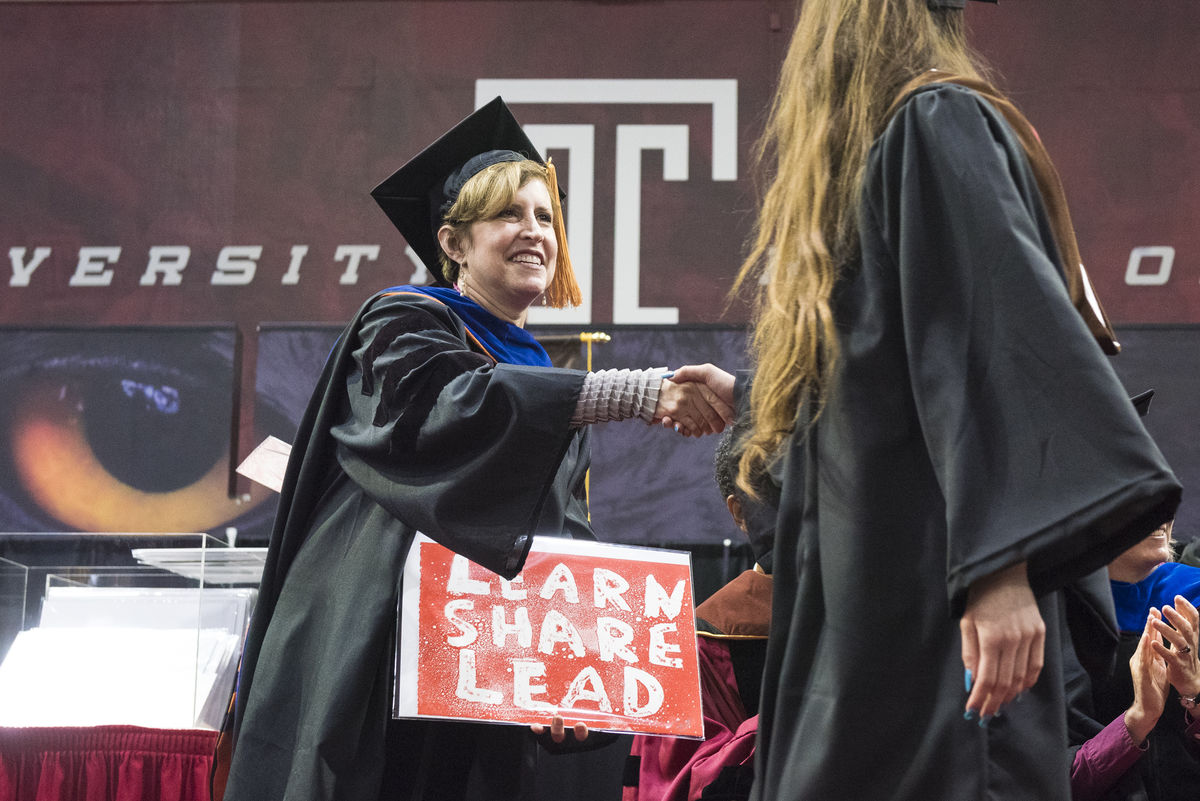 Tyler Dean Susan E. Cahan hands out "diplomas" to graduates at the 2019 Tyler School of Art Commencement ceremony. The "Learn, Share, Lead" print was created by Edgar Heap of Birds, MFA '79 in partnership with Tyler's Printmaking Program faculty and students.
The graduating Class of 2019 of the Tyler School of Art at Temple University received a surprise gift at the school's Commencement ceremony on May 10, 2019: a powerful, limited-edition print by Edgar Heap of Birds, MFA '79—one of the school's most distinguished alumni.
This one-of-a-kind "diploma" is the first product of a Tyler initiative that will invite a different alumnus or alumna each year to create a work of art as a special gift to graduates to supplement their official diploma, thereby connecting two generations of thinkers and makers.
Edgar Heap of Birds, MFA '79, a visionary multimedia artist, educator, activist and member of the Cheyenne tribe, was selected as the project's inaugural artist. Best known for his signature bold, painterly, handwritten style, his pieces often incorporate short, sharp, painted messages (he "wields words like weapons," wrote Art in America). Heap of Birds partnered with Tyler's Printmaking Program to produce a limited run of silkscreen prints of an original work featuring three words: "Learn, Share, Lead."
"If you participate in your community then maybe you have the ability to represent it," Heap of Birds said. "I look at these three words like that—you've got this privilege to know, then the issue is to share it and maybe provide leadership if you have something to offer. What are you going to do to help?"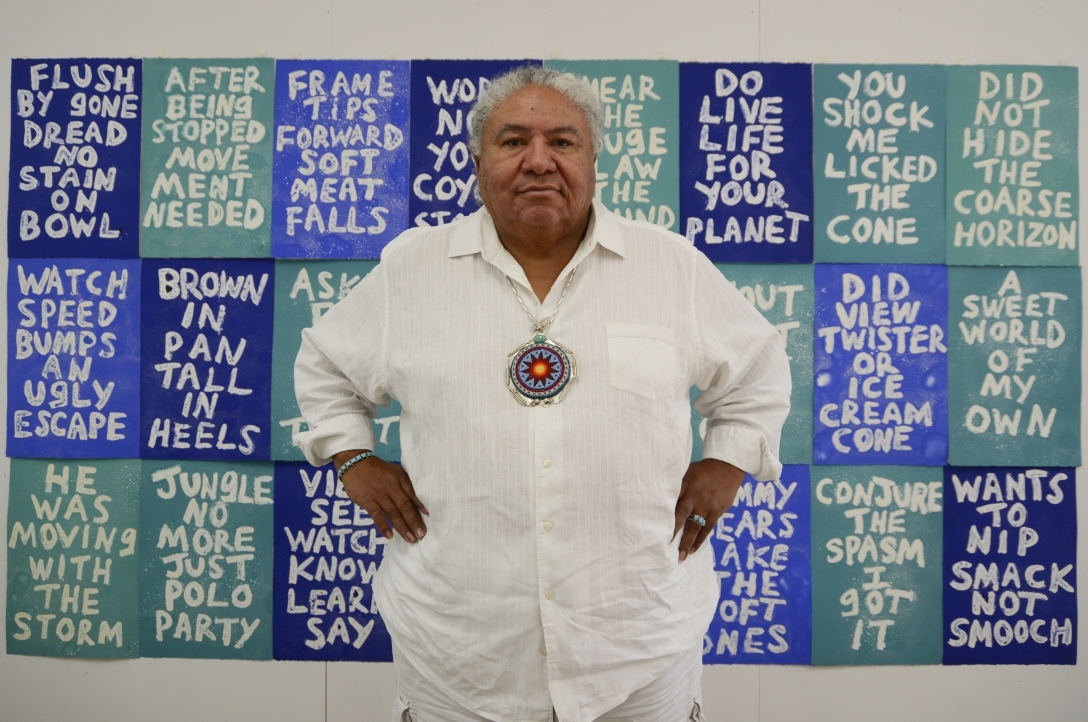 Edgar Heap of Birds, MFA '79
The print derived from Edgar's experiments with monotype while working at Josephine Press in Santa Monica and Fourth Dimension Fine Art Studio in Santa Fe. His work during this time in California and New Mexico would become part of his current exhibition Hock E Aye Vi Edgar Heap of Birds: Surviving Active Shooter Custer at MoMA PS1, on view through September 8, 2019.
After developing the idea for "Learn, Share, Lead," Edgar collaborated with Amze Emmons, associate professor and program head of printmaking to produce the edition. "We talked about the nuances of the print," Heap of Birds said. "I'm a freewheeling painter. I'm about the smear, the drip and bleed—the ghost. I'd tell Amze, 'We've got to get it more ghosty.' And he understood that." 
Once it was finished, a small team of Tyler students worked with Heap of Birds and Emmons to produce about 150 prints each to create a total of some 500 prints for graduation—a gift that also serves as a reminder of what Tyler values and what its students represent as they go out into the world.
"I wanted these students to receive something concrete to celebrate the conclusion of their studies at Tyler, something they would keep and enjoy for the rest of their lives," said Tyler Dean Susan E. Cahan. 
"The words Edgar chose for his stunning print imply a continuity of experience—the process of developing as a creator, a scholar and a person," Cahan continued. "This 'diploma' is the passing of the torch—a responsibility. As our graduates embark on the next phase of their lives we hope they remain curious, become increasingly generous as they mature and become the leaders they were meant to be."
 
Posted by Zachary Vickers
Photo of Edgar Heap of Birds by Ted West
Photos of Tyler Ceremony by Sam Fritch