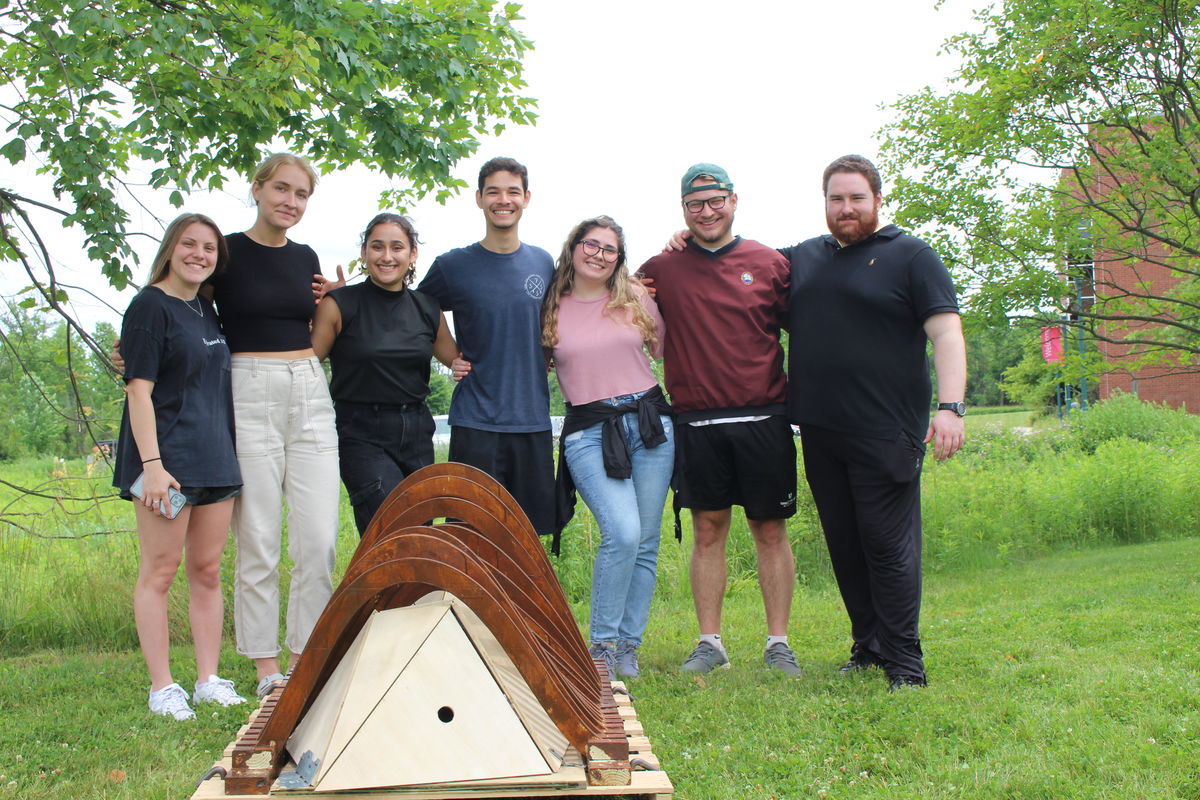 This summer, 19 Master of Architecture graduate students are creating permanent sculptural installations at Temple University Ambler, the Ambler Arboretum and the Temple Ambler Field Station thanks to Special Topics in Site and Context, a new course in the Tyler Summer Design-Build Institute.
Spearheaded by Eric Oskey, RA, Associate Professor of Practice in Architecture, who describes the class as an extension of a previous senior design studio but with a more niche purpose that draws upon the Ambler campus's resources. "This class has been really focused on wildlife and habitats for wildlife.The focus of the summer institute is designed to take advantage of the facilities that are available at the Ambler Campus and provides students with a hands-on experience they might not otherwise have — it leverages some of the design classes from the Architecture program to actually build small installations."
The sculptures, named The Waggle Run, Melody, and The Tree House, are meant to serve as both built installations as well as habitats for animals. The Waggle Run, named for a bumblebee flight pattern, will house endangered bumblebee species. With the focus of the projects being wildlife, Oskey said, "it was important to collaborate with Dr. Amy Freestone and Dr. Mariana Bonfim of the Temple Ambler Field Station and Kathy Salisbury, Director of the Ambler Arboretum," who helped give students a better understanding of biology, ecosystems, and how to connect that with their knowledge of the built environment.
The final projects will be unveiled during a special program held at Temple Ambler on Thursday, June 16, the final day of the course.
Read more about the Summer Design-Build Institute at Temple's Ambler campus by Jim Duffy.
Header photo credit: Graduate students stand with The Waggle Run sculpture, photo by Jim Duffy