Tyler's MFA programs consistently attract both world-renowned artsts, scholars, designers and professionals as well as emerging players who are innovating and pushing industry boundaries to campus for lectures, demonstrations and individual visits with students in their studios.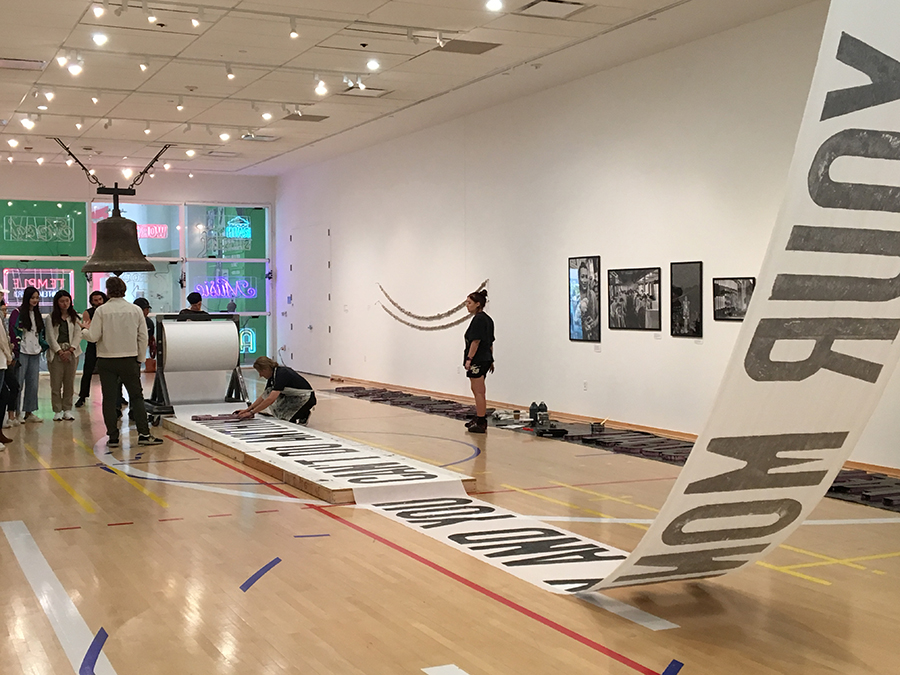 Piotr Szyhalski prints THEM using his hand-built letterpress in Temple Contemporary within the Tyler School of Art and Architecture.
In October 2019, students and faculty from the Tyler School of Art and Architecture silently paraded artist Piotr Szyhalski's THEM—a large, over 400-foot long, socially-charged banner—around its building, engaging Temple University's campus and the surrounding North Philadelphia neighborhood. This performance was the culmination of Szyhalski's weeklong visit to Tyler, in partnership with the Printmaking Program, the No. 7 ranked program in the nation, according to U.S. News & World Report, and Temple Contemporary—the visionary center for Tyler's exhibitions and public programs.
"Hearing Piotr speak about how this project is a tool for his creative expression and a service for public protest was an interesting model for how an artist can engage with and serve the public," said Amze Emmons, associate professor and program head of printmaking. "His approach to printmaking proved to be really generative for our students." 
Leading up to the performance, Szyhalski was available to work individually with students using his hand-built, public-access letterpress printer and an alphabet of large letters to construct student propaganda as well as his massive THEM on a banner featuring phrases like, "THEY EXPLOIT YOUR CHILDREN WHILE YOU WORK IN THEIR FACTORIES," and, "YOUR ILLNESS IS THEIR INCOME."  
"Printing alongside Piotr was a unique opportunity to engage with a professional artist in a relatively personal capacity," said Katie Garth (MFA '20). "It created an avenue to consider print as a vehicle for social advocacy, which can be a rare experience in institutional art settings. Tyler places an emphasis on exposing us to and connecting us with high-profile artists and practitioners who share our specific concerns and interests." Other recent visiting artists to printmaking include Stephani Syjuco, Imin Yeh and JULM Studios—all of whom embody the range of practices that encompass contemporary printmaking today—as well as scholars and critics, like Susan Tallman, editor-in-chief of Art in Print, who help conceptualize what lies ahead as the field and practice continue to evolve.
Szyhalski's visit is typical of the kinds of experiences students can expect across Tyler's MFA programs with its many visiting artists, scholars and designers. Tyler's Laurie Wagman Visiting Artist and Artist-in-Residence series, supported by the Laurie Wagman Fund in Glass Art at the Tyler School of Art and Architecture, invites groundbreaking artists from across the world to visit Tyler for lectures, demonstrations, residencies and one-on-one time with MFA Glass students in their studios. This visits underscore Tyler Glass's commitment to go beyond the traditional "goblet" to include installation, performance, sculpture and new media while still advancing glass technically. 
"Having an endowed series combined with incredible facilities allows us to create experiential learning, community building and connections for students," said Jessica Jane Julius, assistant professor and program head of Glass, the No. 2 ranked program in the nation, according to U.S. News & World Report. "It plays a vital role in exposing the students to a range of creative practices." 
Past visiting artists to Tyler Glass include Jiyong Lee, a Korean-born artist who conducted an HXTAL laminating demo; Deborah Czeresko, acclaimed glass artist and winner of Netflix's competition reality show Blown Away; scholar Mary Cheek Mills, a historic glass specialist researching Philadelphia's early glass industry; and the innovative glass performance trio Flock the Optic. The Laurie Wagman Artist in Residence has hosted world-class artists like James Carpenter, Doreen Garner, Judith Schaecter and Jason Minami.
"One of the things I have benefited most from as a Tyler Glass graduate student is not only the acceptance, but the embrace of the synchronicities I have as an artist and maker," said Lucy Gillis (MFA '20). "When artists like Nick Cave visit Tyler, the faculty have made it a priority for us to get studio visits and one-on-one interaction."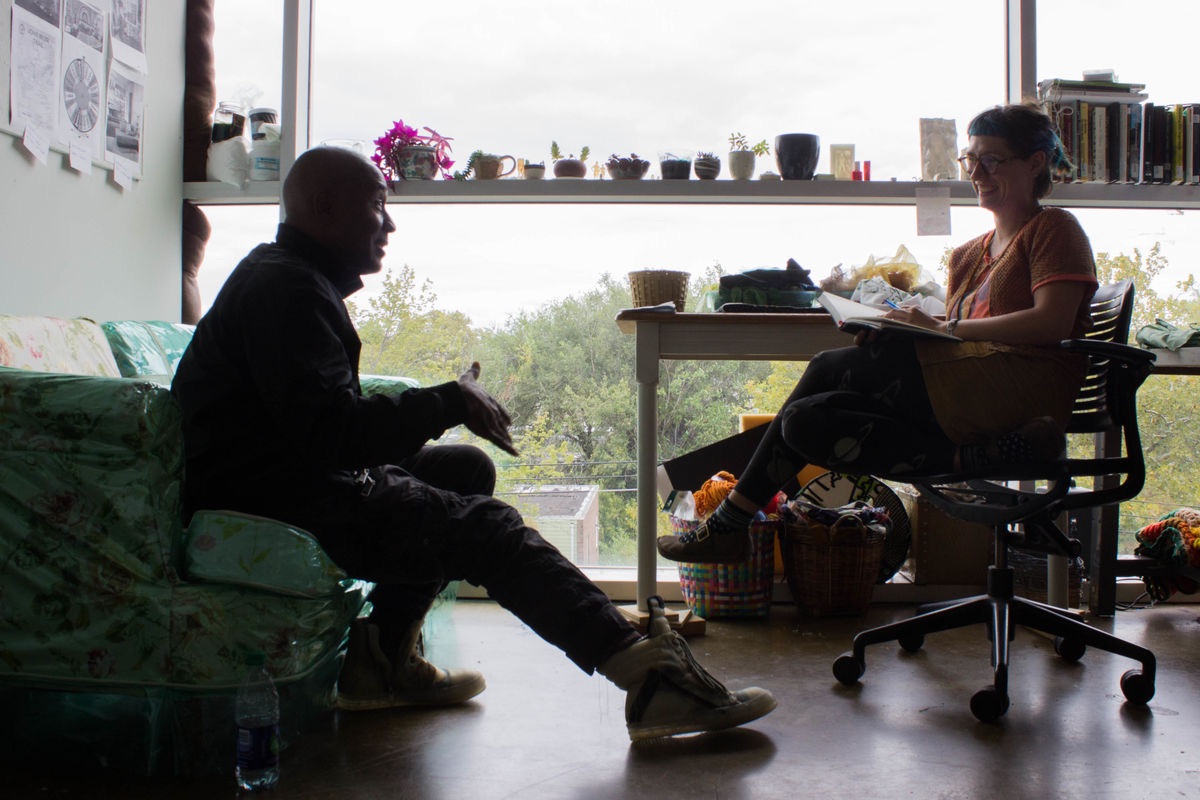 Image: Tyler's 2019 Jack Wolgin Annual Visiting Artist Nick Cave meets with with a student in her studio in Tyler's facilities as part of his visit that included a lecture as part of Tyler's Critical Dialogue Series and The Jack Wolgin Annual Visiting Artist Symposium. The Wolgin Symposium is an endowed visiting artist program that brings one of the nation's most influential artists and thinkers to campus to work with Tyler students and present a free public lecture each year. Past Jack Wolgin Annual Visiting Artists include Judy Pfaff (2016), LaToya Ruby Frazier (2017) and Rick Lowe (2018). Image courtesy of Sophie Stasio.
The Critical Dialogue Series, a core component of Tyler's MFA programs in Painting and Sculpture, has been bringing internationally renowned artists, filmmakers, architects, curators, scholars and writers to campus to work with Tyler students for more than four decades. More recently, the program has evolved to leverage the socially-driven mission of Temple Contemporary as well as underscore Tyler's dedication to interdisciplinary collaboration, welcoming artists who cross disciplines and push boundaries of thinking and making and activate all of Tyler's MFA programs, like Sheile Pepe, Miguel Luciano, Nova Benway and Kukuli Velarde.
"The Critical Dialogue Series has a distinguished history here at Tyler," says Dean Susan Cahan. "For more than forty years, we've brought the most interesting emerging artists and thinkers to work closely with graduate students to support the development of their visions within the context of a broader cultural landscape. These exchanges underscore the value of conversation in the genesis and refinement of ideas."
Want to see what's in store for 2020? Check in with Tyler's calendar frequently to stay up-to-date on all of the visiting artists, lectures, demonstrations, symposia and other events happening at Tyler.