With a new monument commission dedicated to a former slave, a recent Pew Fellowship and a solo exhibition in 2020, Tyler faculty member Karyn Olivier continues to be a dynamic leader in public art and in the exploration of contemporary social issues.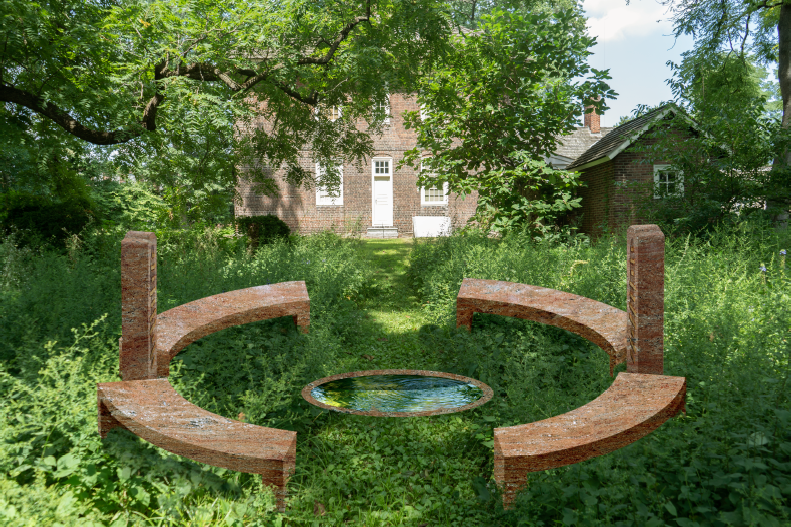 Rendering of Karyn Olivier's monument at Stenton dedicated to Dinah.
In spring 2020, students at the Tyler School of Art and Architecture will have the opportunity to learn from one of the leading public artists, Associate Professor Karyn Olivier, head of the Sculpture Program, in a brand new course. "Advanced Sculpture Special Topics: Public of One, Public of Many" will bring students close to Olivier's artistic practice as they create public works that investigate accessibility, scale, audience, intimacy, spectacle and community, among other elements. 
The timing of the class couldn't be more perfect. Just this fall, Olivier was selected to create a public monument to Dinah, a once-enslaved woman who lived in Philadelphia's historic Stenton House during the Revolutionary War. Her design for Dinah's monument includes a circle of stone benches, a small fountain and two stone slabs decorated with questions posed to both Dinah and visitors, like "How do you wish to be remembered?" and "Do you feel free?" The interrogative composition sparks an imagined dialogue between visitors and Dinah and real conversations about inequality, freedom, history, identity and community.
"My hope is to keep Dinah's memory alive through this activation," Olivier said, who returned to Philadelphia earlier this year after completing a year-long project in Italy called "Histories Converse," as part of her 2018-19 Rome Prize. "Participation is critical. Visitor engagement creates the work—you become part of the monument yourself."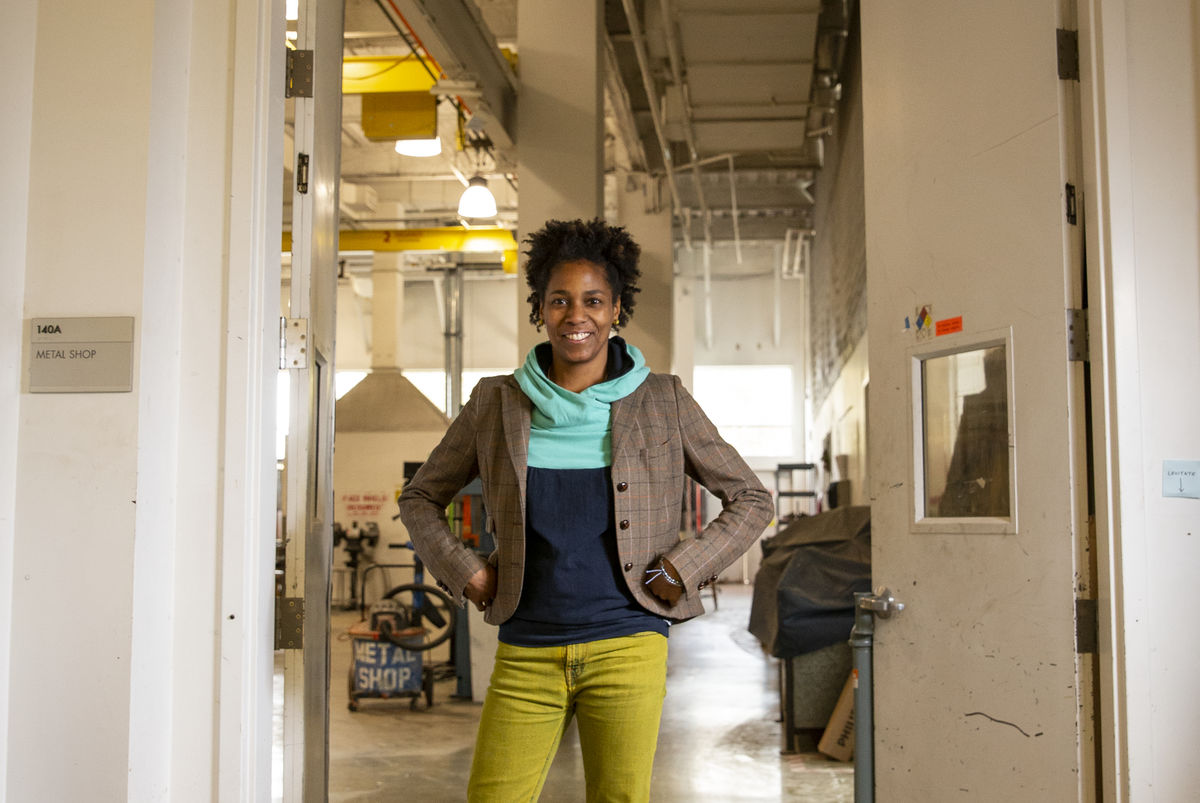 Karyn Olivier, Associate Professor Karyn Olivier, head of the Sculpture Program at the Tyler School of Art and Architecture.
Dinah's monument is part of a two-year, Pew Center for Arts & Heritage-funded project at Stenton, which has been preserved as a museum devoted primarily to the lives of James Logan and his family—Quakers who for a time were slaveholders. Little is known of Dinah's life except for the story of how she saved Stenton from being burned by two British soldiers in 1777.
The monument is also part of Olivier's expanding and signature body of site-specific installations of public art around the world (including Florence, Italy; Lexington, Kentucky; New York City; and Philadelphia). These interdisciplinary projects experiment with media, explore present-day narratives and occupy the intersection of art and social practice to ignite change—elements that both Tyler and its Sculpture Program underscore. 
Also in the new year, from January 24–May 10, 2020, you can experience Olivier's work in a solo exhibition at the Institute of Contemporary Art at the University of Pennsylvania, entitled Everything That's Alive Moves. The show provides a chance to see Olivier's recent work that investigates scale, public memory and issues of inclusivity and acceptance—from a fully-functioning carousel for one, to a large car made entirely of repurposed shoes gathered for export to impoverished countries, to a brick wall that uses discarded clothing as mortar.
In the fall of 2020, Olivier will serve as the inaugural Warhol Fellowship Resident at Recycled Artist in Residence (RAIR), a non-profit arts organization uniquely situated within a construction and demolition recycling center in Northeast Philadelphia. 
Born in Trinidad & Tobago, Olivier has been a member of the Tyler faculty since 2006. Her work has been exhibited at the Gwangju and Busan Biennials (South Korea); the Studio Museum in Harlem; the Whitney Museum of Art (New York); MoMA PS1 (New York); the Museum of Fine Arts, Houston; Contemporary Arts Museum Houston, the Mattress Factory (Pittsburgh); and SculptureCenter (New York). In addition to a Rome Prize, she has earned a John Simon Guggenheim Memorial Foundation Fellowship, a Joan Mitchell Foundation Award, a New York Foundation for the Arts Award, a Pollock-Krasner Foundation grant, a William H. Johnson Prize, a Louis Comfort Tiffany Foundation Biennial Award, a Creative Capital Foundation grant, a Harpo Foundation grant and, most recently, a Pew Fellowship.
Rendering courtesy of Karyn Olivier
Portrait courtesy Temple University Photography