The "Diploma Project" offers graduating students from Tyler a special class gift made by a distinguished alum to connect two generations of thinkers and makers, and to symbolize the school's rich tradition and sense of community.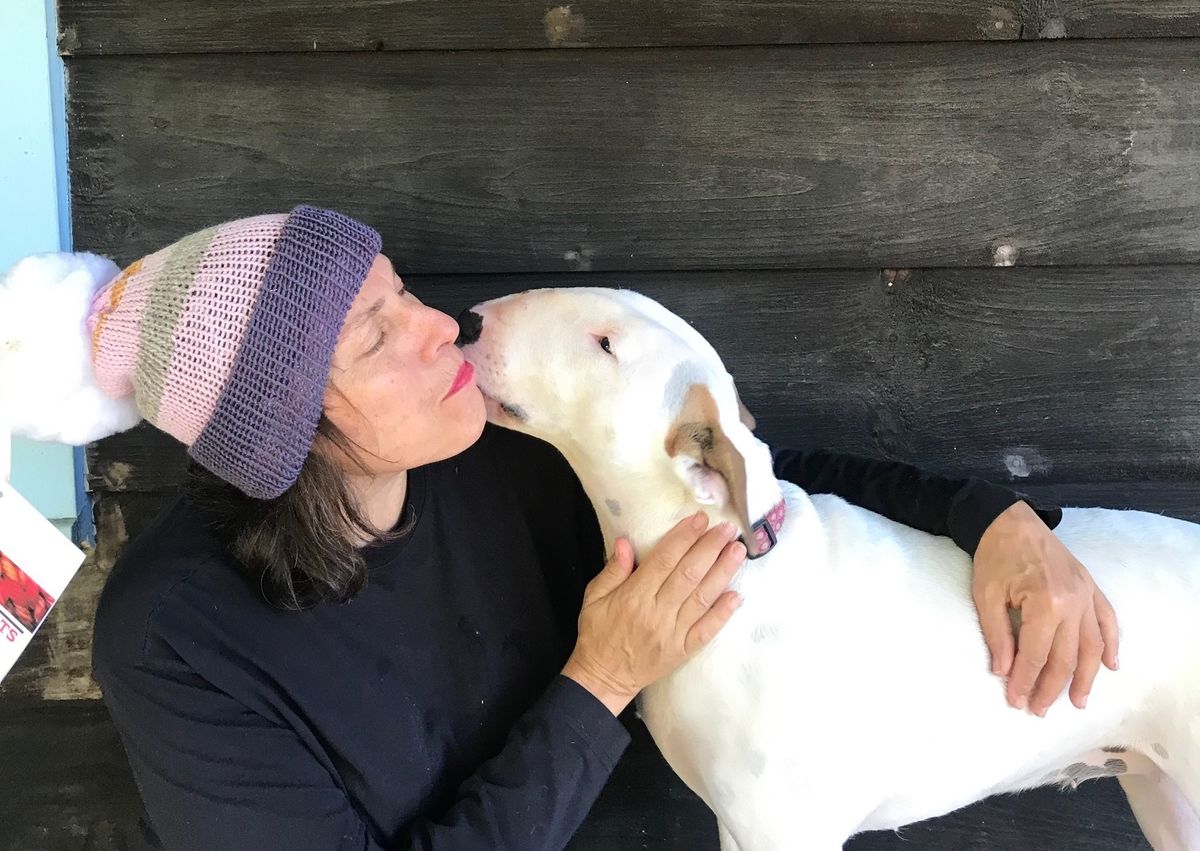 Polly Apfelbaum (BFA '78) with her dog in one of the custom, hand-knit caps she designed as the graduation gift for the Class of 2020, as part of this year's "Diploma Project."
Each year, the Tyler School of Art and Architecture presents its graduating students with a one-of-a-kind work of art made by an alum during its commencement ceremony to supplement their official diploma. Last May, when Temple University's in-person commencement ceremonies were replaced by virtual celebrations due to COVID-19, Tyler students not only missed the opportunity to cross the stage and celebrate this milestone together, they also missed the opportunity to receive their Tyler graduation gift.
Now, just in time for winter, the gifts are being delivered to graduates' homes, and they are more timely than ever—the 2020 graduation gift is a hand-crafted hat topped with a gigantic pom-pom designed by one of Tyler's distinguished alumni, Polly Apfelbaum (BFA '78).
Apfelbaum partnered with Tyler's Fibers & Material Studies Program to create the hats that serve as a continuation of Polly's cross-disciplinary, bold, colorful work that blends traditions of high art and craft to create collective social experiences. The hats, she notes, are meant to celebrate the uniqueness and community of the students at Tyler—a school known for its intimate, individualized approach to teaching and learning that is complemented by its position within one of the nation's leading urban research universities.
"The idea of the hats was inspired by the women's march in Washington in 2017," Apfelbaum said. "I loved the idea of a sea of pink hats. Each student is a part of the sea, the colorful community at Tyler. Handwork and craft are such an important part of the school's tradition, I wanted something that the students could make for each other to celebrate that."

Tyler Fibers & Material Studies students who helped make this year's class gift pose in their hand-knit hats [from left to right]: Marilla Cubberley, Katherine Frensley, Michala Keane, Vatina McLaurin and Francesca Schnalke.
The hats were knit by students in Tyler's Fibers and Material Studies Program over the course of the academic year. Each hat comes with a label signed by both the artist and one of her student collaborators. "This experience allowed me to grow outside of my own practice," said current student Katherine Frensley who helped make the hats. "I learned new techniques and at times found myself back to the basics. Working with globally and locally sourced wool, dyed in a variety of colors, I was given the freedom to mix and match at my own will."
With colleges and universities across the country engaging with students virtually due to the COVID-19 pandemic, Tyler has encouraged the Class of 2020 to post images of themselves wearing their hats using the hashtag #HatsOffTyler2020.
"Polly recently said that she wants to make work that is positive and optimistic during the pandemic," said Tyler Dean Susan E. Cahan. "I hope this hat provides our graduates with comfort and warmth, and reminds them of their time at Tyler."
The "Diploma Project" is an annual Tyler initiative that launched in 2019. In the project's first year, the Class of 2019 received a powerful, limited-edition print designed by Edgar Heap of Birds (MFA '79) in collaboration with Tyler Printmaking students.
The first round of hats arrived to the Class of 2020 students who completed a survey for their current mailing addresses. If you did not yet complete the survey, please email Kati Gegenheimer, associate director of academic enrichment programs, at kati@temple.edu.