Tyler's Lisa Kay, EdD, ATR-BC, has been named a 2021 NAEA Distinguished Fellow for her numerous contributions to art education, which include her work and research at its intersection with art therapy.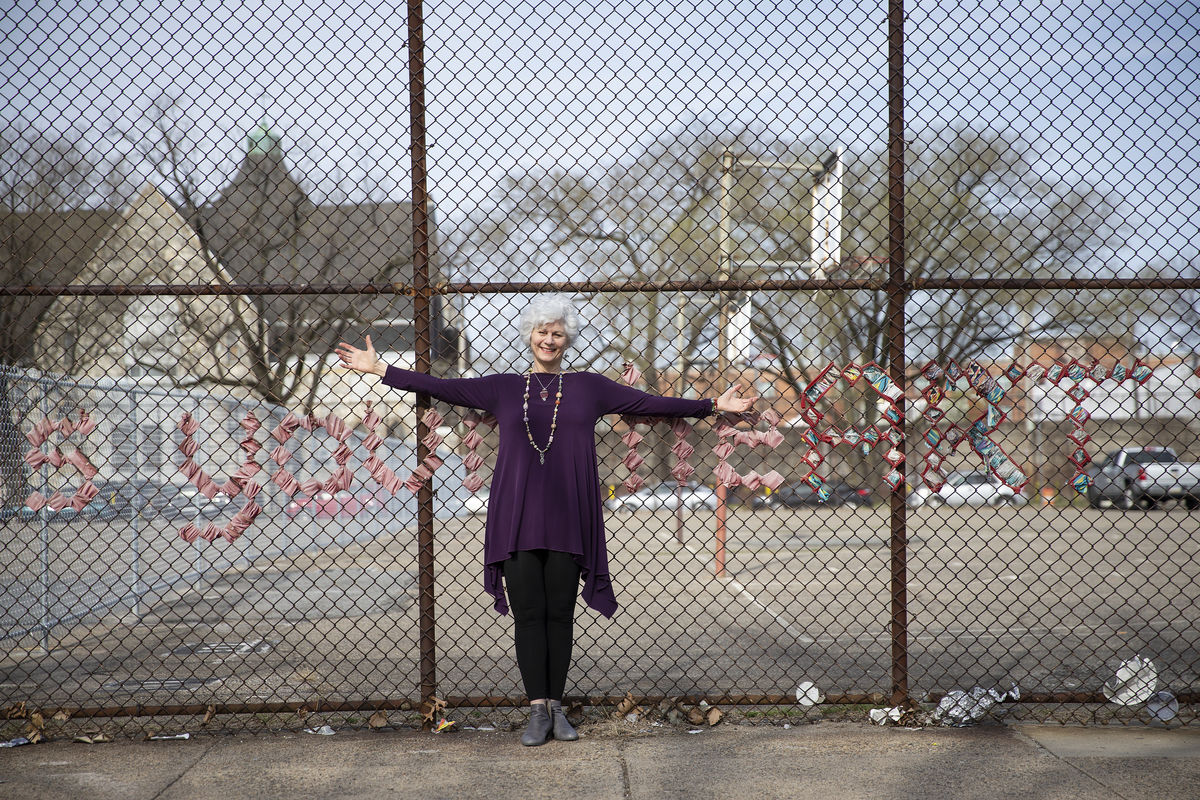 Lisa Kay, associate professor, department chair of Art Education & Community Arts Practices and program head of Art Therapy, stands before an art installation in North Philadelphia.
Lisa Kay, associate professor, department chair of Art Education & Community Arts Practices and program head of Art Therapy at the Tyler School of Art and Architecture, has been named to the National Art Education Association's (NAEA) Class of 2021 Distinguished Fellows—a group of educators recognized for their service to the art education profession and who showcase exemplary teaching, research, scholarship and leadership, among other contributions and accomplishments.
"It was an honor to be nominated," said Kay. "I am humbled to be inducted to this longstanding group of distinguished educators, artists and leaders—people whose work I have admired and who have inspired me."
The news of Kay's induction to the NAEA's Distinguished Fellows Class of 2021 comes on the heels of her latest book, "Therapeutic Approaches in Art Education," being officially endorsed by the International Society of Education through Art (InSEA).
"Kay's program developments and outstanding publications have indeed added much to our knowledge of art therapy's important relationship to the field of Art Education," said Professor Emeritus JoAnna Moore. "It is a kind and generous view of art teaching."
Lisa Kay's contributions to the fields of art therapy and art education span a career of over 30 years. As a board-certified art therapist, Kay's research and publications concern the intersections and collaborations of art education and art therapy focusing on students with special needs; resilience and art making adolescents who have experienced trauma and adversity; and the use of creative arts and visual imagery as qualitative research methods. Her interest in narrative storytelling that encourages personal reflection, self knowledge and healing in the context of making art is evidenced in her scholarly publications in such prominent books and journals as the Wiley Blackwell Handbook of Art Therapy, Oxford Handbook of Qualitative Research and the International Journal of Education through Art. Additionally, her artwork has been exhibited across the United States and around the world. She has been the recipient of a Fulbright Scholar Research and Teaching Fellowship, an NAEA Women's Caucus Mary Rouse Award, as well as the Peter Geisser Special Needs Educator of the Year for her significant contributions to the art education profession. Now, she adds another honor to this long list as a NAEA Distinguished Fellow. 
Presently, there are about 100 NAEA Distinguished Fellows. Up to five new members are selected for this distinction each year.
The fellowship program began in 1982 when NAEA past president Harlan Hoffa and executive director John Mahlmann discussed forming a Distinguished Fellows group, as Hoffa noted, to "[R]ecognize NAEA members who have distinguished themselves in one way or another... There is no vehicle for such recognition in art education, and the profession has been worthy of the continuing special recognition that designation as a Fellow would afford."
Kay will be formally inducted as a member of the Class of 2021 at the virtual NAEA National Convention on March 4–7, 2021.
Tyler's Art Education Program offers undergraduate and graduate pathways to earning art teaching certification in Pennsylvania in order to become a teaching artist and a leader where the arts, education and the community intersect. The program earned additional notoriety in October, 2020, when Renee Jackson, assistant professor and program head of Art Education, received the 2020 Pennsylvania Art Education Association (PAEA) Outstanding Higher Education Art Educator Award at the PAEA Conference for her research and teaching related to social justice art education and the integration of game-design and game-play as collaborative art forms and learning tools.
PHOTOS BY TEMPLE UNIVERSITY PHOTOGRAPHY / JOSEPH V. LABOLITO