A new exhibition at the Philadelphia Museum of Art features three faculty members, including new commissions, and work by the extended Tyler community.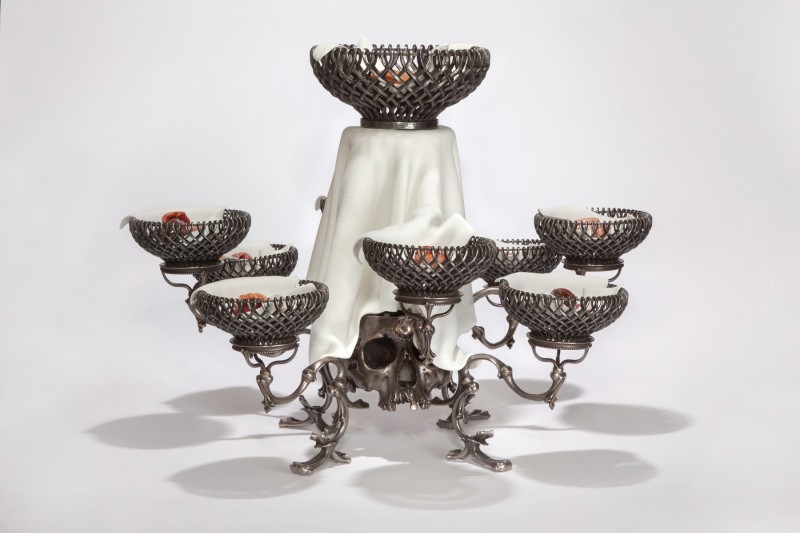 "Sweetmeat, Epergne," 2013, by Doug Bucci. 3D printed stainless steel, nylon, biocompatible resin, silicone, and 18k gold, 16 1/2 x 21 1/2 x 21 1/2 inches. © Doug Bucci. Image courtesy of Ken Yanoviak. This piece is one of the objects in Bucci's new commission to be unveiled at the Philadelphia Museum of Art's exhibition.
The Tyler School of Art and Architecture has a prominent presence in the Philadelphia Museum of Art's New Grit: Art & Philly Now (May 7–August 22), an exhibition that celebrates Philadelphia's interdisciplinary and dynamic art scene.
Among the show's 25 emerging and established artists with strong Philadelphia connections, many have connections to Tyler, too, including Roberto Lugo, assistant professor of Ceramics, and two additional faculty members who have been commissioned by the museum to create new work: Doug Bucci, assistant professor and program head of Metals/Jewelry/CAD-CAM, and Odili Donald Odita, professor of Painting. 
Doug Bucci, an internationally recognized metalsmith, uses his struggle with diabetes to influence his innovative jewelry works, utilizing data mapping and 3D printing technologies. "Diabetes has always created uncertainty with the way I live my life because of its changing nature," said Bucci. "With the added risk of the COVID-19 pandemic, this has heightened the reality that I cannot escape my mortality." 
Ten years in the making, Bucci's room-sized installation, The Last Course, is a self-portrait of sorts that explores and displays biological systems and the effect of disease on the body, prompted by his experiences with diabetes. The room's clinical feel alludes to Bucci's own prolonged childhood hospitalization, while its eighteenth century-inspired table set for a dessert course and "sweetmeats," formed from molds of Bucci's own wounds, invite viewers to walk the line between temptation and abstinence, and the delectable and the disturbing. 
Odili Donald Odita is known for his immense, colorful, geometric paintings and murals, including Procession at the Virginia Museum of Fine Arts, the 45-foot mural, Mamba Negra, at ICA Miami, Open Access in Philadelphia's tallest skyscraper, the Comcast Tech Center, and a free-form mural at The Ford Foundation's Center for Social Justice in New York City.
His latest mural commission, Walls of Change, is the first work that visitors encounter in the Philadelphia Museum of Art's newly renovated spaces. Odita drew inspiration from the museum's role in the life of the city, as a stage for under-represented voices, a backdrop for protest, and a place for vigil, reflection and commemoration.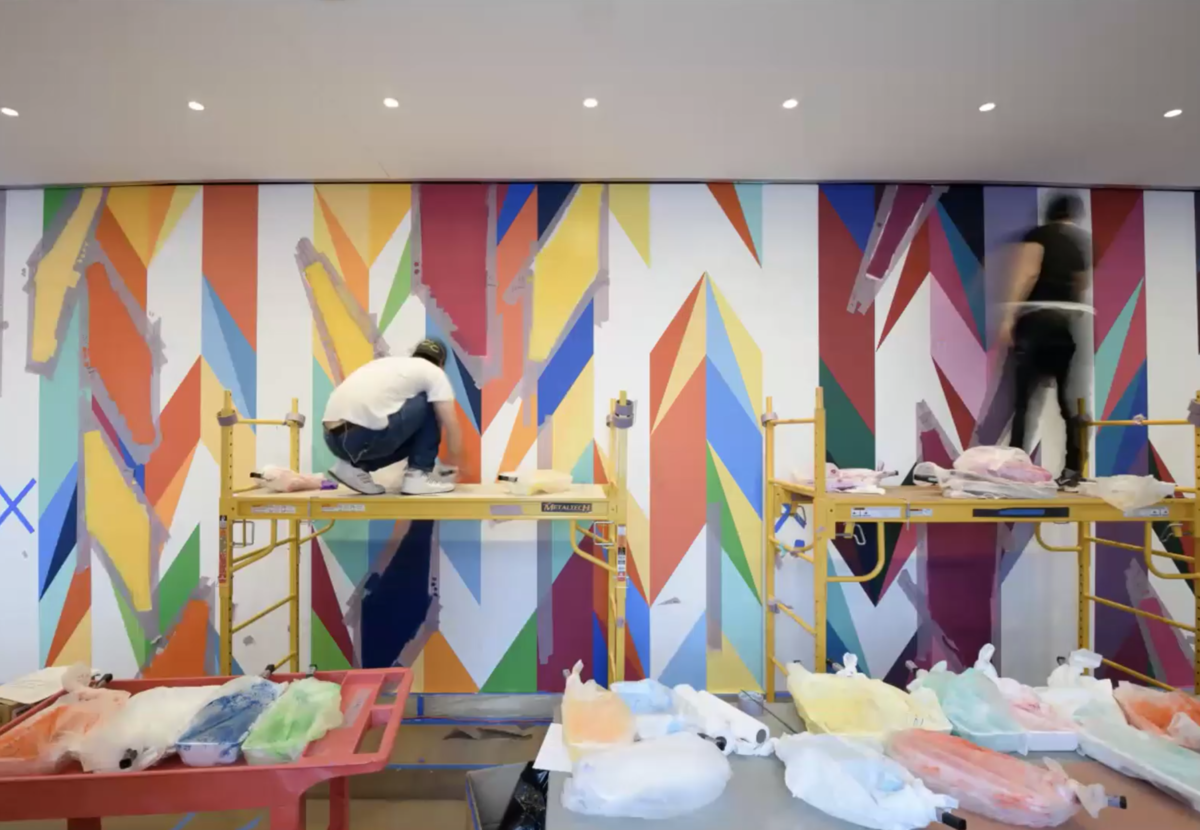 Video still from Odili Donal Odita's virtual presentation showing the installation of Walls of Change at the Philadelphia Museum of Art on March 24, 2021. Image courtesy of the artist and the Philadelphia Museum of Art.
Odita derived some of the colors for his mural from the chalked lyrics of "All You Fascists Bound to Lose" by Woody Guthrie on the risers of the museum's famous "Rocky Steps" during a protest for justice after the murder of George Floyd in 2020. "There were many different life-changing events in the past year that went into the making of this installation," Odita said. "My intention is to challenge the mind and body of the viewer through the impact of dynamic forms, shapes and colors that work on many different levels within that space." 
Additionally, alum Eileen Neff (MFA '74) as well as many former visiting artists as part of Tyler's MFA studio visits and lecture series are featured in the show, including Judith Schaecter, a former Laurie Wagman Visiting Artist and Artist-in-Residence Series in Glass, and Alex Da Corte, Kukuli Velarde and Michelle Angela Ortiz, who have participated in Tyler's distinguished Critical Dialogues Series.
You can learn more about the exhibition and see all of the artists involved at the Philadelphia Museum of Art's website here.