Tyler Printmaking has a robust schedule of visitings artists, scholars, curators, writers, and critics, who present public lectures, work with our students to collaboratively create projects, present their research, and engage with our students in one-on-one critiques. We also regularly venture out of our studios to visit artists studios, print studios, exhibitions, and events in Philadelphia and in nearby New York City.
Additionally, Tyler School of Art and Architecture hosts a range of compelling public presentations through the Critical Dialogues series and Temple Contemporary's ongoing series of lectures and events.
2019
Chinn Wang
JULM Studios
Edgar Heap of Birds
Veronica Corzo-Duchardt
Jason Patterson
Breanne Trammell and Jesse Malmed
Piotr Szyhalski aka Labor Camp
Sarah Shebaro 
Fortune Zine Collective
---
2018
Yoonmi Nam
Endless Editions
Erin Zona / Women's Studio Workshop
Lauren Pakradooni
---
2017
Master ukiyoe woodblock carver Motoharu Asaka with TUJ Professor
Louise Rouse
Christiane Baumgartner
Anders Bergstrom
Shira Brisman
Susan Dackerman
Phyllis McGibbon
Luke O' Sullivan
Tugboat Printshop
Madeleine Viljoen
Imin Yeh
---
2016
Ryan Standfest Editor and publisher of ROTLAND PRESS
Kate McQuillen
Susan Tallman Editor-In-Chief, Art in Print
Jeffrey Dell
Jane Irish
Brian Teare
Hardworking Goodlooking (HWGL) A publishing and graphic design hauz interested in decolonization of aesthetic voices
Zach Lindenberg, Second State Press
---
2015
Amos Kennedy
Veit Stratmann
Sandra Lapage & Carlos Pileggi
Letterproeftuin
Kathan Brown, Crown Point Press
Amy Ingrid Schlegel Director of Galleries at Tufts University
Rob Swainston
---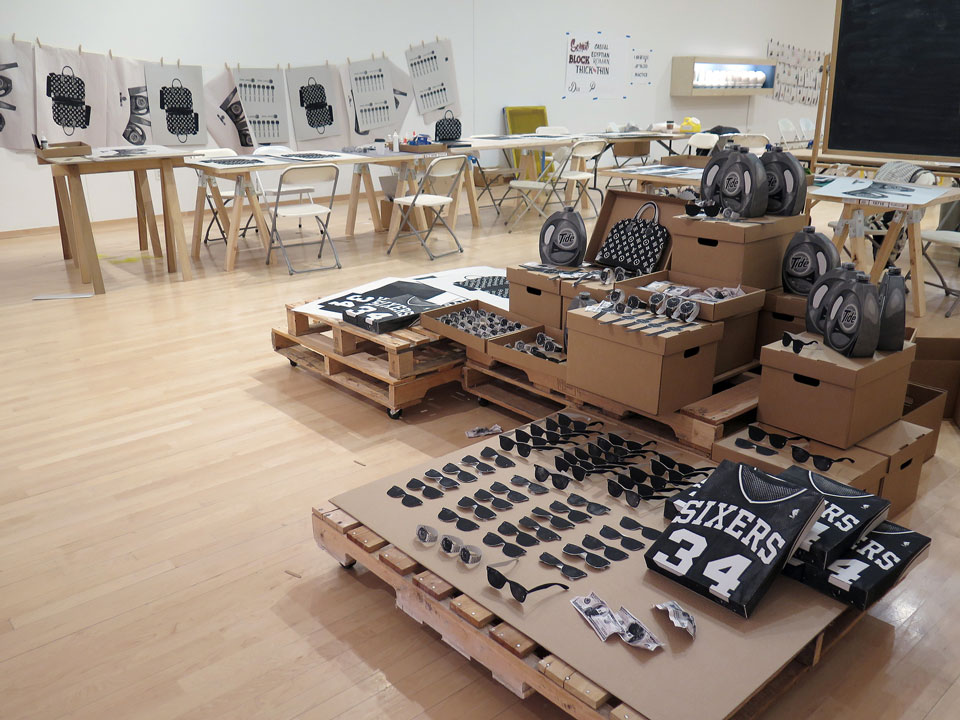 2014 Guggeheim Fellow, Stephanie Syjuco, worked with in close collaboration with Tyler Printmaking students and Fox Business School students to create a model black market economy. Responding directly to research projects on Philadelphia's underground economy by Fox students, Syjuco selected objects that Printmaking students designed and printed in the Temple Contemporary gallery.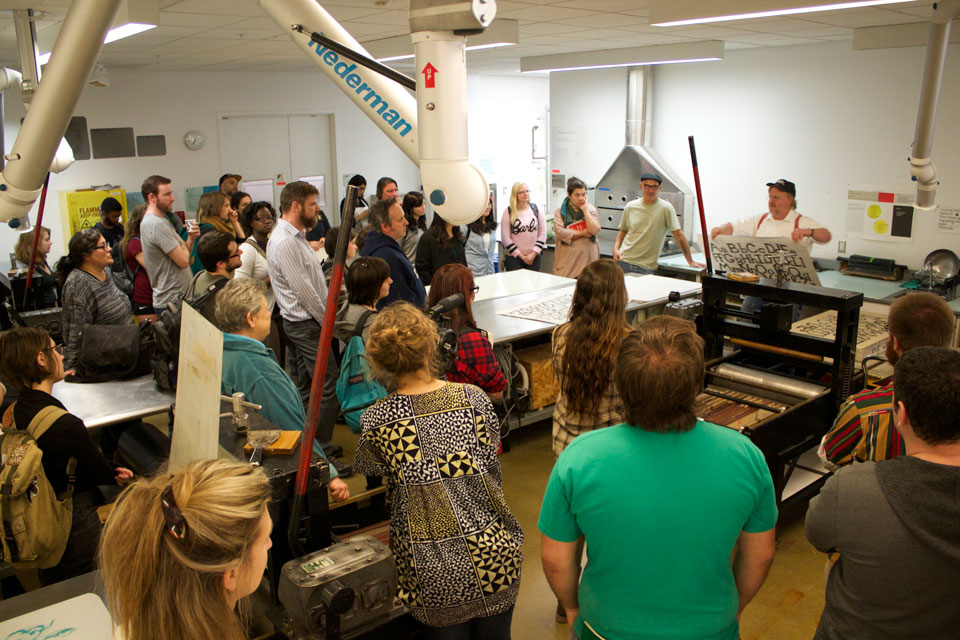 Jeffry Mitchell, artist in residence, presenting his work in lithography studio.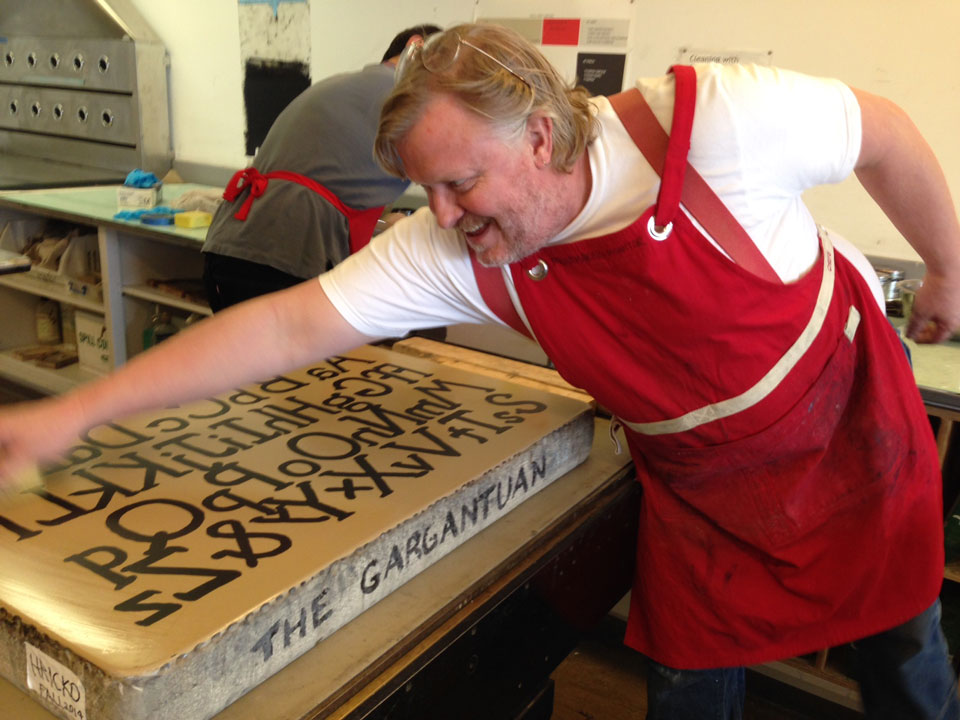 This fall guest artist in residence Jeffry Mitchell from Seattle worked in both the printmaking and ceramics to create new work. His work has been exhibited both nationally and internationally.  Currently he shows with Ambach and Rice in Los Angeles. While at Tyler he met with students for individual critiques, class presentations and created a lithograph and numerous ceramic objects.  His cross-disciplinary approach was a great example of an artist uses different media to explore ideas an approach that we encourage.
 
2014
Glen Baldridge
Dean Daderko, Curator, Contemporary Art Museum Houston
Annis Fitzhugh & Robert Jackson, Dundee Contemporary Arts 
Ben Levy, Assistant Curator, Department of Prints, Drawings and Photographs, Baltimore Museum of Artt
Jeffry Mitchell
Matt Neff
Serena Perrone
John F. Simon Jr.
Stephanie Syjuco
---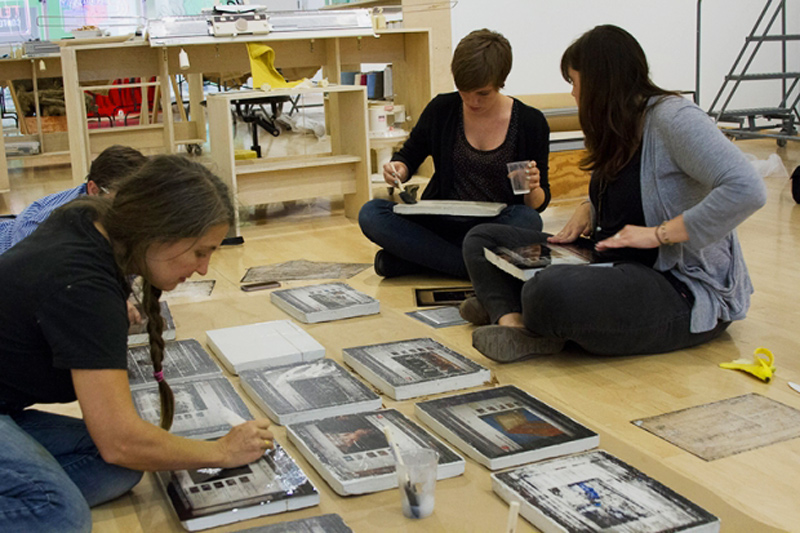 In 2013, artist Katie Grinnan was invited to complete a short-term residency at Tyler School of Art and Architecture. During her stay she worked directly with students from Printmaking to complete a series of prints on cement which were incorporated into her exhibition, For Your Information at The Print Center. Grinnan's visit is a great example of the type of close interaction we like to bring to our students.