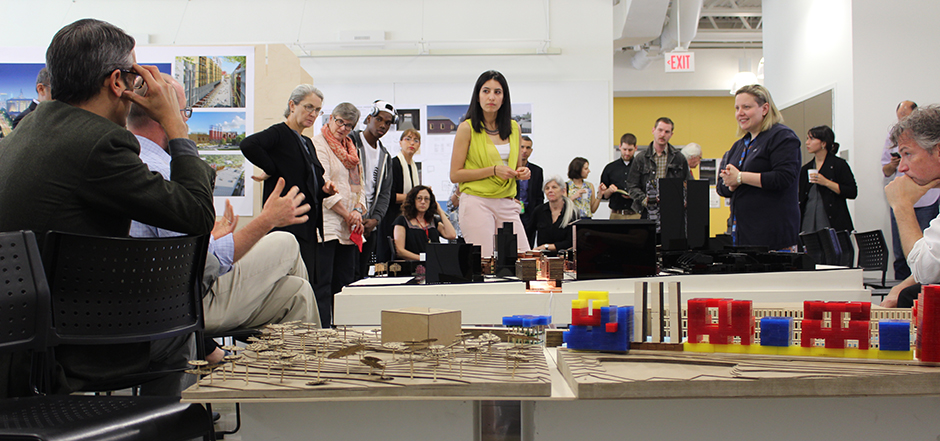 Tyler Architecture's Master of Architecture Program is a first professional degree that   engages students with urgent urban, architectural and environmental issues.
Master of Architecture (M ARCH) students take a range of courses in design, research seminars, digital technology, building technology, professional practice, and history and theory.  Elective courses allow students to specialize the curriculum based on their future career goals. M ARCH students have limited-access studios with large format plotters, laser printers, and 3d printers. Students also have access to the Architecture Woodshop, CNC Shop, Digitial Fabrication Shop, and Tyler Digital Media Center. Faculty in the Master of Archtiecture program are leaders in their fields and bring expertise in research and practice into the curriculum. 
There are two curricular tracks within the Master of Architecture Program: the Intensive Design track, a three-year curriculum, and the Professional track, a two-year curriculum for students who have obtained a pre-professional Bachelor's degree in architecture. Tyler Architecture students may also enroll in the Architecture 4+1 Program, an accelerated, sequential undergraduate/ graduate degree path through the Professional Track of the M ARCH program. Refer to this link for additional information on program requirements. International study at TU Rome or TU Japan is an option for students during the spring semesters of the last two years of the program. 
Temple Alumni Scholarship
Upon acceptance into the Master of Architecture program, Temple University alumni receive a 5% Tuition Scholarship.  For additional information about graduate financial aid, please visit the Tyler Admissions Financial Aid & Scholarships page.
---
Architecture Accreditation Information
In the United States, most state registration boards require a degree from an accredited professional degree program as a prerequisite for licensure. The National Architectural Accrediting Board (NAAB), which is the sole agency authorized to accredit U.S. professional degree programs in architecture, recognizes three types of degrees: the Bachelor of Architecture, the Master of Architecture, and the Doctor of Architecture. A program may be granted a six-year, three-year, or two-year term of accreditation, depending on the extent of its conformance with established educational standards.
Doctor of Architecture and Master of Architecture degree programs may consist of a pre-professional undergraduate degree and a professional graduate degree that, when earned sequentially, constitute an accredited professional education. However, the pre-professional degree is not, by itself, recognized as an accredited degree.
Next accreditation visit for the M ARCH: 2022