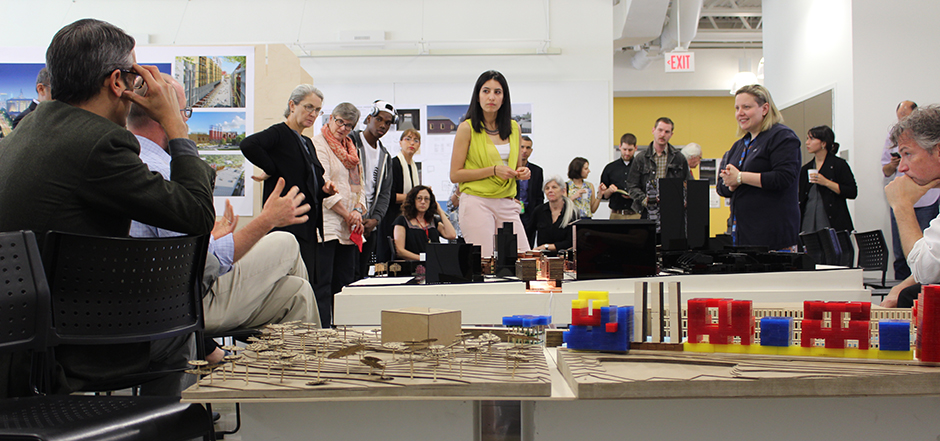 Tyler Architecture's Master of Architecture Program is a first professional degree that engages students with urgent urban, architectural and environmental issues.
The Master of Architecture curriculum is designed to enable students to learn theories and methodologies of architectural design as well as to understand the social, economic, political, and technological forces that shape the built environment. The principal educational component of the program is a coordinated series of studio courses in which creative design talents and management skills are developed. M ARCH students have limited-access studios with large format plotters, laser printers, and 3d printers. Students also have access to the Architecture Woodshop, CNC Shop, Digitial Fabrication Shop, and Tyler Digital Media Center. Faculty in the Master of Architecture program are leaders in their fields and bring expertise in research and practice into the curriculum. 
The Architecture Department offers three tracks of the M Arch, a 1-year, 2-year, or 3-year program depending on the students' educational background upon entry to the degree. 
The 1-year track is a +1 accelerated undergraduate-graduate program that enables qualified and eligible students to complete the 60-credit M Arch degree within a year after graduation with the Bachelor of Science in Architecture pre-professional degree.
The 2-year track is a 60-credit degree program for students who earn Temple University's Bachelor of Science in Architecture (BS Arch) degree and for students from other four-year pre-professional degree programs with equivalent course content, nationally and internationally.
The 3-year track provides a curriculum of up to 90 credits for students with a degree in subjects outside of architecture or without a pre-professional degree in architecture.
Temple Alumni Scholarship
Upon acceptance into the Master of Architecture program, Temple University alumni receive a 5% Tuition Scholarship.  For additional information about graduate financial aid, please visit the Tyler Admissions Financial Aid & Scholarships page.
---
Architecture Accreditation Information
The M Arch program is accredited by the National Architectural Accrediting Board (NAAB), which requires publication of the following statement:
In the United States, most registration boards require a degree from an accredited professional degree program as a prerequisite for licensure. The National Architectural Accrediting Board (NAAB), which is the sole agency authorized to accredit professional degree programs in architecture offered by institutions with U.S. regional accreditation, recognizes three types of degrees: the Bachelor of Architecture, the Master of Architecture, and the Doctor of Architecture. A program may be granted an eight-year, three-year, or two-year term of accreditation, depending on the extent of its conformance with established educational standards. Doctor of Architecture and Master of Architecture degree programs may require a pre-professional undergraduate degree in architecture for admission. However, the pre-professional degree is not, by itself, recognized as an accredited degree.
Temple University Architecture Department offers the following NAAB-accredited degree programs:
• M Arch  (B.S.Arch. pre-professional degree + 60 graduate credits)
• M Arch (baccalaureate degree + up to 90 graduate credits)
Next accreditation visit for the M ARCH: 2022