Back to Blog
May 18, 2021
2021 Glass Art Society Conference Features Tyler Community and Honors Two Alumni with Emerging Artist Prize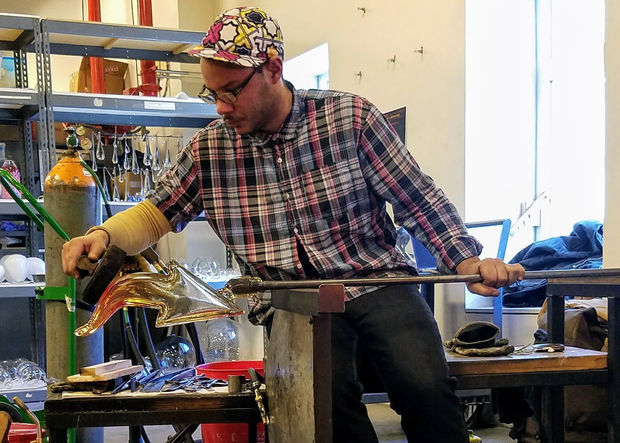 When adjunct professor Leo Tecosky broadcasts live this week to a global community of glass artists from Tyler's studio, his presentation will include hot glass sculpting, enamel work and engraved surfaces, and the poignant message: Black Lives Matter.
Tecosky says, "Tyler is the best place to explore experimental glass work because the shop is great and the community is always ready to help out." And he wanted his demo, which is inspired by graffiti, protest, and the Black Lives Matter movement, to resonate globally.
Tecosky will live stream on Thursday, May 20 from 3—5:00 pm EST, as part of the Glass Art Society's virtual 2021 conference lineup. In addition, Tyler alumni Shay Summers (BFA '20) will demonstrate cold-working techniques learned while studying at Tyler to engrave portraits on glass safely at home without a studio or specialized equipment.
Scout Cartagena (BFA '21) is on a panel discussing ways studios can eliminate barriers and increase access: from modifications for movement through the studio to alternative ways to process material, provide instruction, communicate, and adjust the material and financial constraints that keep people from experiencing glass arts.
Cartagena credits Tyler's experimental atmosphere and supportive professors for building her expertise in these topics. "Working in Tyler's glass department taught me not only how to carry myself as an artist but how to see myself as an artist. It gave me a community and showed me what it's like to give and receive support."
Registration for a fee is open on the Glass Art Society conference website.
During the conference, the Glass Art Society will honor two Tyler alumni, Morgan Gilbreath (BFA, BA '14) and Erin Hoffman (BFA '15), winners of the 2021 Saxe Emerging Artists Award. Nominees for this prestigious award are selected by the jury from a group of 38 artists from 10 different countries, and winners are featured in a digital exhibition and receive an honorarium to support their artistic endeavors.
Both artists explore glass in context with other media. Morgan Gilbreath investigates the intersections between religion, history, and labor in her work. She exhibits nationally and internationally, and her work is in the permanent collection at the Museum of American Glass (Millville, NJ) and the Aldo Bellini Glass Collection at Castello Sforzesco (Milan, Italy).
Erin Hoffman studies the subtle transmission of messages and the complexity surrounding conversation. She has worked and exhibited at the University of Louisville, Pilchuck School of Crafts in Washington, Urban Glass in Brooklyn, and Peter's Valley School of Craft in New Jersey. A large part of her practice includes traveling to cultivate conversation, assist other artists, and spark curiosity with the unlimited possibilities of glass.
Last year, Tyler alumnus Nate Ricciuto (MFA '15) received the 2020 Saxe Emerging Artist Award along with two other glass artists.
Photo: Glass artist Leo Tecosky in his studio. Courtesy of the artist.