Back to Blog
November 1, 2021
Amanda McCavour (Fibers & Material Studies '14) Profiled for American Craft Magazine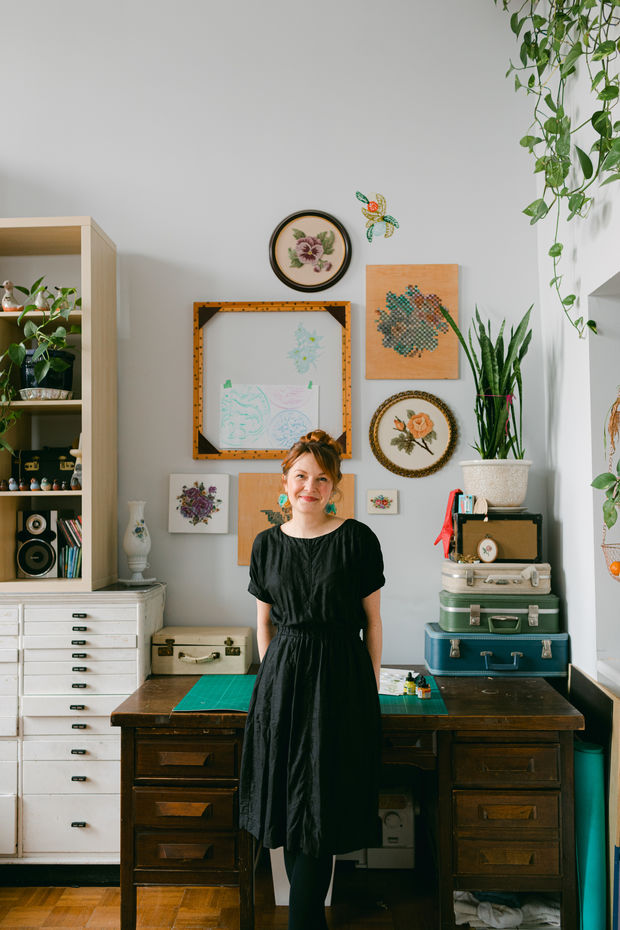 Amanda McCavour, Fibers and Material Studies '14, was recently featured in American Craft magazine's online interview segment "The Queue" to discuss her recent large-scale commissions and methods of practice. She will be profiled in the magazine's Winter issue. 
Since her time at Tyler, McCavour has been busy perfecting her unique craft, based mostly in expansive threadwork and immersive physical installations. A staple in her pieces are themes of "memory, environment, color, and line," as she mentions in the interview. Mainly inspired by her materials, McCavour is fascinated by the idea that a material can shape an idea into a whole new project once you start working with it. The way plants organically grow, as well as using hundreds of small parts to create one large image, influences the directions in which her work takes shape.
At Tyler, her professors encouraged her to think outside of the realm of thread and expand into using other materials. She has since experimented with materials such as bamboo sticks, pipe cleaners and plaster to create large mixed-media pieces. The Fibers and Material Studies program pulled her out of her comfort zone, which led her to create fully interactive displays. The belief that art can be experienced by walking through it is something that is evident in much of her work.  
McCarvour has two large-scale commissions in progress. "Clouds of Colour" will be displayed at Toronto's Harbourfront Centre, where she was an artist-in-residence from 2007 to 2010. Working with wire shapes and thread, the installation will include hundreds of units that hang from single points, creating a tactile passageway of line, color, and movement. The viewer will be enveloped in a canopy of filtered light; the exhibit will be a fixed feature at the center for 30+ years. In 2022, her three-story project called "Herbarium Specimens," inspired by prairie plants, will be displayed at the Chazen Museum of Art in Madison, Wisconsin.  
Read McCavour's full interview here.
Photos courtesy of Amanda McCavour