Back to Blog
March 17, 2022
Amze Emmons Presents on Print and NFTs at SGC International Conference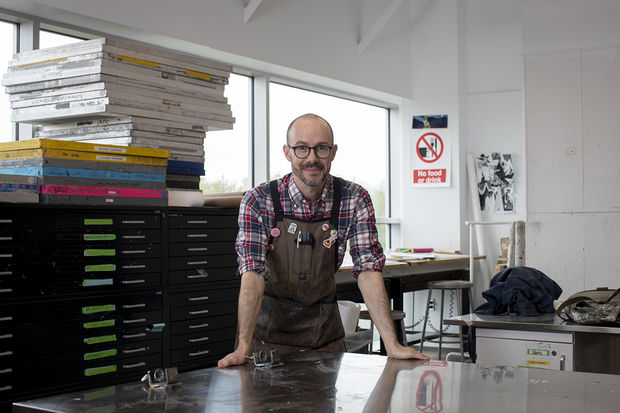 Associate Professor and Program Head Amze Emmons has always viewed printmaking as a formative factor in human culture.
"Printmaking is really an umbrella term that refers to a range of technologies that trace back to Paleolithic man using stencils on cave walls, that show up repeatedly in across multiple cultures around the world and that have value in disseminating ideas," Amze said in a recent interview on the podcast Our Shared Field.
This week, Emmons will engage with others on the newest trend to touch printmaking when he speaks on a panel titled "Print and NFTs: Ownership, Authenticity, and Circulation in an Age of Digital Singularity" at the 2022 conference of SGC International, the nation's largest organization of printmakers.
Tyler printmaking alumna Katie Garth (MFA '2020) will moderate the discussion, in which panelists will examine the emergence of NFTs (non-fungible token, or digital asset that represents real-world objects like art, music, in-game items and videos) and its implications for printmaking. Other panelists include printer/artist/publisher Aaron Cohick and print media artist and instructor Nathan Pietrykowski.
"I'll be presenting a talk called 'Looking for the Dematerialized Print.' It's what I'm calling a research-essay, which is another way of saying the talk will be more exploratory than defined by a singular thesis," Emmons said. He plans to discuss the "ontology of the 'limited edition,' historic and contemporary examples of artist intervening into the marketplace" and a few artists who are using the technology of the NFT and blockchain as material in their work.
Emmons said Tyler's Printmaking program has long been guided by a belief that "'printmakers have always been both innovators and archeologists,' meaning, we are always preserving legacy technology while exploring the newest digital tools." He attributed that quote to Tyler alumnus and Muhlenberg Visiting Professor Yangbin Park (MFA '13).
"While I don't specifically see NFTs having a direct impact our approach to printmaking [at Tyler], it is a topic many students are asking about, so it important for us to be able to provide them with knowledgeable information and the critical tools to make their choices," Emmons said. Emmons said that his thoughts are evolving on the topic of "how the 'cultural authority of print' has moved into digital space. For example, some digital new media artists have made really interesting use of the blockchain as a site of generative invention rather just a record, while other artists have strategically sought to critique the distributed authority in the virtual asset market."
Emmons, who has his own active practice, teaches printmaking and Visual Studies at Tyler.
photo: Ryan S. Brandenberg