Back to Blog
April 21, 2023
Architectural Design Capstone Studio Project to be Displayed at Venice Architecture Biennale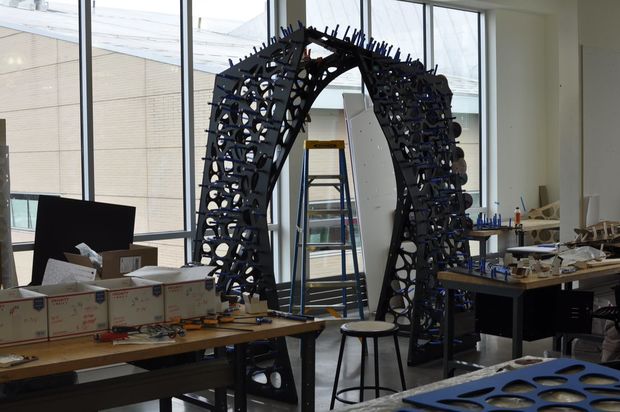 Senior-level design courses at Tyler don't typically build the designs that they conceive. This year, however, visiting critics Mario Gentile and Tyler alum Tim Barnes (BSArch '09) of Shiftspace Design along with help from Clifton Fordham, Associate Professor and Program Head of Architecture, are leading the students through the design and assembly of a pavilion destined for this summer's 18th International Architecture Exhibition in the European Cultural Center in Venice, Italy. The pavilion is conceived as a filter aimed at mediating current environmental, cultural and political climates. 
The idea for the studio began when Gentile and Barnes approached Associate Dean Kate Wingert-Playdon about setting up a studio offering that was out of the ordinary. Assembling a pavilion in Tyler would involve utilizing shop facilities, students' shop skills and material management in a new way.  Interaction with designers who run an innovative professional firm also provides students with new perspectives on what a career in the architecture and design fields can really be like. 
During class, students were tasked with figuring out how to connect all the pieces and assemble the form. "The logistics involved were unusual because we have to account for something that has to also be shipped," Barnes said. "We're also considering how architecture can respond to hostility, COVID, political unrest, etc. The idea of filtering the world outside to help mitigate these stressors was the main idea behind a walk-through structure."
Fordham said there was an "immediacy" about the project, considering the deadline to ship the frame to Venice is the end of April, and added that most design courses don't involve a physical prototype as the deliverable, but rather digital designs.
Along with drawing designs for the frame's connecting aspects, students also needed to use various tools and machinery to build physical pieces, an uncommon occurrence in most studios. "I've never really tested Tyler's fabrication tools with a whole group of students before, so a lot of the work that went into this project included how to coordinate and work together as a team," Fordham explained.  
Nahjul Taqvi (BSArch '23) explained the unique experience of working in a collaborative design studio: "I've never designed anything like this before. I saw the idea and I thought it would be an easy project, but it's challenging collaborating and gaining that confidence and trust with your classmates."
"This class was very different than typical studios. We've learned how to build connections, we're able to ask each other's opinions, we have to problem solve together. I usually like to work alone, but now I understand how essential the collaborative part of architecture really is," said Tonian Williams (BSArch '23).
"Now I know that I want a job that's more collaborative," Olivia Jozowski (BSArch '23) echoed.
Fordham expressed interest in assigning more build-based projects to future studios, considering how positively this project was received by students. "We need that collaborative aspect in the classroom," he emphasized.
"It's so valuable to make things physically. You can learn what needs to be adjusted through trial and error," Barnes said.
After being assembled during studio classes, the pavilion will be dissembled and shipped to Venice, where ceramic tiles fabricated near Venice will be added.  Once assembled again, the pavilion will be situated in a small garden. The Venice Architecture Biennale will take place from May through November.
ARCH 4332 Architectural Design VI Capstone students stand with the finished product, photos by Clifton Fordham