Back to Blog
May 20, 2018
The Art of Student Teaching Exhibition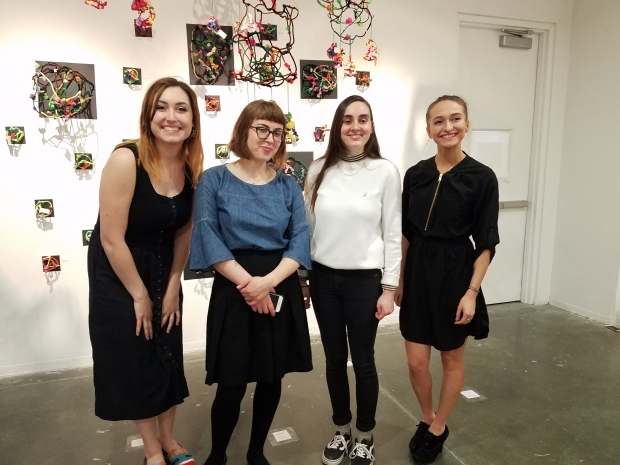 Each year, the Art Education Department presents exhibitions of work done by student teachers and their pupils for display at the Stella Elkins Gallery. This year, four student teachers displayed the products of their time at a variety of schools as community members gathered in fellowship to appreciate the art made by friends and loved ones.
Wendy Osterweil, the supervising professor of this group of students, was one of the Tyler officials present for this installation. "What's unique about this show is that it's a rather small group. Each student put a lot of time into this exhibition, and it shows." The student teachers exhibiting were Brooke Mulroy, Madeline Willis, Maria Chambers, and Anna Capriotti.
Brooke Mulroy's student teaching experience took place at Girard College Lower School, which teaches grades one through six. Her classroom was composed of fourth graders that she taught how to weave, as well as make paper sculptures. "It was a great experience," Mulroy says. "I learned and grew a lot as a teacher during the time I had with my students. I learned a lot about teaching and I definitely appreciate my teachers more than I did. I definitely know that I want to be a teacher now, and my students help me grow just as I help them grow as artists."
From Parkway Center City Middle College, Madeline Willis served as a student teacher. "I had 12 students collaborate with other students. We used found materials on chickenwire to explore how they worked together, and how people react to one another. The best part of this piece was the large donation of VHS tapes we got from Philly Aids Thrift. If you like making art, you should try using it in your work!"
When asked about her experience, Willis responded, "It was a lovely experience. Education is exhausting, but I had a supportive teacher who let me explore my ideas. I was able to give students a lot of choice in their work and explore many different material studies. My class learned how to sew together, which is in line with my interest in learning life skills. The students were kind and respectful. I couldn't have asked for a better placement." After the walkthrough of the room was finished, Willis added, "I'd like to ask for a call to action. The artwork of all people would be taken seriously. Art is a human experience, and the importance of making art is relevant now more than ever."
The next set of art pieces were facilitated by Maria Chambers, student teacher at the Greene Street Friends School, a Quaker School in Germantown. Chambers has a BFA in Glass in addition to a teaching certificate. "I went to a Catholic school growing up, so I had to make a shift from the Catholic school to a Quaker style of teaching. Here, teachers and students are community focused. We're called by our first names, and I think it works really well for student growth."
"This experience really showed me how to talk and communicate with kids. I learned a lot about setting boundaries, and making a positive, creative environment that the children could thrive in," said Chambers regarding her experience.
At Marion Elementary, Anna Capriotti completed her student teaching. "My experience was a lot of fun!" Capriotti said after pointing out her student's work in the exhibition. "I never worked with kids this young (Grades 1-5), as I usually do high school. I really enjoyed it, even though being there all day every day was new to me. Over the past few years of studying to be a teacher, this was the most preparation. I had a strict curriculum to follow, and learning how to adjust my teaching and fulfill the school's expectations."
Wendy Osterweil chimed in at the conclusion of the interviews. "Next spring, we have 23 student interns. The challenge of this exhibition was for them to create a collaborative piece in their classrooms, and all of them rose to the occasion impressively. "Anyone at Tyler is here because of an art teacher somewhere in their lives. It remains important that artists want to teach, formally or informally. Art is important to all children, regardless of identity or background. What I love most about this show is that it looks like work that kids did. They had a lot of choices and it looks very unique to each kid, it doesn't look like 'school art.' This is an opportunity for kids and families to come here and have work exhibited as children in an art school. It makes it real and tangible for them, and can create a goal for the future."
As she gathered her group of students, Professor Osterweil added, "This group was fantastic on top of everything else. They're responsible and helpful to each other. The small group was very successful. Some teachers even have opportunities coming out of this, which I think is just phenomenal!"
The Art of Student Teaching remains one of Tyler's most successful reoccurring exhibitions. This was just one in a series of beautiful presentations of the importance of art and the teaching of art to all students regardless of age and background.