Back to Blog
April 17, 2018
Art Therapy Comes to Tyler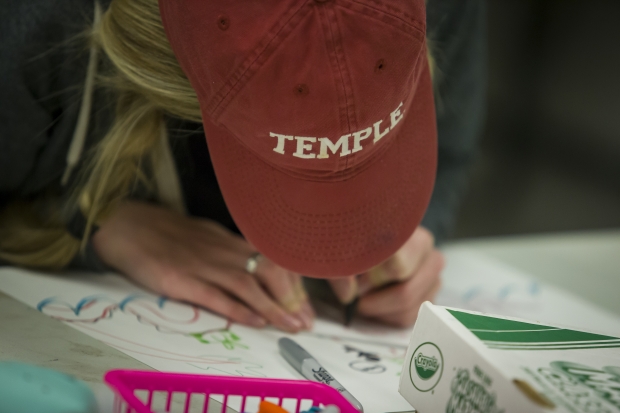 There's a new major coming to Tyler that many have been excited for over the past few years! In Fall 2017, Art Therapy came to campus as a new Bachelor of Arts degree. With a new major comes a lot of questions, so I took the opportunity to sit down with Dr. Lisa Kay, one of the advocates for Art Therapy as a major at Temple. Dr. Kay, along with many others, has been working on the creation of this major for some time now and was happy to answer some of the questions that I had about the major.
"The major came about over a long period of time," Dr. Kay stated. "We started to have conversations in 2013. Getting a new degree through bureaucratic channels took quite some time. Tyler Admissions fielded emails from students interested in the degree for a long time, with the Foundations Department and Visual Studies program also keeping tabs on interest from students. We moved forward after establishing that there was interest amongst the student body."
It is worth mentioning that long before Art Therapy was a known field of study, Boris Blai, the founder of Tyler, had students practicing with similar methods. He felt as though everyone should be using their hands as a creative outlet.  After World War II, he took faculty to Fort Dix to work with veterans using art. This program had therapeutic focus long before the discipline came to be.
Art Therapy is a complex discipline that requires a nuanced approach in order to train students in a profession that involves studio art, psychology, counseling and more, far beyond what is listed here. Every state has a different licensing practice. "You can become a board-certified and registered art therapist through the Art Therapy Credentials Board," said Dr. Kay. "Some states have licenses under other categories. Board certification exists in many disciplines, it verifies that you have experience in the field. You have to have fieldwork and supervision in order to pass an exam, which this major should provide."
Tyler's BA in Art therapy it provides an exploration of the field for students; however, it does not center on the experience necessary to allow entry to the field as art therapists, which is limited masters-level graduates. "The major is designed for people who want to go on in the field. It includes a 12-hour credit requirement for psychology and 29 credits in studio practice along with 13 credit hours art therapy, art education and community arts coursework. The final capstone course includes fieldwork with a research project. It's meant to prep students for a graduate program, but it could prepare you for other fields like an activities therapist, child-welfare specialist, case manager, staff at senior care centers, group home worker/residential counselors. Of course, this list is not comprehensive," Dr. Kay adds.
Ultimately, this major is preparation for grad school. Students should know that they will not emerge as a board-certified art therapist, but they can utilize their skills in art it and creativity in other jobs/careers.  Tyler faculty ultimately wants students to have a multifaceted skill set for graduation, and Dr. Kay is no exception. "It's important to know that Art Therapy can be very intense and emotionally taxing. That's what grad school preps you for, as well as how to construct appropriate professional boundaries. It can be difficult and that's okay. Knowing yourself and what's right for you is important."
Art Therapy is comprised of a mixture of professional practice, studio work, and theory. The courses are grounded in theory. The faculty brings in guest speakers, takes students on field trips, and other events for the enrichment of the program and its participants. This major will be rigorous. It involves reading, deep thought, and reflection about who you are and where you belong in the world. "It's demanding," Dr. Kay says. "I have high expectations both educationally and professionally from our students, and I want them to be excellent candidates for grad school."
Students should be prepared for an intense, but ultimately rewarding experience learning how to be best at their practice and interact with various members of communities across the nation. Volunteer work is essential. Dr. Kay made sure to stress the importance of student involvement. "See if you like working with people making art! It is very important for resume building and grad school applications, but also for personal growth."
To wrap up our interview, I took the opportunity to ask Dr. Kay if there was anything that she'd want students to know that we hadn't covered. "I wish that I had this kind of opportunity. I didn't know that art therapy existed until post-graduate while working as a designer. I went back and got an art therapy degree later on, and then got my doctorate in Art Education. I'm looking to bridge the gap between Art Education and Art Therapy. I've been an art therapist for over thirty years. Sometimes students ask about money, but it's more about finding personal passion and place. I was an award-winning designer but found my place working with people instead, and I still use all of my skills in all capacities."
This major is sure to make another fine addition to the plethora of options available to undergraduates at Tyler. There are many more exciting developments regarding the new major yet to come, and students should keep a close eye out for more news.
If students are interested in volunteer work, keep an eye out for further announcements from faculty.