Back to Blog
October 25, 2021
Assistant Professor and Head of Sculpture C.T. Jasper Featured in Bruges Triennial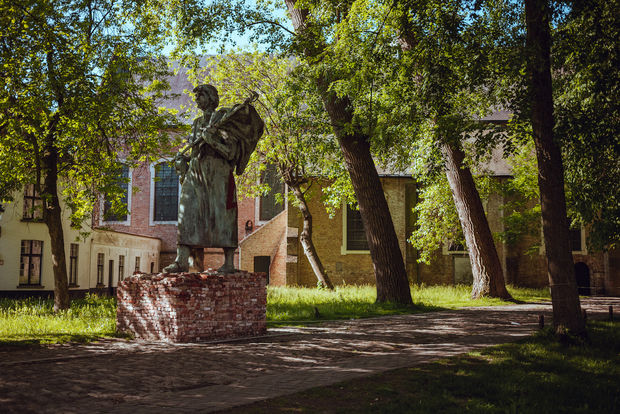 Photo credit: Matthias Desme
Assistant Professor and Head of Sculpture C.T. Jasper and his longtime collaborator, Cornell University Professor of the Practice Joanna Malinowska, have partnered on a video and sculptural installation titled Who's Afraid of Natasha? for the 2021 Bruges Triennial in Belgium. 
The piece is a reimagining of the statue nicknamed "Natasha," which portrayed a woman standing in the Tadeusz Kościuszki Square in Gdynia, Poland from 1953-1990. Described as a "modest bronze figure" that was installed in the square to represent a Socialist Realism style, the statue celebrated the Soviet-Polish alliance and Poland's liberation during WWII. However, "Natasha" inevitably politicized the public square; it was removed in 1990 and relocated to the Russian quarter of the Gdynia war cemetery following the communist collapse.  
Now in its new location, Malinowska and Jasper's reimagining of the "Natasha" statue sits on the site of a former women's commune that was once a safe space for "XIII-century feminists." The courtyard of the Beginhof in Bruges, Belgium is an appropriate landing place to celebrate the Bruges Triennial theme, TraumA. The title differentiates between the German word, "traum," meaning "dream," and how trauma and dreaming are conceptually intertwined into art pieces, architecture, and urban interventions throughout Bruges. 
The video component of Who's Afraid of Natasha? plays inside the Beginhof, and explains the allegorical history behind the woman that inspired such unrest, recounting the original artist, Marian Wnuk, and his muse Magdalena Więcek, also a successful sculptor. Footage includes narration from art curators, historians, and residents of Gdynia.

Photo courtesy of Visit Bruges
Much of the inspiration for the piece comes from the meaning behind trauma, coping, and various interpretations of symbolism. The original "Natasha" statue ties these things together.
Jasper and Malinowska ask this question with Who's Afraid of Natasha?: "What if a monument did not have to be fixed relative to one point in history, or one place, but could instead come alive, be remade, and given new meaning?" Jasper and Malinowska's installation aptly examines what happens when a country's trauma is displaced and what sort of solutions healing can bring from it.  
The Bruges Triennial ends in October.