Back to Blog
October 5, 2021
Assistant Professor of Ceramics Roberto Lugo Featured on CBS News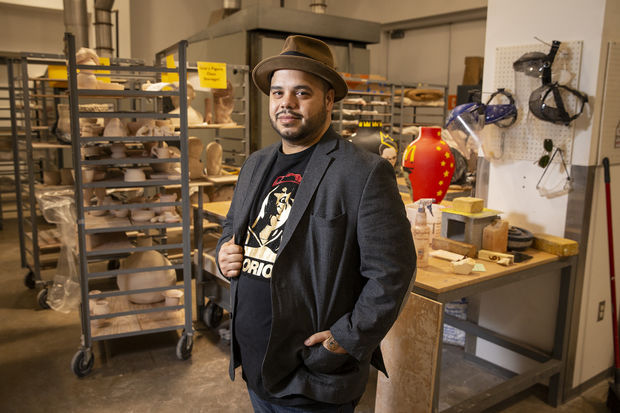 Assistant Professor of Ceramics Roberto Lugo, whose artistic practice and research explore issues of race, poverty, and inequality, has been drawing national attention for his modern twists on traditional forms of pottery. Lugo was featured recently on PBS NewsHour and CBS Sunday Morning for the ways in which he weaves his cultural and personal roots into his artwork. 
CBS's Serena Altschul interviewed Roberto Lugo about the tight-knit family he grew up with in the Kensington neighborhood and how that connection influences both his style and practice at the wheel. They discuss his blending of popular imagery with personal touches that relate back to the cultural calling cards of North Philadelphia, things that might seem at odds when placed in the context of some of his pieces, like classic teapots. 
Lugo was featured on PBS NewsHour in September as a part of its art and culture segment, CANVAS. He discussed his iintroduction to ceramics when he was in community college, and how he saw a notable disparity between his work and other students' work. That inspired him to incorporate parts of his own life and culture into recognizable pieces to bridge that gap. The level of personal unification Lugo adds to all of his work is what makes it relatable across audiences. 
Lugo's work will be featured in an exhibition at New York City's Metropolitan Museum of Art next fall. While pottery is not often considered when thinking about the neighborhoods surrounding North Philadelphia, Lugo hopes to inspire other artists with his visual storytelling and appreciation for valuing where one comes from.