Back to Blog
October 25, 2021
Assistant Professor of Ceramics Roberto Lugo Featured in The New York Times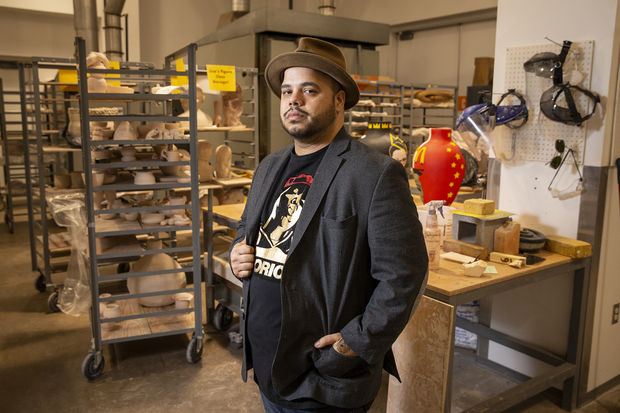 Assistant Professor of Ceramics Roberto Lugo's work will be front and center in a highly anticipated new period room opening next month at The Metropolitan Museum of Art in New York City. The exhibition, entitled "Before Yesterday We Could Fly: An Afrofuturist Period Room," is inspired by Seneca Village, a Black community that thrived in New York City until the 1850s when it was demolished to make way for Central Park. Lugo's background and body of work were recently featured in The New York Times' Fine Arts & Exhibits special report, written by Ted Loos with video footage by Mohamed Sadek. 
Lugo will be showing 26 pieces in the exhibition, making him the most-represented artist in the show. His marquee piece is titled "Digable Underground" (2021), a glazed stoneware urn depicting portraits of Harriet Tubman and singer-songwriter Erykah Badu. Lugo puts an emphasis on positively representing Black culture and celebrating his Afro-Latino heritage. 
Read the full New York Times feature here; the Met exhibition opens November 5.