Back to Blog
February 21, 2022
Assistant Professor David Herman Jr. Explores Black Image and Ways of Seeing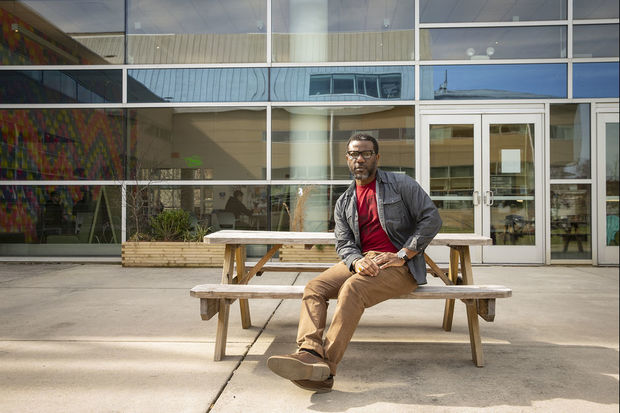 Assistant Professor of Art Education David Herman Jr., PhD, believes past perceptions shape the way we examine the present. He will explore this theme as part of the Testimony: Visual and Embodied Gateways to Black Histories series, presented by the Simone de Beauvoir Institute at Concordia University. Herman, a lens-based artist, will give a virtual lecture titled "Witnessing Gestures: Spatial Aspects of Black Visualities in the Cinematic Image" on Wednesday, February 23. In this Q&A, he discusses the influences for his lecture, what he hopes will resonate with the audience, and why social topics like this are relevant and important. Registration information can be found here.
How did you choose the topic of your lecture? 
"The title of the lecture, "Witnessing Gestures: Spatial Aspects of Black Visualities in the Cinematic Image," signals a paradox in our looking, our seeing and our being seen that is precarious, risky even. At its core, the talk is about the agentic nature of the past and how recollections of the past shape critical aspects of our seeing practices. When invited to speak at the Simone de Beauvoir Institute at Concordia University, I wanted to take the opportunity to highlight my research on embodiment and perception. Particularly, I wanted to highlight the importance of looking as both a racializing practice and a practice of refusal and reconciliation." 
Why does this topic resonate with you? Why does it excite you?
"The topic of understanding embodiment through the visual arts resonates with me on a personal level. Looking back, I have always been interested in understanding something about how people live their lives. Even as a young child the camera was a way for me to photograph the slightness and subtleties of life as it unfolded... and using my camera to witness the perceptual, historical and cultural depth of my family and friends seemed important. I am excited to be talking about visualities. We are all experiencing a time where we are all called to consider the present as a past of structural place-making. Visuality and the image plays a foundational role in how societies inscribe and manage civic life. And with 24/7 news cycles, the image has never been more prevalent and pervasive. As a means of being more critical about the forces, impacts and impressions of the visible on our daily lives, I am excited to speak on the topic of embodiment and the ways that we take up and take on the visual. And aside from daily life, ideas of the visual are also salient as we consider issues of justice, ethics and inclusion across research, education and policy." 
What do you hope audiences gain from your lecture?
"The answer to that is simple. I hope that listeners gain a sense of self and an understanding of how to begin to think about their own seeing as it pertains to issues like race, gender, education and equity. It's important for each of us to take account of our seeing practices. As I mentioned, how we see and how we are seen plays an informative role in how we come to understand how bodies and the environment can be enacted upon. What I hope the audience gains from the lecture are ways that they can critically account for their own seeing practices. I hope that what is said provides a way for implicit biases that are situated within long and wide histories of racialized vision can be brought to the foreground and responded to in ways that actualize more ethical practices within our day-to-day lives." 
What does your work outside of school look like, and how does it relate to a topic like "Witnessing Gestures"?
"My time is divided among several projects. As a lens-based artist, I continue to cultivate social understandings through my visual work and the cinematic work of others with questions of space-time – another way of thinking about spatiality in the everydayness of contemporary life. I am also currently archiving my personal photographs from the past 40 years as a way to reflect on ideas of witnessing. However, much of my work is centered around my research on preadolescent perception and embodied learning. I am using a theoretical framework that I began developing during graduate school - Perceptual Rite of Passage - to conduct phenomenology research." 
How do you feel your topic fits into a larger conversation about Black History and perception for a modern audience?
"For me, to talk about spatiality is to acknowledge the movement and motions of time. It is a way of thinking about how vestiges of the past come to fill spaces that are left behind. In this, I am referring to the asymmetries of remembrance – this idea of the renewed visual past and how it lays across recollections of itself. Visualities play an essential role in not only how histories have been represented, disseminated and replicated as it pertains to race, but it continues to influence our individual and shared emotions about Black Life one way or another. Visuality is a socio-historical matter and the historical representations of Black bodies are so fundamental rooted in realities of oppression, subjugation, dispossession and death that it calls for urgent and concerted attention in order to manifest counter-narratives and counter-visualities. I can't overstate how critically important it is right now to understand how our seeing practices are directly linked to past injustices that are conscious and implicit. It is important to recognize that looking is risky on multiple levels. Even when we don't know how to articulate the risky, it remains vital to acknowledge the apparent risk within ourselves – that is a part of the counter-action necessary in creating a more equitable atmosphere."
Photography by Joseph V. Labolito