Back to Blog
April 11, 2022
Assistant Professor in Painting Mark Thomas Gibson Awarded 2022 Guggenheim Fellowship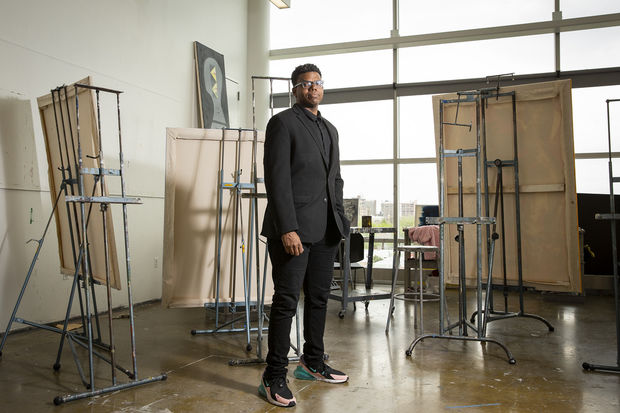 Assistant Professor in Painting Mark Thomas Gibson has been named one of 180 recipients of the 2022 Guggenheim Fellowships, awarded annually since 1925 to those "who have demonstrated exceptional capacity for productive scholarship or exceptional creative ability in the arts."
Gibson's work explores the Black American experience through the lens of satire; his fine arts fellowship was underwritten by actor Robert De Niro in honor of his father, the painter Robert De Niro Sr., a 1968 Guggenheim Fellow. "Gibson's paintings, inspired by comics, provide commentary on American history and explore Black representation," the John Simon Guggenheim Memorial Foundation's official press release states. Gibson is also currently on sabbatical for the spring semester, pursuing independent projects at Princeton University as a Hodder Fellow.
Gibson received a 2021 Pew Fellowship and has published two artist books, 2017's Early Retirement, a utopic exploration of the 2016 presidential election, and 2016's Some Monsters Loom Large, which explores the history of Western colonialism displayed in a comic book style. While teaching at Tyler, Gibson has steadily exhibited recent works, many of which showcase themes of racial identity and tension.
On receiving his Fellowship, Gibson said, "I am extremely honored to receive the 2022 Guggenheim Fellowship in Fine Arts from the John Simon Guggenheim Foundation, endowed by Robert De Niro in honor of his father, the painter, Robert De Niro Sr. I hope this fellowship allows me to continue my work examining history and contemporary American culture through satire over the next year. I would like to thank the support of my department and my other colleagues throughout Tyler for their guidance and support over the last four years. I hope that this achievement reflects positively on the entire Tyler community."
The Guggenheim Fellowship encompasses 51 different fields of interest this year, ranging from visual arts, historians, writers, academics, and more. Recipients' work revolves around topical issues such as "climate change, pandemics, Russia, feminism, identity, and racism," according to Art Forum, which shared the Guggenheim's announcement. 
Guggenheim Foundation President Edward Hirsch, a 1985 Fellow in Poetry, spoke about the Foundation's hopeful return to normalcy after a tumultuous, pandemic-laden two years: "...It is a special joy to celebrate the Guggenheim Foundation's new class of Fellows. This year marks the foundation's ninety-seventh annual fellowship competition. Our long experience tells us what an impact these annual grants will have to change people's lives. The work supported by the foundation will aid in our collective effort to better understand the new world we're in, where we've come from, and where we're going. It is an honor for the foundation to help the fellows carry out their visionary work."