Back to Blog
November 26, 2018
Buy Shaver site specific exhibition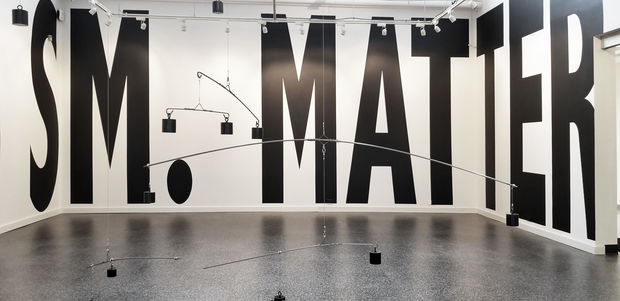 " Matter", Hicks Art Center Gallery, Bucks County Community College, OCT 29 DEC 10, 2018.
A site specific exhibition pairing the sculpture of Michael Grothusen and text mural by Buy Shaver.
"Matter" brings together two new works by midcareer Philadelphia based artists, Michael Grothusen and Buy Shaver. This pairing of sculpture and wall text strives to explore the gaps between perception and belief in order to speculate how we might know and share anything with certainty.
The exhibition takes its title from Shaver's text piece, Faith as sm. Matter, originally composed in 2012 and adapted for this exhibition as an installation. Rendered by hand in black paint on the gallery walls, the phrase envelopes a grouping of mobiles by Grothusen entitled Self Portrait, by weight, not touching the floor.