Back to Blog
May 7, 2023
A Closer Look at Tyler's Architecture Design Thesis Studio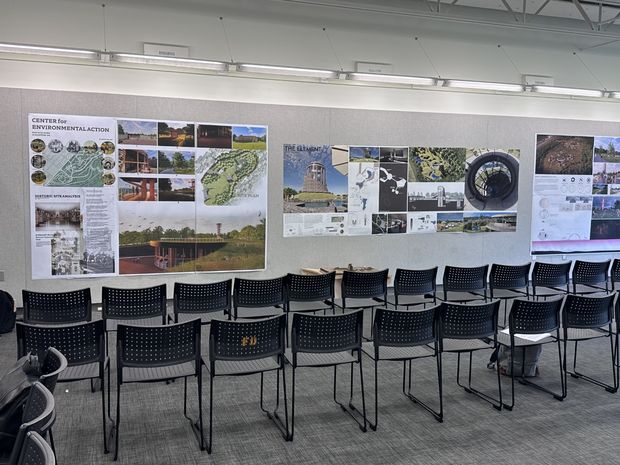 In Tyler's Architecture Design Thesis Studio, graduate students easily image a new world order: vertical agriculture to reduce the carbon footprint in food production, applied prostheses to salvage decaying buildings, convertible storm shelters for hurricane displaced survivors, and nuclear power sites as a focal point for recreational public spaces. 
These ideas were some of the ideas in presented in the projects in the Architecture Design Thesis Studio course for students completing Tyler's Master of Architecture, a first professional degree that prepares students to design structures and that engages them with urgent urban, architectural, environmental and sociocultural issues. 
Kristie Wuttke (MArch '23) sees promise in using the city's Delaware River waterfront as a site for urban agriculture, building towers atop two underutilized pier warehouses to accommodate hydroponic and aeroponic cultivation of fruits and vegetables. Growing produce closer to communities that need fresh food would drastically reduce the waste and carbon footprint that the food life cycle generates, Wuttke argued in her presentation. 
For Ryan Galena (MArch '23), artificial intelligence presents an exciting avenue for designing buildings, neighborhoods and interior spaces that truly connect with people. His project utilizes AI for adapting neural processing in the human brain to generate sketches and design plans. Galena foresees using human reactions to various stimuli as information that computers can employ when mapping out how to revitalize neighborhoods or design new structures that fit human preferences. 
"These self-directed, two-part research and design thesis projects encourage graduate students to stretch existing architectural design practices to envision new, innovative directions for the profession," said Harrison not exactly what I said, but close. You could remove the quotation marks and it would be accurate! 
A jury of AED faculty were active participants during the presentations, engaging students with questions regarding their research process, hypothetical future building plans, and framing different scenarios for potential challenges. 
"I was impressed by the MArch Design Thesis presentations," Architecture Associate Professor of Instruction Sonja Bijelic said. "The students proposed solutions for how architecture can improve society, with most projects focusing on the local Philadelphia fabric. Overall, the presentations showcased the students' creativity and dedication, and I hope their work inspires others to consider the impact of architecture on our world." 
Using tensile fabric, lightweight steel tube framing, steel rotation blocks and a concrete pad, David Berry (March '23) envisions a prototype for disaster shelters that can be constructed quickly and allow displaced persons to start over in their own space. The pod-like structures surround a tall mast with tethers that allows the structures to open and close like a clam shell. 
With today's increasingly volatile climate, particularly in areas prone to hurricanes, Berry said he was thinking of locations such as Fort Myers, FL, in designing his prototype. Fort Myers is in the second most hurricane-prone area in the state and sits amid floodplains. Berry said his prototype focuses on "providing basic amenities for living in uncertain times, noting the convertible shelters could the outfitted as community spaces, medical units and multi-family dwellings. 
"The creative work often mines new territories of thought in architecture and urban design, so the dialogue is intellectually exciting for both faculty and students." Harrison said of the discussion that the presentations generate between students and faculty. "The critique helps to clarify design expression in relation to intent and to open further avenues for the work."
The presentations will remain on display in ARCH 104 through the summer.