Back to Blog
February 27, 2023
Dionn Reneé (BFA '04) Wins Design Contest with Sony's "Woman King" Film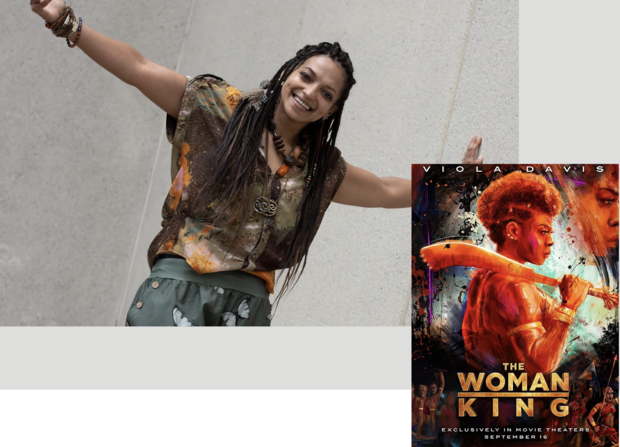 After entering a design contest hosted by Sony Pictures and Columbia TriStar Marketing Group, Dionn Reneé (BFA '04) was named one of 10 "Selected Creators" worldwide whose work was used to promote the 2022 film Woman King starring Academy-Award winner Viola Davis. 
"I thought that my chances of winning weren't high, but when I saw what the movie was about — empowering women, fighting for freedom — I wanted to submit no matter what," Reneé says. "Everywhere the film went, the artwork was used for the official marketing campaign." 
Reneé, who studied graphic design at Tyler, says her art style speaks to the film's message because "it has this powerful quality. It's a still, but there's movement to it, which is something that I learned from my graphic design and painting classes that I still hold on to. I approached the project with this child-like excitement," she says. 
Following the success of the graphic for the Woman King film, Reneé had the opportunity to work with Queen Diambi, the "real" woman king of the Democratic Republic of Congo and Brazil's Bantu nation. She presented the queen with an honorary portrait at an event held by the United Nations General Assembly, CUNY, and The New York Women's Foundation. 
Reneé has always had a fierce passion for the arts. "As a kid, I was better at art than I was at walking," she says. "My parents were artists, and they supported me by sending me to an art school. I wanted to be a painter, I wanted to be a graphic designer, I wanted to do it all. Tyler is excellent, and the formal training is where I really learned the most. Now that I've done so many different things, and I have this worldwide recognition, I feel completely comfortable saying that I'm a professional artist." 
While at Tyler, Reneé also studied in Rome. "I feel like that's where I created myself. Rome had this blank-slate feeling," she reflects. "I found my ambition in Rome. The artist in me would do anything to make art and make my projects the way that I envisioned them to be. My artistic concepts became so much stronger from going to Tyler." 
After graduating, she accepted a position as a lead fashion designer with the Cheltenham Mall. "I was working with graphic design and clothing design — that felt like a dream come true. I was sent to Las Vegas, Florida, and New York. It was so exciting that I turned down the opportunity to give a speech at graduation since I was already going to be working." 
Reneé is also a skilled photographer and photo editor and worked with celebrity clients. "My graphic design skills leeched into my photography — all my skills have complimented each other. Drawing opened doors to learn how to tattoo, which I did for two years. I taught art classes, I've been a director, a mentor. I've had a great range of experiences through visual art." She describes one of her biggest career hurdles as "having to teach myself the business side of art," which she did successfully and launched an advertising agency, Dionn Reneé Studios in Harrisburg in 2020.
Photo courtesy of Dionn Reneé