Back to Blog
January 12, 2022
Dona Nelson Honored with the College Art Association's Distinguished Teaching Award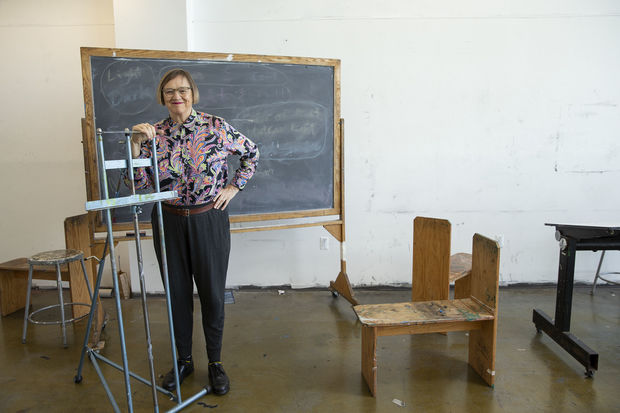 Tyler Professor in Painting Dona Nelson, having presented 20 solo shows over the span of her career, is best known and respected for her use of unorthodox materials, processes, and forms in her immersive and gestural paintings. Nelson has been a respected educator and mentor as well, and was honored with the College Art Association's Distinguished Teaching of Art Award last year.  
A recipient of other prestigious awards, Nelson has also earned a Guggenheim Fellowship, a grant from the Foundation for Contemporary Arts, and an Artist Legacy Foundation Grant. She was highly praised in several student and faculty testimonials submitted to the CAA while under consideration for the distinguished teaching award. 
Trenton Doyle Hancock, MFA '00, wrote: "I always left Dona's classes uplifted and ready to fight for art, to stand for something, to stand up for my own ideas... I always felt as though she was preparing us for something huge, that we were carrying a legacy. A painting wasn't just a painting, it was a proclamation of a world view." 
Nelson has been a professor at Tyler since 1993, and reflected on her time in the classroom and her approach to her work: 
What's the most fulfilling part of your practice? 
Nelson: "Trying to do things that I feel I can't do — the Two Sided Paintings series was challenging simply because they aren't easy to do. Every single painting is a big challenge because every painting is different. I don't think I have a signature style, but I'm inspired by being very present and in the moment while I'm working. The weather, the light of a particular day — I work outside a lot, and I often name my paintings by date." 
How would you describe your relationship to your work? 
Nelson: "I feel like my own practice is very difficult, and I'm amazed if I can accomplish the next painting. I'm very interested in my subject, and in painting as a whole. Maybe that's the only thing that distinguishes me from other art teachers. I'm fascinated by what a painting is. It's an illusion and it's physical. It's also so old ' the practice, but it's the same now as it's ever been. It's very different from most things in the world. There's always an assumption that things are different now because of technology — painting is always changing and always staying the same."  
What's something that inspires you about teaching? What do you gain from educating young artists? 
Nelson: "I really like student art, maybe especially, the work of advanced undergraduate Tyler painters. Truly, it is some of the best art I see in years' time. A lot of gallery art is very limited by what the gallerists think they can sell. It's not at all unusual for dealers to come to your studio and say, 'I like that one. Make a series like that and I'll give you show.' This commodity thinking around painting absolutely ruins it. The great thing about painting and drawing is that they are naturally humble and accessible art forms that have been brilliantly practiced by everyone from old ladies to teenagers. Of course, children make fantastic paintings. Everybody knows that! You don't need to be rich, educated or verbal to be a great painter! 
"The students in my Advanced Painting class last fall made such interesting paintings...sometimes terrifying paintings... and although we live in terrifying times, you don't see terrifying paintings in the art world! I like to see students make a whole lot of paintings and make the paintings that they really want to make! I'm actually not into critiquing that much. I want students to learn to really love the form, and I want them to go look at paintings in person, in the museums, because that is the best way to learn about painting. When they learn in that way, they can begin to critique their own paintings, to teach themselves, which is what you have to do if you plan to be a painter your whole life." 
What's your relationship with the Tyler painting program? How has it changed over the years? 
Nelson: "The classes have become shorter, and I don't think the shorter class times are good for painting! I would like to see painting classes last all day long, maybe just one day a week, all day long. Time is too chopped up in contemporary academia — not just Tyler, but in all the schools — and there is too much talking and not enough time to paint. The thing I enjoy most in the Tyler Painting Program is watching the development of students' paintings." 
What keeps you enthusiastic about art? 
Nelson: "It's very difficult. A person never knows quite what art is. You cannot really describe it in words, but if you took art out of life, there would be a huge hole. It's the place where ideas and materiality merge to form images. It's a very tenuous thing every single day. That's what I like about art and teaching art. Every single day that I'm here, I see paintings that I'd never ordinarily see if I wasn't here. Even the very young students make very interesting paintings."