Back to Blog
July 11, 2022
The Hatchery Promotes a Design-Focused Business Model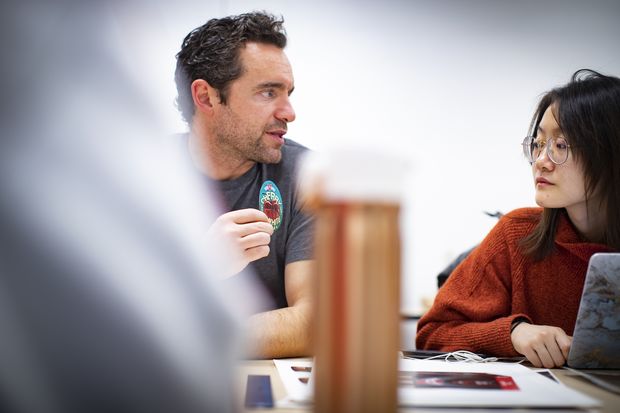 Associate Professor of Instruction Bryan Satalino (MFA '13) approaches Graphic and Interactive Design from an innovative, entrepreneurial lens. He joined Tyler's faculty in 2013 specifically to foster students' understanding of the relationship between graphic design and business, and successfully founded The Hatchery, Tyler's project incubator. He teaches students how to model their art as a business and provides them with tools to interact with real-world clients in bold and inventive ways. 
The Hatchery initially focused on independent study where students would create their own product designs, and Satalino would offer advice and assistance with laser cutting, printing, and other forms of small-scale manufacturing. Projects took shape in the form of marketable phone cases, board games, and clocks. Satalino also helped students license their products, like Genuine Fred's Chip Clip, created by Dylan Ball (BFA '19), a site that pays its student-creators royalties per sale. Satalino and his students have also sold their Hatchery products in the Tyler lobby during pop-up sales, as well as at local vendor fairs like Art Star and Punk Rock Flea Market. 
Image credit: Victory Brewing Cherry and White Ale beer tap by Joseph V. Labolito
In recent years, Satalino has gravitated away from laser-cut product design and focused The Hatchery's projects on experiential and client-based learning. Pulling from his own professional experience, Satalino encourages students to think of themselves as designers and as entrepreneurs. "Designers bridge the gap between people and businesses." In the fall of 2019, Satalino forged a partnership with Bill Covaleski (GAID '85), co-founder of Victory Brewing Company. Students designed a beer tap handle for Victory's Cherry and White Ale, which was being served at Temple alumni-owned or managed bars around Philadelphia. 
Also in the fall of 2019, Satalino stretched The Hatchery's breadth of skill and professionalism even further and worked with Professor Jaya Ramji-Nogales at Temple's Beasley School of Law to design a printable theoretical template for immigration lawyers to use when aiding refugees at the border. 
Most recently, Satalino has continued this transition away from product design and toward manufacturing and low-risk entrepreneurship (thanks to independent artist sites like Redbubble and Society 6) and is invested in building connections with organizations that value charity and civic pride. 
Katie Fish (BFA '21) by Joseph V. Labolito  
During the 2021-2022 school year, Satalino and Len Rieser, Program Coordinator with Temple's Sheller Center for Social Justice, met with Judge Idee Fox, head of Philadelphia's 1st Judicial District, and discussed a series of suggestions for how to revise the content and structure of the current Philadelphia court system website. Satalino, Rieser, The Hatchery students, and third-year Beasley School of Law students collaborated on several full website mockups with the help of professional UX and design consultants Jira Grennan and Lael Troupe from Temple's Strategic Marketing and Communications department to perfect branding and usability.
Tyler's Graphic and Interactive Design program has produced myriad successful alumni, including recent graduate Katie Fish (BFA '21), who designed Philadelphia's current "I Voted" sticker in Satalino's Hatchery class. 
For the 2022-2023 school year, Satalino is looking to expand The Hatchery with placemaking projects and building clientele in the wayfinding sphere that would generate pride for specific Philadelphia neighborhoods. 
Satalino has proven that graphic design knows no bounds, especially when paired with an innovative and personalized entrepreneurial focus. Though not a required course, The Hatchery prepares students with invaluable business and marketing skills, and boosts not only their resumé, but their confidence as well when interacting with professional clients. 
Header image credit: Associate Professor Bryan Satalino works on the Victory Brewing label, by Joseph V. Labolito