Back to Blog
October 5, 2023
Kalila Jones (BFA '24) Featured in Fiber Art Now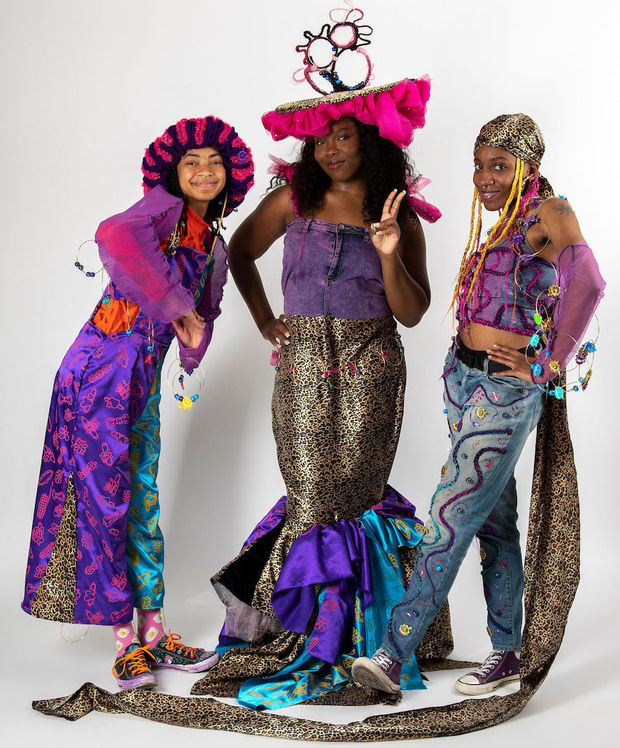 When Fibers & Material Studies student Kalila Jones (BFA '24) describes what she loves best about her chosen medium, her response is both practical and poetic.
"I'm interested in the sheer possibilities of fiber arts. We're around fibers all the time, from the clothes that we wear to our bedspreads," they said. "I find that very fulfilling about fibers— they're all around my life. I can see fibers. I can touch them and feel how comfortable they are. I love that tactile feeling about it."
This attention to both the functional uses and imaginative possibilities of fiber arts is evident in Jones' creations, which are vibrantly colored and playful in appearance, while also being soft and touchable. Recently, their unique approach has gained recognition: Jones was spotlighted in the Fall 2023 issue of Fiber Art Now, a quarterly magazine for fiber artists. 
In the feature, Jones described her early enthusiasm for fiber arts and what led her to Tyler's Fibers & Material Studies program. Her interest in crochet was influenced by her great grandmother, who lived with Jones' family. Though she began crocheting in elementary school, Jones didn't consider being an artist as a career until high school, where she first learned about art schools. She entered Tyler as a Graphic and Interactive Design student and enjoyed creating digital art, but was ultimately swayed by the tactile aspects of fiber arts.
In spring 2023, Jones showcased a collection called Interlude: No Limits, which they created in the Figurative Futures: Technology and The Body course, in Tyler's Wearable Art Show. The collection included imaginative garments that incorporated crochet with a variety of other materials— like their "Snug as a Bug Robe," a whimsical garment (created with crochet, knit fabric, fishing line, and pipe cleaner) that featured bug-like appendages dangling beneath its sleeves. Jones also submitted a piece that they call a birbigan— a cardigan made from crocheted squares that feature three-dimensional stuffed forms they created, known as birbs. 
The birbigan, along with several other pieces, appeared in the Fiber Art Now feature – in photographs that, Jones made sure to note, were all taken by Tyler students and alumni.
During their time at Tyler, Jones has explored a range of mediums and techniques, including screen printing, hand dyeing and machine sewing, and has found ways to bring their love of crochet into various projects. In their Dyeing for Color II class this semester, they are creating a series of portraits on knitted squares that they will hand-paint with dye to create images, some of which they will then take apart and reknit. 
In describing the project, Jones again emphasized her interest in exploring fiber arts' expansive possibilities.
"I'm really excited about studying materials to see how that transformation of shape, form, and color happens when I manipulate the yarn," she said.
Image provided by Kalila Jones.