Back to Blog
November 17, 2022
Karyn Olivier Reveals Temporal Display for the Newark Airport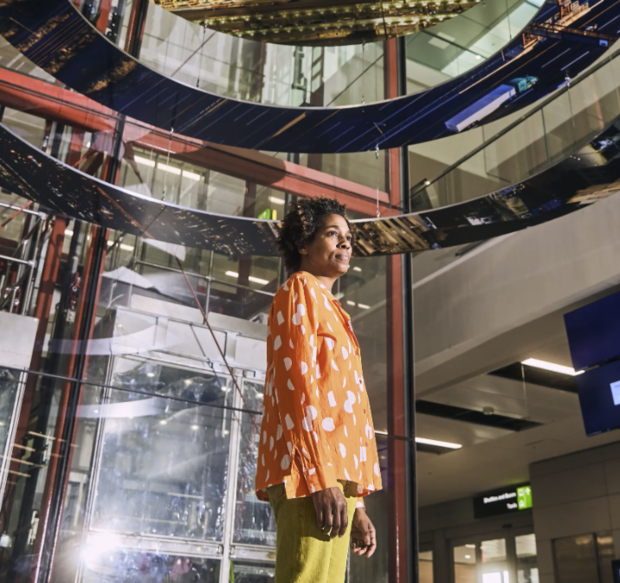 Professor of Sculpture Karyn Olivier recently unveiled her commission for the Newark Liberty International Airport, two stacks of 17 floating metallic rings that dangle 52 feet in the air. This is Olivier's largest installation to date. The sculptures, titled Approach, feature "panoramic photographs of New Jersey imprinted on the top and bottom of each flat circle, ranging in diameter from 5 to 19 feet. The fluid, telescoping shape of the sculptures, in opposite yin-yang configurations, seem to compress and expand as they are circumnavigated. Fragmented views of New Jersey's skylines, shipping ports, salt marshes and infrastructure, like its infamous turnpike, conflate and realign in dizzying mosaics," New York Times writer Hilarie M. Sheets describes.
Olivier was inspired by the "critical moments of takeoff and descent" when planning this display. "This inversion and optical perceptual shift echoes the kind of temporary disorientation we feel when we travel through different time zones and locations." 
Olivier was commissioned alongside muralist Layqa Nuna Yawar, who painted elaborate displays that bridge New Jersey's rich cultural past with its present. Read the full feature in The New York Times.
Image: Karyn Olivier, by Zack DeZon for The New York Times