Back to Blog
April 3, 2023
Lauren Sandler Receives New Fellowship from College Art Association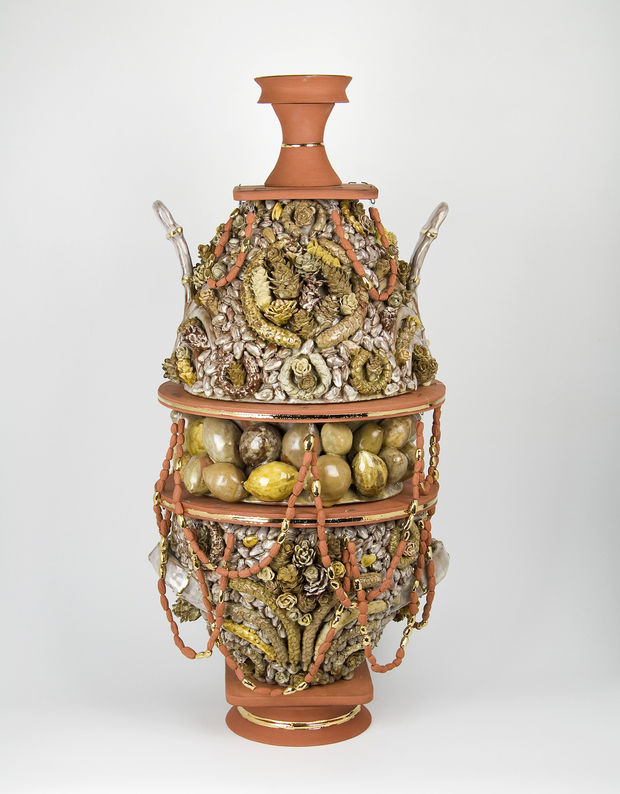 Lauren Sandler, Associate Professor of Instruction and Program Head of Ceramics, is the inaugural recipient of the College Art Association's Michael Auerbach Fellowship for Excellence in Visual Art, which honors CAA members who have obtained an MFA or equivalent in studio art and are currently teaching studio classes. Sandler's work encompasses the deconstruction of mythologies and investigates narratives of power and perspective. She discussed her practice in relation to teaching, as well as where this new fellowship will allow her to take her work.  
---
As the first recipient of the Michael Auerbach Fellowship for Excellence in Visual Art from CAA, how does this honor encourage you to explore your practice? What will you work on? 
"It is always heartening to receive recognition of my work. Making is a meaningful process of inquiry, experimentation, and learning, but part of making art is the connection and communication it can inspire and evoke with other people. I am grateful for opportunities that foster interaction and relationships through my work. This fellowship will support my research in harvesting, processing, and utilizing local materials, specifically clays, in my practice. I am interested in the history contained in the earth and using different materials as a way to connect to the past but also contemporary life of a place." 
What about your work do you feel stood out to the CAA committee? 
"Perhaps the way I consider ceramics a critical space and utilize the familiarity of ceramic objects as a way to think about the extraction and production of goods such as tea, sugar, coffee, salt, and other systems, to examine economies of control that constitute migration, occupation, commodification, and labor. My pieces are not functional but are vessels constructed as an accumulation of stacked parts that can be assembled and disassembled. This process of building removes them from the ability to contain so as to focus more on the stories, myths, histories of the things often held or preserved in a ceramic vessel." 
When did you first fall in love with ceramics? Describe your work and areas of interest?
"My initial interest in clay began in college as an anthropology student. I was drawn to the tangibility of clay and ceramic objects as a means to connect to people and places throughout time and space. Holding an object made by someone long ago with their gestural and physical impressions is a powerful experience. As a contemporary artist, I am interested in clay's familiarity and intimacy and how I can use that as an access point to address many different themes, ideas, and experiences. I am fascinated by the layered and complex stories held in objects. Clay is such an expansive material and contains global, social, economic, personal content and context. In my work, I look to artifacts and material culture as a means of dismantling and reconstructing stories. I use the accessibility and recognition of the vessel as well as the allure of visual abundance as a means to question and challenge the presumptive neutrality of material culture and the multiple stories and histories contained in objects and goods." 
How does your studio practice inform your teaching? How do these two areas of your career mesh?
"Making and teaching are both a means of connection and expansion in our work and ourselves. Each practice very much influences the other. In both spaces, I am interested in ways to reconsider and re-contextualize narratives, systems, structures, canons, and pedagogies. My creative research directly informs my coursework; for example, I designed a class centered around the idea of clay as cultural material where we researched, harvested, and processed local clays as a way to explore the multiple and expansive stories in clay. The conversations I have with students also find there way into my studio work. My current body of work was greatly impacted after discussions I had with students about appropriation in ceramics. From this exchange, I began to explore objects from my cultural lineage, which led to new research and series of work. I am also greatly inspired by my colleagues and the different areas of their research and varied fields of knowledge." 
What organizations are you a part of outside of Tyler? 
"I have been a member of The National Council on Education for the Ceramic Arts (NCECA) for many years and served on the organizations board as Director at Large. I now serve on their Collaboration and Engagement Committee, dedicated to creating opportunities that sustains long-term collaborative projects prioritizing diversity, equity, and inclusion in the ceramics community." 
What are your future plans for your studio practice, aside from the fellowship? 
"I have an upcoming installation at the Philadelphia Airport in September. I am also working with local communities where we will dig clay to make things as part of a shared space. Philadelphia has a vast history of ceramics due to the abundance of clay deposits in the area. With this project, rather than extract and take the material away to work with, and disconnect from the place and people where the material comes from, we will dig the material to connect us to the place and the history of the material in that location and bring that into our current lives as we participate in collective making."  
Learn more about Tyler's Ceramics Program and the Tyler experience.
Image credit: Lauren Sandler, 
Objects Migrations
Earthenware with glaze and gold luster
30" x 14" x 14"