Back to Blog
November 9, 2021
Louise Fishman (BFA & BS '63) Memorial Exhibit On View at Thomas Erben Gallery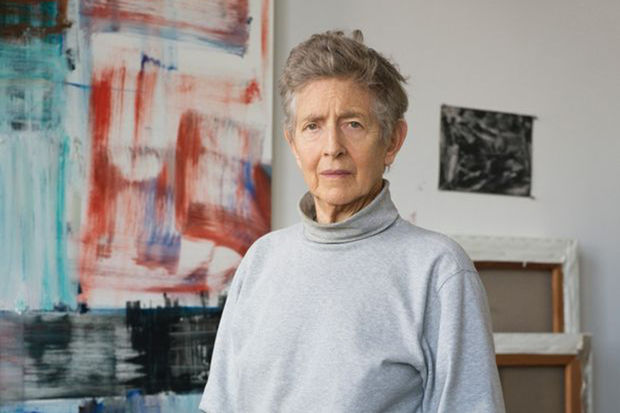 Prominent Tyler alumnus Louise Fishman (BFA & BS '63) was a figurehead in the world of American Abstract Expressionist painting, but she did not arrive at such stature without struggle.
Gestures of Affection: In Memory of Louise Fishman, on display at the Thomas Erben Gallery in New York from November 9 until December 18, celebrates her rise and influence amid a male-dominated abstract art scene in New York. The all-women exhibition will feature works by her close peers and friends, including Tyler Professor of Painting Dona Nelson.  
Known for her gestural style of painting, Fishman specialized in themes surrounding feminism, Judaism, and line and gridwork. Fishman found it difficult to break into the male-dominated abstract scene in 1960s New York, so she carved a lane for herself within various feminist movements instead. The early stages of her work examine the feminist struggle through routine, domestic tasks while also encouraging a new form of abstract work that ran counter to the contemporary male Abstract Expressionist painter's style.  
Fishman passed away in July 2021 after a career spanning over five decades, receiving prestigious accolades such as the Guggenheim Fellowship and the CAPS Fellowship in Painting, among others. Fishman's work has been shown in the Carnegie Museum of Art in Pittsburgh, The American Academy of Arts and Letters in New York, The Jewish Musem in New York, The National Museum of Women in the Arts in Washington D.C., and The Woodmere Art Museum in Philadelphia.  
Fishman, along with the other women in the show, have been counted among the artists of our time who have kept the genre relevant and vital in their own way. 
Portrait of Louise Fishman by Nina Subin, 2019, courtesy of Thomas Erben Gallery