Back to Blog
February 28, 2022
Madeline Rile Smith (BFA '14) Granted 2022 Saxe Emerging Artist Award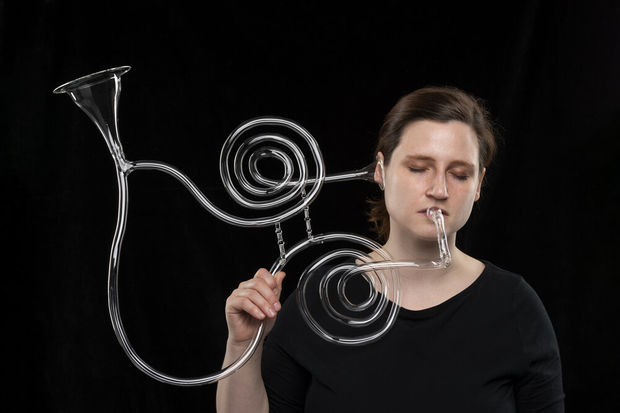 Madeline Rile Smith (BFA '14), Adjunct Professor in Glass, was recently granted the Saxe Emerging Artist Award from the Glass Art Society. Thanks to this opportunity, Smith will present at the 2022 Annual GAS Conference in Tacoma (May 18-21), participate in an upcoming digital artist exhibition, receive an honorarium to support her work, and more. 
Her practice, which earned the committee's attention through an award nomination, specializes in body-activated pieces. She appreciates objects that can stand alone as well as serve as performance art, often times implementing music and sound. Her practice raises the question: "How can glass go beyond the object and not just be a static sculpture on a pedestal? How can you interact with it?" 
Many of Smiths' pieces require collaboration when they are displayed, such as her "Instruments for Connection and Compromise" series. On receiving her award, Smith says that it feels "encouraging to be recognized as an emerging artist" and reassures her that she's on the right track as a working artist. 
After earning her BFA in Glass from Tyler in 2014 and her MFA from Rochester Institute of Technology in 2018, Smith was invited back to Tyler by Department Head Jessica Julius to serve as an adjunct professor. Even as an undergraduate, Smith knew that she wanted to teach, and she admired Tyler glass's community and close-knit classes. She recalls her professors encouraging her to experiment with the medium and try to explore glass as artmaking instead of object-making.  
On what makes her practice so special to her, Smith said, "I think glass is a magical material. When you're working with it, the process is so specific and technical, but at the same time it's also fluid and otherworldly. You have to build a relationship with glass over time, because it takes so much practice to really get somewhere. But I love the material metaphor that it lends itself to. Glass is so fragile, and it can be scary, but it can also be so luminous and light." 
Because Smith has spent so much time in the classroom, both as a student and an instructor, she says that she hopes her students "look at all aspects of everything that inspires them so that it will foster growth in their practice" because of how her professors encouraged her to create outside of her comfort zone. 
On March 11 at 7:00 p.m., Smith will be presenting at Tyler's "Gathering Heat" event in the Glass studio's hot shop. The performance will focus on 3-dimensional drawing and drawing with light.