Back to Blog
March 9, 2020
Morgan Gilbreath (BFA' 14) Receives Distinguished Prize in Glass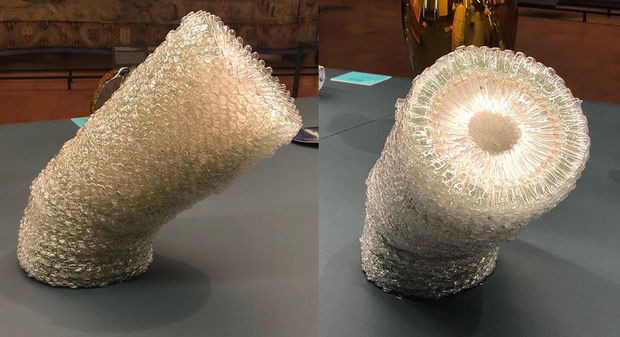 Morgan Gilbreath (BFA' 14) Receives Distinguished Prize in Glass
Morgan Gilbreath (BFA' 14), Tyler School of Art and Architecture alumna in Glass and one of Tyler's 2020 Laurie Wagman Artists in Residence, has recently won the Purchase Prize 2020 "Aldo Bellini" from the Competition MilanoVetro-35, housed in Castello Sforzesco di Milano for her work "Tower of Babel" (pictured above). Castello Sforzaeco di Milano, or the Sforza Castle in Milan, houses many of the city's museums, art collections and archives. The Competition MilanoVetro-35 is a biennial international artistic glass and design competition for artists under 35 years of age.
Gilbreath is inspired by labor-intensive crafts and research of art and architectural history. She uses her art "to explore how context, material and gesture can encourage a life in which all things can be viewed as historically, spiritually and artistically meaningful."
"Tower of Babel" will now become part of the Sforza Castle collections.
Images courtesy of the artist.