Back to Blog
July 11, 2022
NXTHVN Fellow Warith Taha (MFA '20) Explores Black Legacy in Exhibition at Sean Kelly Gallery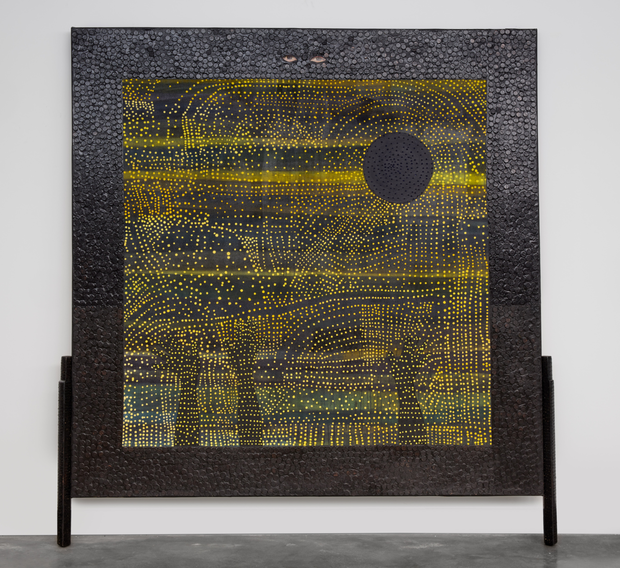 Immediately after earning an MFA in Painting from Tyler in 2020, graduate Warith Taha scored a Tournesol Award from the Headlands Center for the Arts and a yearlong residency at NXTHVN, a non-profit incubator for emerging artists and curators of color in New Haven, Connecticut. Now his work is on view in Undercurrents, a group exhibition with NXTHVN's Fellowship Program cohort at Sean Kelly Gallery in New York, from June 10 – August 5, 2022.
We spoke with Taha about his residency at NXTHVN, how themes of identity inform his practice, and how he shapes and reshapes his craft with a sense of "freedom to create what's important" to him, as he explained in a spotlight video for NXTHVN (watch below). The freedom to create authentically has opened Taha's eyes to not only truths about his own community, but also the way he sees himself through a Black queer artist's lens.
Watch: NXTHVN Artist Spotlight on Warith Taha
In this mini-doc, Warith Taha invites us into his NXTHVN studio and shares insights into his creative process and practice. Directed/Edited by John Dennis. Produced by Auxiliary Creative for NXTHVN.
Undercurrents focuses on themes of longing and collective memory. What pieces did you contribute to this show, and how did they come to be? 
Warith Taha: I have five pieces in the Undercurrents show, which were hard earned. I spent the year at NXTHVN asking difficult questions of my practice, exploring new materials and methods, and challenging myself to go deeper into themes which have been central to my practice since my time at Tyler. I began most studio days walking the streets of Dixwell, the predominately Black area in New Haven around NXTHVN, collecting material for my work and interacting with the people of the neighborhood. Dixwell reminds me a lot of where I grew up in Oakland, CA. Through an intentional repurposing of disparate materials like clothing, discarded domestic objects, and fallen branches, I am able to talk about larger themes related to my own Black queer identity. My work also considers paint and its possibility to act as glue. This glue binds together these disparate objects into a new, singular entity. A lot of what I was thinking through with this work was the relationship between material and identity. 
How do you feel Tyler prepared you for the next steps in establishing your career in the fine arts?