Back to Blog
December 13, 2021
Occupational Therapy Grad Students and Tyler Foundations Techs Build Real-World Adaptive Design Projects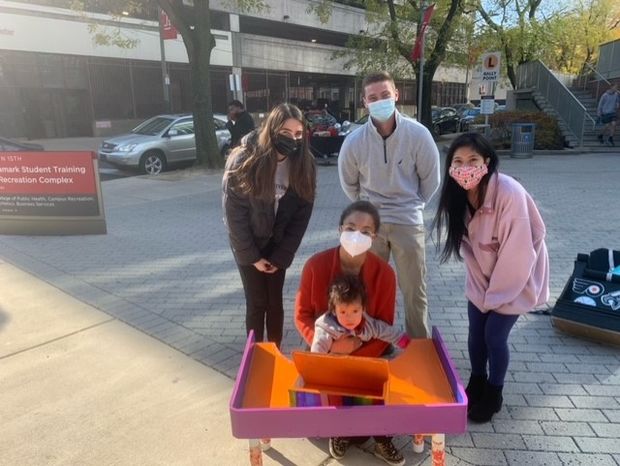 Graduate students in Occupational Therapy Practice: Assistive Technology collaborated with Tyler faculty to build their final projects for the Adaptive Design Outreach Initiative, led by Cynthia Abbott-Gaffney, assistant professor of instruction in the Occupational Therapy Program in the College of Public Health's Department of Rehabilitation Science. Abbott-Gaffney specializes in neuro, pediatric, and telehealth practices, all of which play a role in students' understanding of the current scope of the Adaptive Design Outreach Initiative during a mid-pandemic semester.   
The Adaptive Design Outreach Initiative was started with the Adaptive Design Association (ADA), based in New York City, and this collaboration between Tyler, Temple's OT Program, and ADA encourages students to collaborate in small groups and work with real-world clients to come up with a comprehensive design plan that will fit their needs. When the project was first introduced at Temple, Abbott-Gaffney's class connected with HMS School for Children with Cerebral Palsy, and most of the clients asked for adaptive tools to aid with engagement in meaningful daily activities as well as leisure activities in order to bridge the gap between social skills, play, and participation in any daily activity in need of adaptation for people who are disabled.   
This year, Abbott-Gaffney's class used as many of Temple OT's community connections as possible, such as fieldwork placements and clinics, to pair students with prospective clients. Once they were matched with a client and determined the scope of their projects, students turned to Tyler's Kati Gegenheimer, who introduced them to exhibitions and studio techs Adam Blumberg, Matthew Speedy, and Leigh Dotey, who helped bring their designs to life.   
Abbott-Gaffney explained that, typically, assistive technology isn't built with aesthetics in mind, which is why she opted to have her students collaborate with Tyler staff, who encouraged their confidence and problem-solving skills, keeping in mind that these students aren't typically artists or builders. Blumberg, Dotey, and Speedy helped with the construction and aesthetic end of the project, which added to the overall real-world approachability of the final products.  
Leigh Dotey, Foundations Department Technical Assistant, spoke to the impact this project had on them. "The Foundations Department unfortunately wasn't able to host the AD group in our woodshop this year as our classes conflicted with their schedule but I managed to set up an alternative room for them to use equipped with a couple of stationary bandsaws and dust collection along with a variety of hand tools the OT group brought of their own. The students weren't phased by the impromptu setup and got right to work each day they were here and also expressed how thankful they were for the space at all. Many students even arrived early asking if they could be let in to work on their projects before class technically started. It made for an exciting few weeks to see the room activated in a new way and genuinely impactful projects taking shape. Adam, Matt, and I also managed to attend their presentation day at the STAR building and it was quite touching to hear more about their clients and their clients' families who would be using the devices. Honestly, it was the highlight of my year to even be adjacent to this amazing program."
Clients have also shown immense amounts of appreciation for the work Abbott-Gaffney's students have done. In the past, families have reached out months later to update the class on their progress with their new adaptive equipment. Because most of the clients are children, it's meaningful to see how the project has truly aided their ever-changing development. Abbott-Gaffney said that one child stood up for the first time thanks to one of her students' designs. In previous years, Temple Contemporary has also displayed several of the Adaptive Design Outreach Initiative final projects.   
The OT Program hopes to grow this project for future semesters and consider collaborating with organizations beyond the United States that don't have access to adaptive equipment or the materials to create them. The program also hopes to teach organizations how to make their own adaptive equipment using low-cost materials.   
Click here to read further information about the project on Temple Now.
Click here to view more photos of Occupational Therapy Practice: Assistive Technology's final presentations.  
Header photo courtesy of Cynthia Abbott-Gaffney