Back to Blog
October 31, 2023
Painting Major Reimagines Vanitas through Research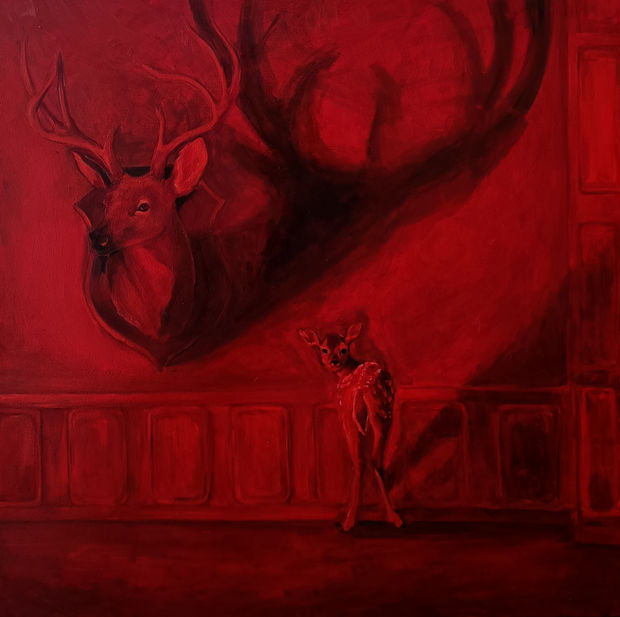 This is the third of four articles about Tyler's Spring 2023 CARAS grant winners.
In senior Sofia Angelini's haunting and intensely red deer painting Crucifixion, a wide-eyed fawn stares backward seemingly bewildered, its head turned away from a wainscoted wall where the preserved head of an eight-point stag hangs mounted as a trophy. 
The work is one of six monochromatic paintings with equally striking scenes and titles – Death of a Stag, Open Grave, Roadkill, Tooth and Nail – that depict various states of danger, vulnerability, and brutality in the lives of deer populations, said Angelini, who won a CARAS grant in spring 2023 for a visual arts project that explored random acts of violence and cruelty. She was one of four Tyler students to receive the grant last spring to conduct summer research. 
Exploring human vulnerability to the universe's chaos through imagery of deer, Angelini's works are on exhibition in Wrong Place, Wrong Time in the Tyler Atrium from October 23-November 3. 
Angelini, who grew up in Florida near an expansive nature preserve and often watched deer meandering through picturesque lawns, found deer to be an apt metaphor for the sometimes-harsh realities that humans experience.  
"There is never an order to who is afflicted by terrible circumstances or events," Angelini wrote in her grant proposal. "There is no way to completely prevent tragedies from happening. We live with the knowledge that our life hangs in a balance that we cannot control. We experience the sensation of being deer in headlights– staring down the inevitability of tragedy and paralyzed by that knowledge." 
Deer have appeared in art from prehistoric cave paintings onward, and have figured in mythology, religion, literature and the economy, as important sources of meat (venison) and buckskins. In art, 19th century European landscape painters often depicted hunts and herds, still-life of gutted carcasses, and portraits of majestic bucks. 
In the research for her project, titled "Exploring Life (Mortality, Vulnerability, and Control) through Deer Painting," Angelini investigated vanitas painting, and how artists in the past utilized symbology to evoke questions about death and life. "While vanitas paintings are within the still life genre, they often include slain game in an arrangement that creates a contemplative narrative," she wrote in her proposal. Vanitas is a loose category of artwork that illustrates the transience of life, the futility of material wealth, and the certainty of death.
  
(clockwise from top left) Death of a Stag, Open Grave, Roadkill 
Angelini said that similarly, deer are vulnerable not only to predators in the wild, such as hunters who see them as a reliable source of food and prize their pelts, but also to man-made roads and housing developments that have encroached on their habitats. 
"The neighborhood where I grew up in Florida was skirted by an expansive nature preserve, and deer often meandered through the lawns. Herds of deer emerged at dusk to graze in nearby fields; rather than bolting, they would peer wide-eyed at me for a few mesmerizing moments, then return to their peaceful grazing. Due to our proximity to urban spaces, however, I would also frequently find deer carcasses along the road," she explained. 
Angelini previously explored this topic in an Advanced Painting class, where she reinterpreted the well-known painting The Death of the Stag by 18th century historical painter Benjamin West. Struck by the painting's "overwrought drama and anthropocentric focus," she decided on a different direction.
"The other animals – horses and dogs – are at the service of the attacking men. The deer has collapsed to the ground, overpowered by the weapons arrayed against it. The painting glorifies power, control, and bloodlust. My painting focuses on the aftermath, depicting a deer slain on the ground, surrounded by other deer. There are no humans, only the herd silently mourning their own," she said in her proposal. 
 
(l-r) Tooth and Nail, Wire Mother
Angelini said she hoped her Wrong Place, Wrong Time exhibition would make people think about now normalized and glorified violence, particularly guns, have become in American society. She also hopes people will be sensitized to the plight of deer, often seen dead on the side of the road. 
"How many of these deer could have been saved if it were common practice to call for help, as one would after hitting a household animal? Why is it that some creatures deserve mercy, and some do not?" 
Angelini said that exploring an abstraction of such a complex concept challenged her to push boundaries creatively, and ultimately helps her studio practice as she seeks a career as a professional artist. 
Caption: (top) Crucifixion