Back to Blog
October 4, 2019
Piotr Szyhalski brings his protest performance to Tyler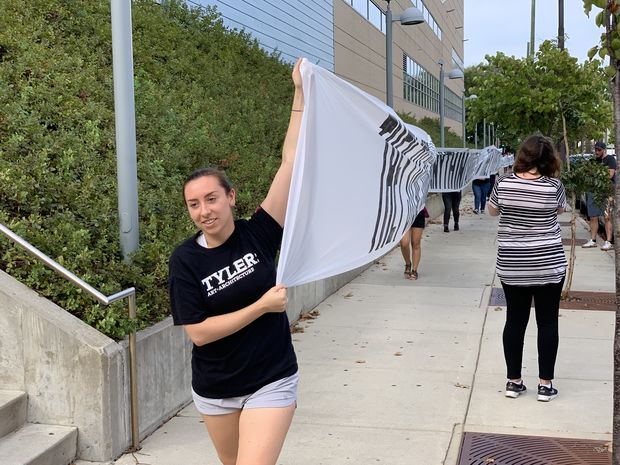 Multimedia artist Piotr Szyhalski, with the help of Tyler School of Art and Architecture faculty and students, performed his monumental, socially-driven THEM in North Philadelphia on Wednesday, October 2, 2019.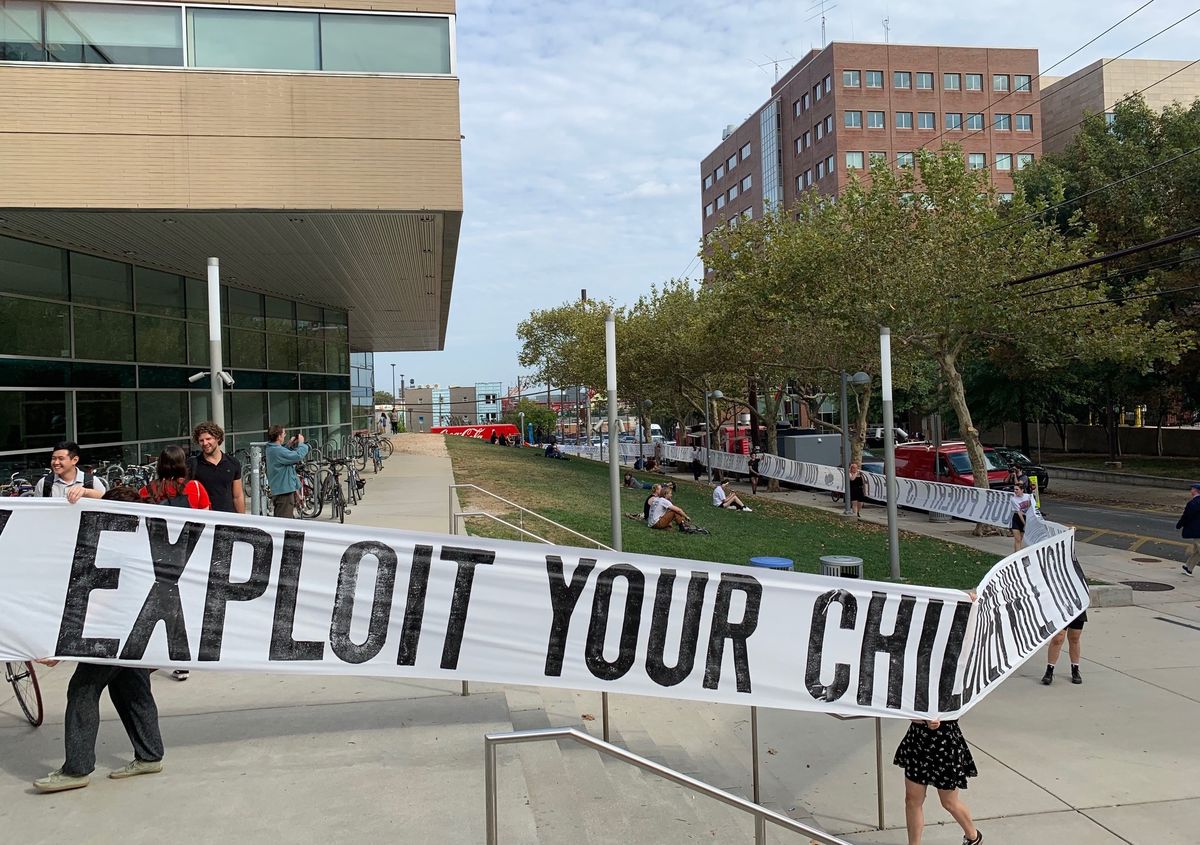 Students and faculty carry Piotr Szyhalski's 450-foot long THEM banner around the block of the Tyler School of Art and Architecture. 
On October 2, 2019, faculty and students from the Tyler School of Art and Architecture paraded a three-foot high, 450-foot long banner around the building, engaging Temple's campus and stunning community members with a performance of artist Piotr Szyhalski's THEM, in partnership with Tyler's Printmaking Program and Temple Contemporary—the visionary center for Tyler's exhibitions and public programs.
"[The Solidarity movement in Poland in 1989] was a big part of my aesthetic and social consciousness to understand without any doubt that a piece of printed artwork has a direct function in that social and cultural sphere, that [it] connects, communicates, unifies, creates emotional bonds, generates energy," Szyhalski said to American Craft Council. "That's huge, you know? Think of a young, budding artist absorbing that as the norm."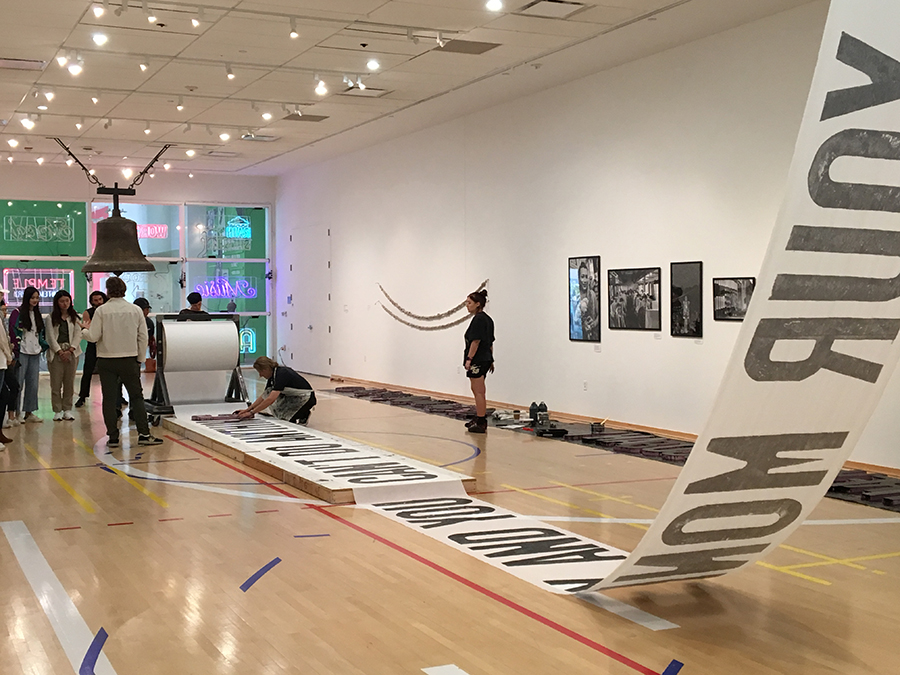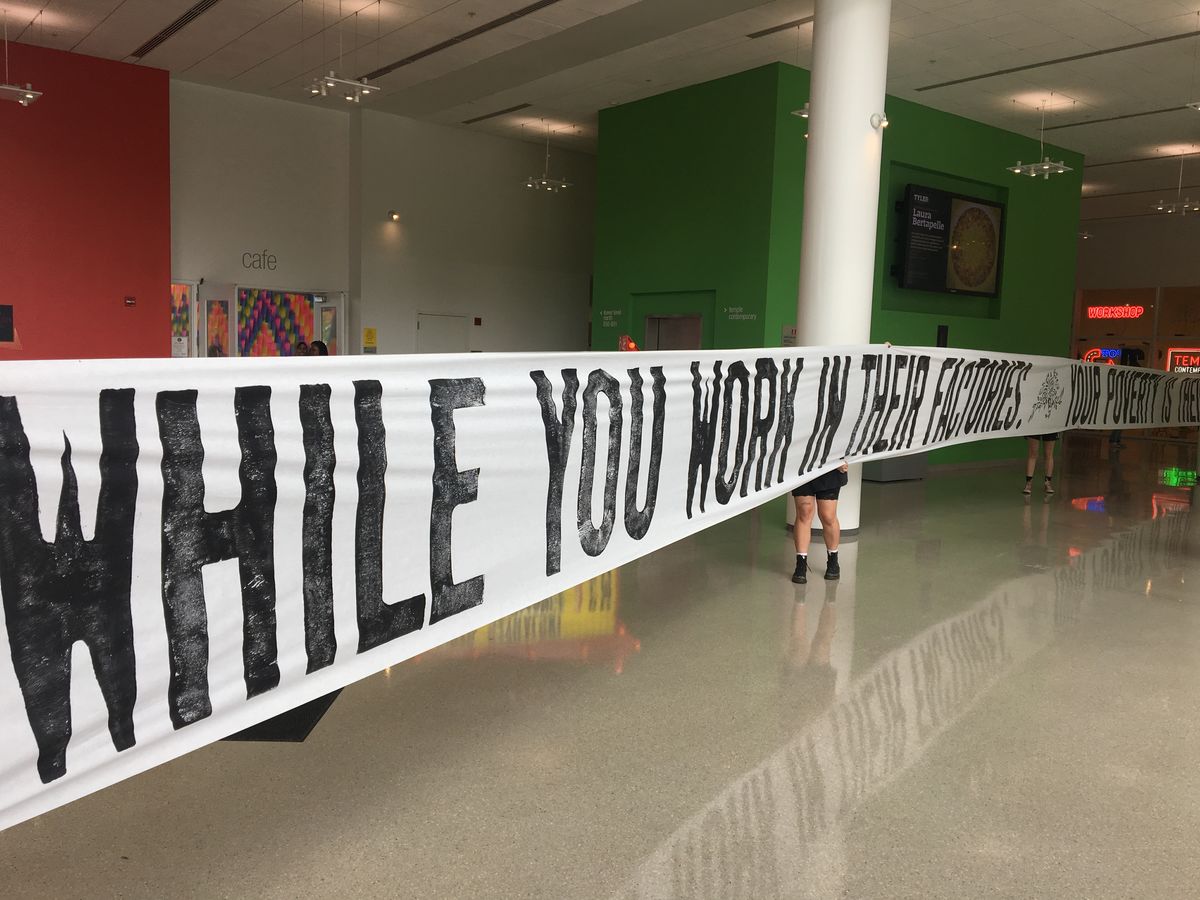 And that's exactly what Szyhalski has done for Tyler students. Throughout the fall and during workshops from September 30–October 2, 2019, Szyhalski and students worked together to provoke conversations on contemporary social issues. Using his hand-built public-access letterpress printer, students constructed their own propaganda using their body weight to ink two-foot tall letters made of insulation foam, one at a time, on a banner made of white synthetic hospital-gown material, in addition to printing Szyhalski's THEM.
The banner contained 440 characters and featured phrases like, "THEY EXPLOIT YOUR CHILDREN WHILE YOU WORK IN THEIR FACTORIES" and "YOUR ILLNESS IS THEIR INCOME" and "THEY LIVE AND PROFIT. YOU DIE IN DEBT" as students and faculty carried it around Tyler's facility, stilling passersby within the Temple and Philadelphia communities as the banner silently moved along the sidewalk.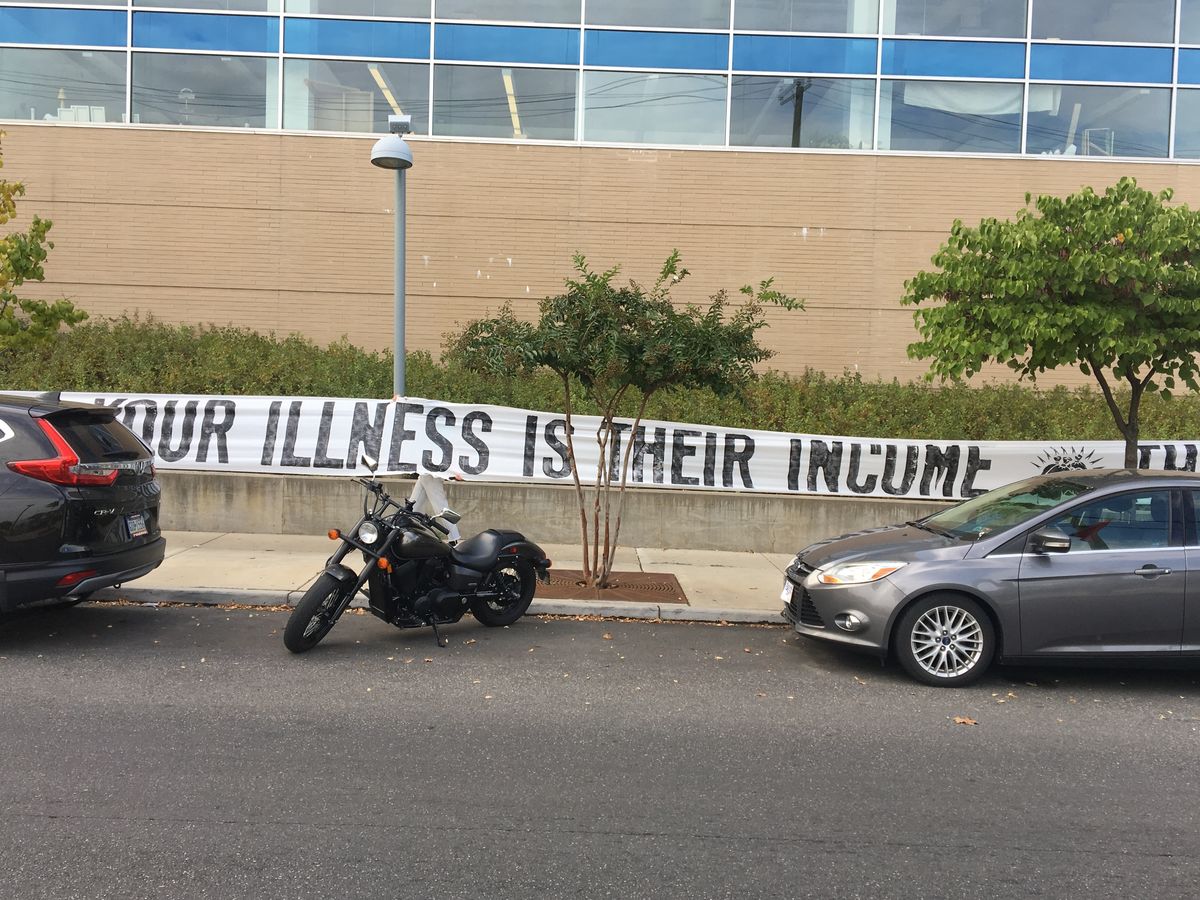 "The way Piotr Szyhalski's project brought the act of printing text into conversation with the history of protest and performance really connected to this moment in time," said Amze Emmons, associate professor and program head of printmaking. "Hearing Piotr speak about how this project is a tool for his creative expression and a 'service' for public protest was an interesting model for how an artist can engage with and serve the public. His approach to printmaking proved to be really generative for our students." 
A faculty member at the Minneapolis College of Art and Design and founder of the art project Labor Camp, Polish-born, US-based multimedia artist Piotr Szyhalski's works often explore communication/exchange, extreme historical phenomena and relationships between the individual and society, history and time. His work has been exhibited worldwide, appears in numerous collections and has been commissioned by the Wim Mertens quartet in Brussels and the Atlanta Symphony Orchestra, among others. He received fellowships from the McKnight Artist Fellowship for Visual Artists in 2010 and 2017. 
Check out a video of the banner being paraded on Tyler's Instagram page here.