Back to Blog
December 6, 2022
Professor Sally Harrison Honored at 2022 AIA Philadelphia Awards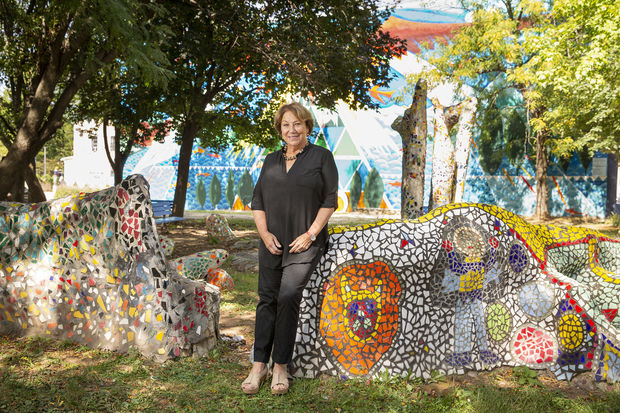 Professor of Architecture Sally Harrison is being honored with the 2022 Alan Greenberger Award from AIA Philadelphia. This annual award recognizes Community Design Collaborative leaders and AIA members for their commitment and service to the organization's mission. Harrison works as a registered architect, educator, and scholar, which allows her to explore the social influence of design. Harrison is also co-founder of The Urban Workshop, a social impact design collaborative at Tyler School of Art and Architecture that engages underserved communities in creating environments that are beautiful, just, and sustainable.                                      
Harrison called her recognition from AIA Philadelphia a "great honor." Having worked in social impact design for several decades, she reflected that "it was initially taken seriously in practice, but not yet culturally. I've found this kind of work to be so inspiring and requiring imagination, as much as any other work in the architecture field. Working collaboratively with people who are anxious to improve their physical environment under circumstances that some might find intolerable was amazing." 
Along with studying architecture, Harrison also took art history classes in college, studying 16th century Italian villas, which helped her bridge activist architecture and urban design when she realized how meaningful beautiful aesthetics can be to a community. "I appreciate being recognized for having dedicated so much of my career to that," she said. "The process in which design in stressed communities is engaged, building long-term relationships with the communities that are trusting you to do the work, and to make sure that, as a professional architect, you're giving the highest quality of design that you can, is so impactful. It's inspiring, being able to inspire people to see what they didn't think was possible in their own neighborhoods." 
Outside of teaching, most of Harrison's work is still connected to Tyler, and one of her proudest achievements is serving as the Director of The Urban Workshop, an initiative that takes on design projects with students and faculty. Most recently, the workshop took on a project with Variety of the Children's Charity and designed an inclusive space for neurodivergent children. "A lot of interesting research has been done around how people with specific disabilities relate to experience and space. What does a child with autism see? How do they respond to light and space? Those things reflect on our shared humanity, and one thing that it really brings home to me is how powerful and subconscious the built environment is. It affects our emotions, our understanding of our place in the world, and it becomes very important in helping you deal with groups of people who have different sorts of responses." 
Harrison described today's passionate generation of students as "quite open to these issues. They're courageous, they want to engage. I hope that I've been able to serve as a mentor to them and that their careers in architecture or other design fields will be infused with this notion that you can do well and do good at the same time without sacrificing the highest quality of design that you can give. Designs that respond to people's needs are very important to me." 
The annual AIA Philadelphia Design Awards will be held on December 8.