Back to Blog
October 14, 2021
Professor of Sculpture Karyn Olivier's Upcoming Commission Featured In The New Yorker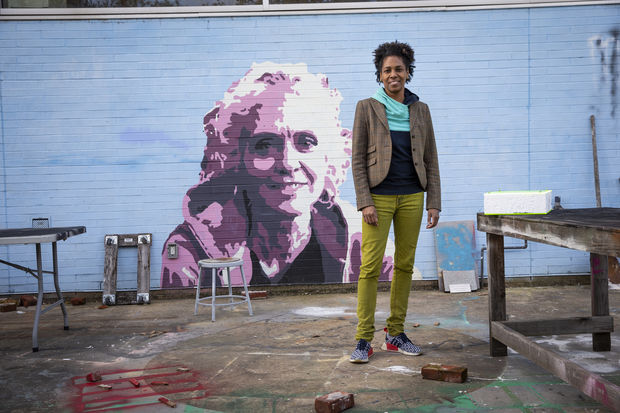 Karyn Olivier, Associate Professor of Sculpture, was featured in the October 4th issue of The New Yorker in an article by Jill Lepore titled "When Black History Is Unearthed, Who Gets to Speak for the Dead?" for her recent commission from the Bethel Burying Ground Historic Site Memorial Committee. 
The article discusses the issue of desecrating the gravesites of enslaved Black people, a concept Lepore calls "an apartheid of the departed." She reveals how tax dollars from Black families living in the Jim Crow South went toward constructing Confederate monuments and how the disenfranchisement of Black communities has made it nearly impossible for history to tell itself from the side that has been silenced.  
The name Olivier chose for her installation at the Bethel Burying Ground in Queen Village, "Her Luxuriant Soil," comes from a speech given by Richard Allen in 1817 when he addressed a meeting of free men of African Heritage regarding a decision about whether to resettle free Black people in West Africa.  
"Whereas our ancestors (not of choice) were the first cultivators of the wilds of America, we their descendants feel ourselves entitled to participate in the blessings of her luxuriant soil," Allen said. The effort to pay reparations back to years of oppression is represented in a headstone inscription that will be featured in Olivier's piece, which reads "Amelia Brown, 1819, Aged 26 years. Whosoever live and believeth in me, though we be dead, yet, shall we live."  
Slavery is inextricably woven through the United States' history, and Lepore calls out Philadelphia directly for the high value the city places on the one-sided legacies of figures like Benjamin Franklin, which negates a key part of the city's heritage and population. Lepore goes on to discuss how, across the nation, there's been a call to action over the last year to erect monuments in places that lack historical objectivity and tell only one side of a narrative in its public spaces.