Back to Blog
April 5, 2022
In Profile: Aaron Ricketts (BFA '17)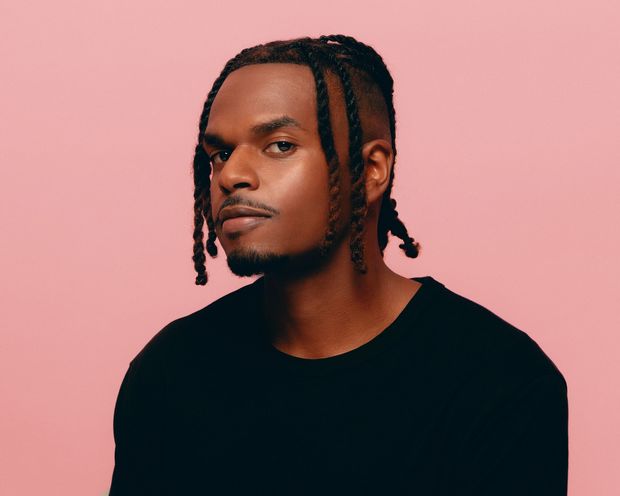 Since graduating from Tyler with a BFA in Photography in 2017, Aaron Ricketts has risen as a high-profile Philadelphia creative with an arresting, surrealist-inspired style. His work explores every day themes, typically through portraiture, paired against a backdrop of stunning digital manipulation and striking detail. He has traveled a circuitous path that led from high school to a year in college to ordinary jobs to the Air Force and back to college again. 
Along the way, he swapped his interest in photography for studying graphic design (his first college did not have a photography program) but eventually found his way back to his first love — learning the fundamentals of photography over two years at a community college and then transferring to Tyler to earn a bachelor's degree. 
With nearly a decade of varied experiences and a steady stream of digital content under this belt, Ricketts has begun exploring the rising NFT digital market space for his artwork, having developed an aesthetic that blends photography, animation and motion. Last year, he was recognized as Creator of the Year by REC Philly, a local incubator for rising artists of all sorts. (REC stands for Resources for Every Creative). 
Ricketts has worked as a still photographer on the set of several Netflix shows, including the movie Concrete Cowboys, which was filmed in Philly. He's also shot campaigns for global brands like Adidas, Converse and True Religion, and created content for Rolling Loud Music Festival. 
In an interview, Ricketts spoke about his time at Tyler, finding a balance within a bustling creative field, and why he believes the future of content creation will likely prioritize the digital arena.
  
Aaron Ricketts, "Nothing More To Give" (2021), fine art print, 40 x 32". Courtesy of Aaron Ricketts.
For starters — how does your work fit into the rising NFT space?  
"I've become a huge champion for crypto currency and NFTs. It's an extension to the evolution of my creative process. Speaking solely as an artist, NFTs bring a certain level of power back to creators. With NFTs, I can create this art piece as a non-fungible token, sell it for x amount of dollars. Then the collector sees the value of it, and they sell it for five or ten times higher than what they bought it for. I can still get paid from that sale. I think this is great because there's transparency on the blockchain and there's the idea of decentralization."  
Tell me about your artistic background?  
"I was introduced to photography during my junior year of high school, and from there I was pretty much set. That's what I wanted to do for the rest of my life. I spent my first year of college at Indiana University of Pennsylvania, but they didn't have a Photography program, so I entered their Graphic Design program. A lot of the work I was interested in also included Photoshop and working digitally, so I thought that made sense, but after a year there, I ended up withdrawing from IUP to take a step back and reevaluate my approach to life. I took some time off and worked regular jobs —but I needed stability, so I joined the Air Force. After that, I came back to Philadelphia and enrolled in the Community College of Philadelphia's Photography program. During my time there, I was introduced to all the technical aspects of photography, and working as a photographer started to click more for me. But before I completed my associate degree, I deployed to the UAE, so that was another year off from school and photography. When I got back, I transferred to Temple to get into Tyler's Photography program."  
What did you enjoy about your time at Tyler?  
"A lot of my time at Tyler was about finding balance, which translated into my schoolwork — during my senior year, I was able to do self-study for my last semester so if there was a job or a conference, I had the time and the freedom to go. One of my professors, Rebecca Michaels, really challenged me when it came to the overall practice of photography, because at the time my mindset was "I just want to make cool things," but she pushed me to think about and understand what and why I was doing things and the meaning behind them. There's a lot more intent behind my work and process now."  
What was the transition from college to working as a full-time artist like?  
"It was a smooth transition after college because I was building relationships and clientele while I was still in school. I graduated in December of 2017, and then I established The Ricketts Company LLC. I did a lot of work with Rolling Loud, one of the largest music festivals in the world, and helped them set up their very first photo studio. But I also had to make a conscious decision about where I could see myself going with all of this, and how this could all be sustainable as a career, especially financially. So, I saw [the festival] as an entry point to build up my reputation and credibility with music artists and celebrities."  
After graduating, what was the moment when you first felt like a professional?  
"That's a hard question because I still feel like I'm not taken seriously sometimes — that might be weird to hear from me because I have done a lot, but there's still so much that I want to do. Last year, I worked on a large-scale campaign with Adidas. I worked with Tidal for Made in America, but I'm trying to change the way that things can be accomplished. It feels like larger brands are afraid to take risks. Ideas feel recycled. There's so much that can be done, especially with all this new technology. Companies should remember that they hire creatives for a reason, and I'm trying to show that you can take the risk, and it will be worth it." 

Aaron Ricketts, Unit Still for Concrete Cowboys (2020) directed by Ricky Staub, starring Idris Elba, Caleb McLaughlin, Jharrel Jerome, Byron Bowers, Lorraine Toussaint and Clifford "Method Man" Smith. Client: Neighborhood Film Company / Netflix
Click here for more of Aaron's work, and keep up with him on social media here.
Photo courtesy of Aaron Ricketts