Back to Blog
December 1, 2021
In Profile: Matthew Autieri, Sculpture '23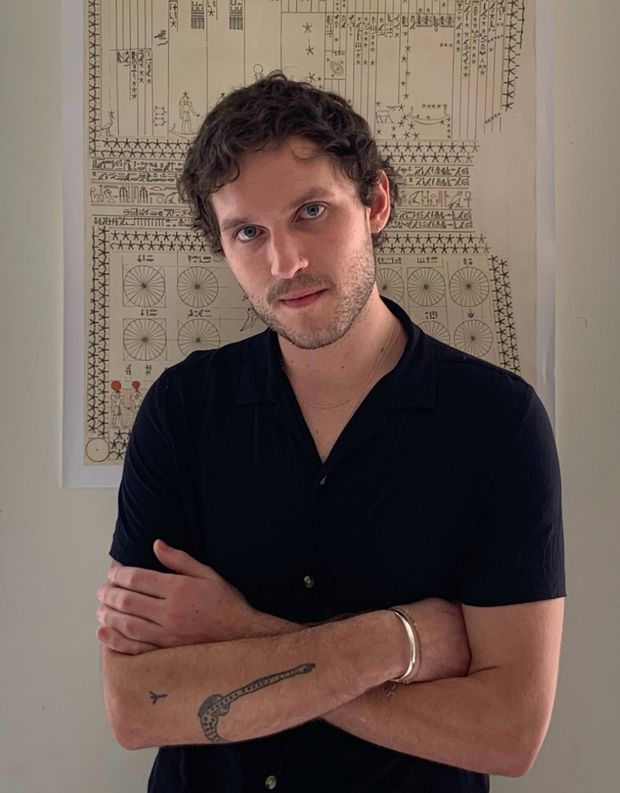 Matthew Autieri (Sculpture '23), entered Tyler with the intention of pursuing a degree in Painting. However, one immersive semester at Tyler's Rome campus inspired him to take an introductory Sculpture course when he returned, and Autieri was hooked on the breadth of the major from then on.  
Now, through the interdisciplinary Sculpture class "Leveraging the Weight of Material, Method, and Site," Autieri is showing his work publicly for the first time in the exhibition "Pier Review," on view at Cherry Street Pier from Dec. 3 – Jan. 7. 
The exhibition features interdisciplinary work by 15 students in the course, co-taught by Rachel Hsu and Nicolo Gentile, both 2021 MFA graduates in Sculpture. Despite being relatively new to the major, Autieri has already forged strong connections between his peers and professors. In anticipation of the exhibition opening, Autieri spoke about his practice and his experiences in the program so far. 

2000-2021 by Matthew Autieri for "Pier Review"
What's your artistic background? Why Sculpture? 
"I took several precollege classes here from 2013 up until my senior year of high school. I entered Tyler with the intention of being a painter, and I stayed with that major for a year and a half. Then, I went abroad to Rome for my sophomore year, but the trip was cut short because of COVID. Still — seeing all of the art while I was there, and spending more time with Alissa Roach and Cole Roberts from the Sculpture program whom I'd met the previous year — that encouraged me to take Intro to Sculpture when we got back, and I just fell in love with it from there."
It's easy to understand how formative of an experience that must have been for you, especially with the opportunity to come back and declare an artistic major. What else did you study while you were abroad? 
"I took a painting class, a bookmaking class, Art History, and Intellectual Heritage. We read a lot of classics and then we'd go to the museums and see the things we were reading about. It was fascinating."
Being able to physically see some of the most talked-about pieces in history really does change you, and surely that makes you think about working in a cross-disciplinary way. Since you have a background in Painting, you're a Sculpture major, and you're on track to become a teacher — do you notice a lot of room for collaboration between Tyler's programs? 
"I think so, absolutely. I'm taking an installation class right now, and we have students from Glass, Printmaking, and Fibers involved.  I feel like out of all the departments, Sculpture is the most open-ended in that way. As long as we make a 3D work, there's just so much potential for cross-over between mediums, and I think that's why I'm drawn to it."
What does your specific practice look like? What's a typical day in your studio? 
"I'm trying to soak in as much as I can during these studio classes, because with the intention of teaching, I want to be able to have taken as many classes in every department as possible. Recently, I've been doing a lot of work with Fibers. I also do a lot of research before I start a project because I really like history. I like learning different processes from the past and finding a new, more modern way to work with them. Today — I'm working with cement for my piece in the Cherry Street Pier show. I got a bunch of stuff from my parents' house, like things I left behind, and I started thinking a lot about the Delaware River where the pier is, and the Tiber River in Rome that I got to see, and just how much sediment collects at the bottom of each and wondering what gets left behind. I was thinking that it would be cool to turn that concept into something personal. These are my "lost items" and they're literally cemented into the piece."  
What's the most gratifying part about your work? What's the most challenging part? 
"I think the most gratifying part, weirdly enough, is the planning and the research. I like the idea of "before" a project starts. I also really enjoy documenting my work process. Everything up until it's made is really rewarding to me. The most challenging part is honestly talking about it afterward, like this. Or writing about it. Putting things into words can be difficult for me and I'm trying to work on that. I'm trying to write things down as they happen." 
That's fair — when you're finished with a project, sometimes it's less yours and more the audience's.  
"Exactly. It's hard for me to be like, 'this is what this means.' But even on a basic level, it's also just something that's there to look at. Sometimes, things don't mean anything." 
Is everyone's practice in the Sculpture department pretty similar to yours? Does everyone take the time to catalog their work and create a story from the process in the way that you do? Or is everyone working in their own unique way?  
"The major is so open-ended, so everyone is definitely doing their own thing. I share a studio with three other students, and there's a lot of performance, video, digital, 3D, photo, metals, and woodwork going on, so tons of different mediums and identity exploration. It's a pretty diverse department. The whole idea of 'new media' and what Sculpture even is is so fun to explore." 
What do you think brings all these different practices together? They're all under the same roof, so what exactly is their common ground? 
"I think it's that idea of 'new media.' Or maybe even just the idea of conceptual art. Sculpture is very medium based but nothing is set. You can really explore conceptual pieces for installation. I think that's part of the reason why I hopped off the Painting track. I love painting, and I would say I was a technically good painter, but I found it limiting conceptually. I found myself defending my work to myself in my own head —'Well I like the palette; the composition is good, etc.' while the concept was lacking. It was just something I struggled with personally. I feel like a lot of my early sculptural works were me trying to find an alternate form of drawing. Kind of like making a 3D version of a 2D work. I feel like I approach the documentation process in a very painterly way still, in the process of taking a photo I guess you're ultimately reverting it back to 2D. But, when it comes to the whole idea of new media, I find it exciting that these classes are classified under Sculpture. I took a class last semester where we used Zbrush to create 3D models, and I'm taking a video class right now. I feel like the common thread among the works I've seen in these classes is that emphasis on the conceptual. I think branching out from the analog is something really exciting for Tyler and this department."
You want to pursue teaching — how have your professors influenced that decision? How do they encourage the way you view your own work and the way you'll hope to eventually inspire your own students? 
"I think it goes all the way back to high school — I had a really great art teacher, and even though I went to a relatively affluent school, the art department had to use all secondhand materials. I really liked his teaching style. My favorite project from a high school art class was a focus in materiality. We were provided scrap wood, nails, twine and chicken wire and each made a different composition. These types of projects along with an emphasis on sketchbooking/journaling, research, and documentation were my biggest takeaways from this class. Since I've been at Tyler, I've had a number of really great professors like Susan Moore, Tim Rusterholz, CT Jasper, Rachel Hsu and Nicolo Gentile. All of the relationships I've built feel very personal because the class sizes are small. It doesn't feel like class or like work a lot of the time — we talk things through before we work, and it feels very community-oriented."  
That's really great to hear that you feel like Tyler classes are so community-based.  
"It shouldn't be competitive. A critique shouldn't feel like a personal criticism, it should feel like a chance to make your work better and build off feedback from other talented people."  
So you enjoy working with other people then? None of these programs seem very isolated. A lot of the work looks like it's a group effort, even though you're working on your own pieces.  
"For sure."  
Then what's a typical day in Sculpture like? What would someone see if they were to just observe everyone at work? 
"There's usually always someone in the woodshop. There are a lot of grad student studios, and there are usually a lot of people in and out."  
So it's not like the typical clay-sculpting type of work that you'd normally think of. 
"No — there's a woodshop and a metal shop, too. But now that's making me think back on the whole community aspect — people do seem a little isolated if you just look around, but in the classes it's all very collaborative, and then people go off and do their own thing." 
You're showing work at Cherry Street Pier through early January — have you shown anywhere else? 
"No, this is the first time I've ever done something to this scale. I've shown prior work at different summer programs or high school exhibitions. I had some paintings from high school shown at the Skatter Joy Center for the Arts in Bucks County, and at a show curated by Rep. Jo Daley of Montgomery County. I also showed a painting at Montgomery County Community College for a student show in 2018. I haven't shown any work in the city since entering college, so this is really exciting."  
How do you feel about showing work in a real-world exhibition space? Having this opportunity as a college student must make you feel like you're taking your work in the right direction. 
"Cherry Street is a really cool space. It's a renovated pier, over one hundred years old I think, now acting as a space for artists to come together for performances, talks, and openings. There are gallery spaces as well as a garden and a bar/restaurant, and just a beautiful view of the waterfront. There's also an artist in residence program and several studios. Also — there's currently an Arthur Jafa piece there as well which is huge; it's an incredible honor to share the space. It's such a privilege to show work there and I am so grateful for the opportunity. There are 15 of us in this show and several different installations. I don't even know what everyone is doing yet. There will be some video work, some interactive environmental pieces next-door at Race Street Pier, and a lot of different sculptures. The theme of the whole show coincides with 'site' and the history of the area. Whether it's the river, or Philly, a lot of the pieces explore the conceptual side of what 'site' means regarding those spaces." 

For/Of the Inner Child by Matthew Autieri
Autieri will be showing work alongside Izzi Goldman, Riley Gosnell, Maya Greenberg, Cassi Jasulevicz, Ji You Oh, Evan Rosato, Caroline Strott, Ari Flaks, Olivia Gregonis, Hannah Pang, Alissa Roach, Nicholas Roberts, Lucia Timberlake, and Bridget Phelan at Cherry Street Pier from Dec. 7 – Jan. 3. There will be an opening reception from 6:00-8:00 PM on Dec. 3.